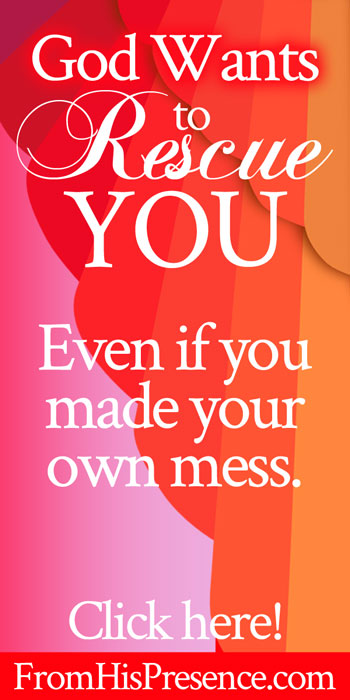 Has anyone ever told you that God won't help you if you "birth an Ishmael"? If so, be encouraged: it's not true. God wants to rescue you today, even if your biggest problems are your own fault.
True story.
I'm going to talk to you today about more of God's MERCY. His mercy is the manifestation of His goodness, kindness, help, steadfast love, and more in your life. It is His "kiss" on your life.
MERCY.
Note: This kiss–"the kiss of merciful rescue"–and 21 other kisses are all part of my new prophetic teaching series on the life of David. You can download 21 Kisses: The Sure Mercies of David for Your Life instantly here on my online store. This set is the most encouraging, most liberating prophetic word I've ever released. Please check it out today, and grab it while prices are discounted for launch week!
When people talk about "birthing an Ishmael," they are referring to the story of Abraham, his wife Sarah, and Sarah's Egyptian maid, Hagar.
Many millennia ago, God promised Abraham a son. Abraham clung to His promise, but years passed. Eventually, his wife Sarah got antsy. Frustrated. Impatient.
And she made a bad decision.
She decided to hand over her maid, Hagar, to Abraham. She wanted Hagar to conceive a child by Abraham, and then Hagar would give birth on Sarah's knees (the custom of the day for these types of situations), making the child Sarah's. And Sarah would have her baby.
Oops.
So all that happened. Hagar birthed her child on Sarah's knees, and Sarah named him Ishmael.
Uh … except for one big problem. Ishmael wasn't the child God had in mind to receive all His promises. Why? Because he wasn't Sarah's child. God promised Abraham AND SARAH a child. So, nice job, Sarah, thanks for playing; but that wasn't God's solution.
And THAT is what people mean when they tell you not to "birth an Ishmael." But you know what? Most of the time, they take it too far, and they preach absolute lies to you after that.
It's true that you shouldn't get ahead of God and birth something in your life that He didn't want you to birth.
No question.
The problem is that we have been told that, if you DO mess up and "birth an Ishmael," then too bad for you. People will tell you that God won't help you; that you're on your own; that you made your own mess, and now you need to get yourself out of it.
And that theory is false. It's a lie. It's condemnation, and it isn't supported by Scripture.
Because our Father is so merciful that He wants to rescue you, whether you messed up or not.
Did you hear that? It's true:
God wants to rescue you.
Even if you got ahead of God. Even if you made bad decisions. Even if you birthed one Ishmael, two Ishmaels, or a whole Ishmaelite family.
Your bad decisions don't change who God is. And who God is is merciful, gracious, looooooongsuffering, slow to anger, and abundant in mercy and lovingkindness. That mercy and lovingkindness is chesed–the kind of mercy we talked about on Monday.
See, God isn't sitting in Heaven saying to Jesus, "Jesus, I sure wish our child hadn't done that, because now they're out of Our reach. Bummer … That decision is the one thing I didn't anticipate … the ONE thing Your blood wasn't good enough to cover!"
Um, no. He is ALL-Sufficient. His blood covers EVERYTHING for His children.
Our Father is mindful that we are but dust. The arm of the Lord is not shortened, that it cannot save. His ear is not dull, that it cannot hear. His mercies go on and on and on and on and on .. and God wants to rescue you.
He even rescued Sarah, Abraham, Hagar, AND Ishmael.
When Sarah birthed Ishmael, you know what God did? Sarah's bad decision finally caught up with her; it made her life unbearable. Hagar (who never relinquished control of Ishmael) was mocking Sarah and tormenting her (Genesis chapters 16 and 21). The whole situation was intolerable.
And Sarah was God's covenant daughter.
So you know what God did?
God gave Sarah a plan. He showed her how to fix her own mess. She told her plan to Abraham, who didn't like it–but then God told Abraham to follow the plan too. So they did.
And you know what else? God took care of Ishmael. He had already given Ishmael and Hagar their own promises. Not the same promises that He gave Abraham and Sarah, but promises nonetheless.
God both rescued Sarah and Abraham AND took care of Ishmael and Hagar as they went their own way.
See how beautifully that worked out? It had its ugly moments, sure. It would have been much better for Sarah and Abraham never to have gotten ahead of God in the first place. But when they did, God didn't abandon them. He rescued them. He pulled them out of the miry clay, set their feet upon a rock, and established their comings and goings.
And no matter what kind of decisions you have made, God wants to rescue you too.
He did it for Abraham and Sarah. He did it for David; it's "the kiss of merciful rescue" that I talk about in my 21 Kisses prophetic word. He did it time and time again throughout Scripture.
And He'll do it for you.
So have you messed up and gotten yourself into a mess? Call upon God to have mercy on you.
God wants to kiss your life with mercy. His mercies are new every day. His mercy is available to you right now. So call upon Him, for He is near!
Pray this with me:
"Father God, in Jesus' name, I thank You for the blood of Jesus. Thank You for forgiving my sins. Father, I confess that I sinned and disobeyed You, or got ahead of You, when I __________. Father God, please forgive me. Cover me with the blood of Jesus, and wash me clean. Fill me with Your Holy Spirit, and help me to obey You every moment going forward.

Father God, by virtue of the covenant I have with You through Jesus' blood, I ask You to pour out mercy on me right now in my situation. Help me. Rescue me. I know I messed up and got myself into this situation, but I thank You that Your Word says Your mercy is greater.

So Father God, give me the plan You want me to follow. Give me wisdom. Show me how to get out of this situation. Get me out of this situation Yourself, not because I deserve help, but because You love me and Your mercy is just that–mercy when I don't deserve it.

Father, I thank You for helping me. Thank you for being so good to me. I've asked in faith, and I believe You to answer–and I'll give You all the glory. Help me to hear Your voice and obey whatever You show me.

Thank You, Father. In Jesus' name, amen."
Does this word speak to your heart today? If so, please leave a comment below. I'd love to hear from you!
Would you help me with my work of reaching people for Jesus as a domestic missionary? This blog, and all of my mission work in person, are made possible through your partnerships, donations, and product purchases.
If you'd like to help me, please check out the partnership details and products available for sale here. And, thank you in advance for helping make this blog and everything we do together for the Kingdom possible!