Prayer 7: Lord, Make Me Humble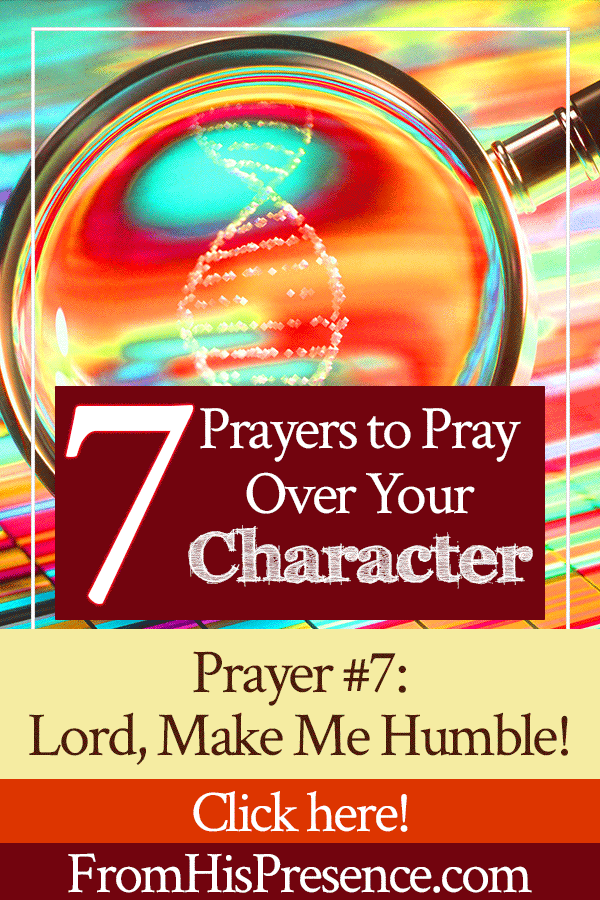 Is there an area of your life in which you do not submit to the Lord 100% of the time in absolutely everything? If so, I want to share a simple prayer with you today that will help you grow in the Lord, drawing closer in intimacy with Him. That prayer is: "Lord, make me humble!"
Today's simple prayer encompasses the totality of Lordship + spiritual development. This prayer of "Lord, make me humble" may be only four words, but these four words can change everything in our lives.
Want to be closer to God? Get this book!
7 Prayers to Pray Over Your Character
If you want to be more like Jesus, get the book and pray these 7 prayers every week! You can use it as a rotating prayer plan. Memorize the key points of the prayers and cry out to the Lord daily! He will transform you as you pray, and you will draw ever closer to Jesus.
If we're examining our lives truthfully, every single one of us can admit that we have room to grow in the area of Lordship.
I know that there are definitely times when I don't obey God just perfectly. I want to obey Him perfectly at all times, of course; but sometimes the things I do don't turn out the way my spirit intended. I think we can all probably identify.
The apostle Paul shared this struggle, too. He sometimes wanted to obey God in one area or another, but then ended up doing something different. He wrote:
"O unhappy and pitiable and wretched man that I am! Who will release and deliver me from [the shackles of] this body of death?

O thank God! [He will!] through Jesus Christ (the Anointed One) our Lord! So then indeed I, of myself with the mind and heart, serve the Law of God, but with the flesh the law of sin" (Romans 7:24-25 AMPC).
Paul knew that who we are and what we do are sometimes two different things.
Who you are is "the righteousness of God in Christ." We learn this in 1 Corinthians 5:20-21, which says:
"Now then, we are ambassadors for Christ, as though God were pleading through us: we implore you on Christ's behalf, be reconciled to God. For He made Him who knew no sin to be sin for us, that we might become the righteousness of God in Him."
So "who you are"–your IDENTITY, in other words–is completely righteous. 🙂 Hallelujah! That's great news!
However …
Unfortunately, "what you do," or "what we do," or "what I do" is, well, not always quite so righteous. 🙁
Our righteous status, which is granted to us by God by grace as soon as we receive Jesus as our Savior, doesn't always make itself evident in our daily choices. That's why we work our whole lives on getting to know Jesus and letting Him change us, as we have been inviting Him to do in all the prayers in this series.
It takes time to become like Him.
But there is ONE thing that can really speed up the process.
Related: Listen to this powerful prophetic dream in episode 23 of Take Your Territory with Jamie Rohrbaugh: Purge Before Surge.
Did you know that one thing can be so powerful? It's true–when it's the right thing. And there is one thing that can make all the difference in the world in your character:
One thing that will bring "what you do" a whole lot closer to matching the righteous person in Christ that you are;
One thing that will serve you well in EVERY area of life;
One thing that will bring God's blessings upon you in every area.
That one thing is humility.
Humility.
Hoooo boy. Humility.
The characteristic of being humble …
… Which is the opposite of being proud.
Humility is what gives us a sold-out spirit before the Lord.
When I say "a sold-out spirit," I am talking about the state of being completely sold out to God. When you're sold out to God, you do what He says–and when you don't, you are truly repentant for sinning against the Lord, such that you go after Him to change you.
Related: Are You a Disciple of Jesus or a Fan of Jesus?
And this is what humility is.
Basically, when we are humble before the Lord, we yield and submit to Him in everything. If you're humble, you'll read God's Word and see what He says to do, then immediately jump to do it–and keep doing it.
Because, after all, anything for the King.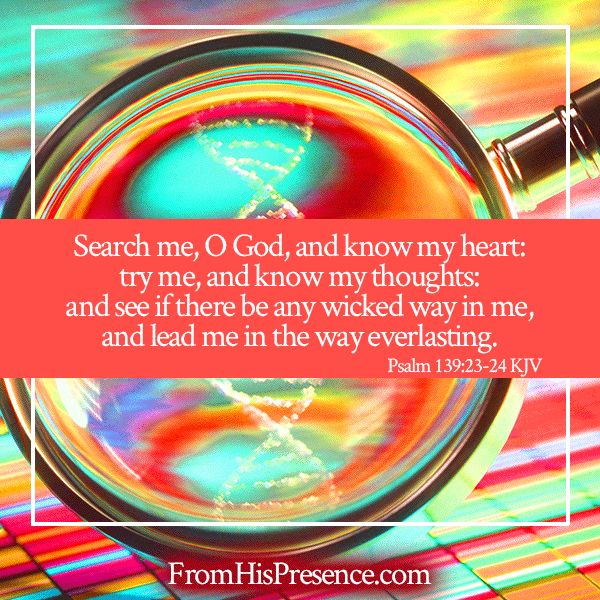 So when you're humble:
You'll read that Malachi 3 says to bring in all the tithes and offerings to the Lord … so you'll tithe 10% of your income to the Lord plus give offerings immediately, and forevermore, without complaint.
When you're humble, you'll read that Philippians 2 says we should do all things without complaining or disputing; so next time your spouse or boss asks you to do something, you jump up and serve them without grousing about it.
When you're humble, you watch what you put in your mouth because we don't want to be like Esau, who sold his inheritance for one morsel of food.
Because, you know, the Holy Spirit likes to get alllll up in our business. 🙂 And I, for one, am grateful. Aren't you?
We need Him to convict us, so that together we can say:
"Help, Lord. Lord, make me humble."
It's also important to know that we can be humble in one area and yet be proud in another area.
Father, forgive me. I'm getting all convicted as I write this.
See, I've been praying for humility for years, and there are many areas in which the Lord has answered my prayer, changed my character, and made me humble. BUT, there are other areas in which I haven't let Him have full rein yet:
So when my husband asks me to do something, and I get irritated and whine and grouse about it …
When I eat eat too much of my favorite treat, or when I eat some other thing at all that Holy Spirit has told me I shouldn't be eating …
When I get all discouraged and fall into self-pity, because no thank You, Lord, I don't want to set my eyes and keep them set on Jesus today, Lord; please come back tomorrow …
Those things are not only disobedience, but they're also pride.
Pride says we can disobey God if we want to, and it will be okay.
But humility says that we bow before the King of Kings and Lord of Lords, and we repent before Him, confessing our sins when they occur, and choosing to turn and go after the way of righteousness instead.
And this is just talking about humility before God. We haven't even started talking about humility before man, but a humble spirit before man will get you everywhere too.
We just need to plain-ol' ditch pride and be humble, humble, humble before both God and man.
Read the whole 7 Prayers to Pray Over Your Character series!
So are you ready to pray with me?
Four simple words, although I'll expound on them today just to provide some sample vocabulary to help you as you pour out your heart before the Lord. 🙂 Let's pray:
"Abba Father, I come before You today in Jesus' name.
Father God, thank You for sending Your Son Jesus to die on the cross for me. Thank You also, Lord Jesus, for being willing to humble yourself, take on the form of a man, and become obedient unto death–FOR ME. I cannot fathom the love You must have had for me, and the obedient heart You have toward the Father, to be willing to do that.
Abba Father, I love You so much and I'm so grateful for You. I'm so thankful for everything You are to me and for everything You've done for me. I want to honor You with my life, both in spirit and in truth–in word and in deed–because You deserve that kind of honor.
But Abba Father, I need help to honor You like that.
Lord, I want to obey You in absolutely everything. I don't ever want to disobey You, Father; not ever. So please, help me.
Father, I ask in Jesus' name right now:
that You would please give me a sold-out spirit before You.
Make me humble, Lord.
Change my heart and take all the pride out of me.
Abba Father, please help me to only do what You do and say what You say:
Help me to discern whatever You want me to do, every moment of every day, and obey You right away.
Give me a sold-out spirit, Lord, such that where You go, I will go; what You say, I will say; what You do, I will do.
Let me care about You and become obsessed with You more than anything else in Heaven or on earth.
Lord God, I truly want the same level of obedience to You demonstrated in my life that You receive in Heaven. I truly want to be that sold out to You, Lord.
So Father, I invite You to do surgery on me. Change my heart and make me like You. Help me to be humble before You, and search my heart. Convict me of any pride you find and help me to repent of it right away and embrace humility instead. 
Make me the kind of loving, adoring, obedient child and disciple and servant that You deserve, Abba Father. And help me to glorify You with that obedience in every part of my life.
Thank You, Father. In Jesus' name, amen."
Beloved, the simple prayer of "Lord, make me humble" will change everything for you. Did you pray this prayer with me today? If so, leave a comment below!