Prayer 5: Lord, Set a Watch On My Mouth!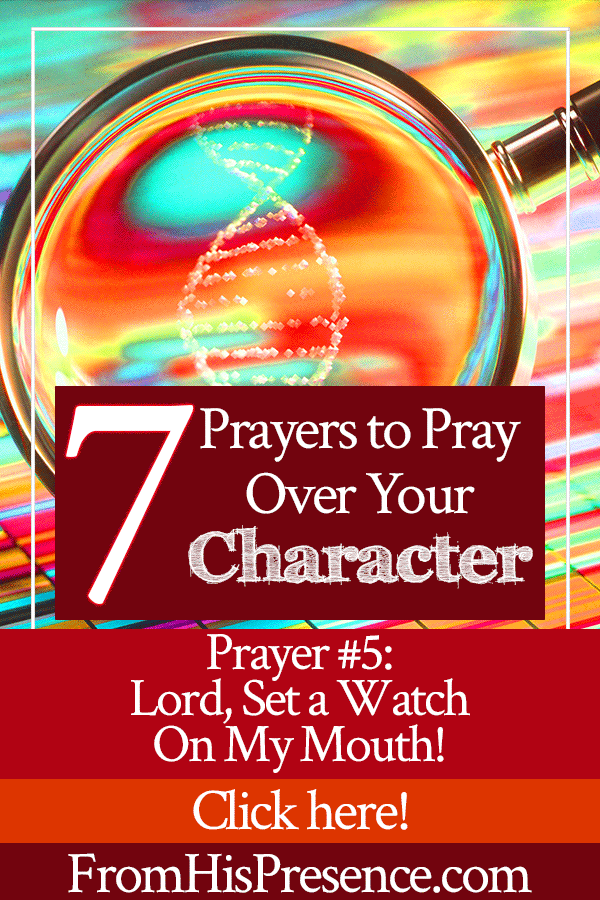 Are you praying with me for the Lord to transform your character? If so, one of the most important prayers we can ever pray is, "Lord, set a watch on my mouth!" In today's article, I share WHY the Lord's watch over our mouths is so very important.
One of the biggest things the Lord has to transform as He works on our character is our TONGUE–what we say, what we confess, and what we sow with our words.
Our words matter. I know the old nursery rhyme says that sticks and stones may break the bones, but words will never hurt; but that is a LIE from the pit of hell. You know it, and I know it. Words can hurt or heal, but they are never neutral.
Want to be closer to God? Get this book!
7 Prayers to Pray Over Your Character
If you want to be more like Jesus, get the book and pray these 7 prayers every week! You can use it as a rotating prayer plan. Memorize the key points of the prayers and cry out to the Lord daily! He will transform you as you pray, and you will draw ever closer to Jesus.
The Bible says that life and death are in the power of the tongue. Proverbs 18:21 says:
"Death and life are in the power of the tongue, and those who love it will eat its fruit."
This means you can speak life over things and have them live–or you can speak death over things, and they will die. This is exactly what Jesus did when He cursed the fig tree. It wasn't bearing fruit, and Jesus cursed it. The next time He and the disciples walked past that tree, it was dead! Jesus' words took root instantly and accomplished their purpose.
This always happens with words. We are created in the image of God, and our words have the same effect as God's words have.
Isaiah 55:10-11 tells us just how much impact God's words really do have. This passage says
"For as the rain comes down, and the snow from heaven, and do not return there, but water the earth, and make it bring forth and bud, that it may give seed to the sower and bread to the eater, so shall My word be that goes forth from My mouth; it shall not return to Me void, but it shall accomplish what I please, and it shall prosper in the thing for which I sent it" (Isaiah 55:10-11).
God's words never return to Him void; they always accomplish the purpose for which He sent them. And the amazing thing is that YOUR words have exactly the same impact and ability. You can use your words to bring life, or you can use your words to bring death. Either way, words work.
That's why Jesus said, in John 6:63:
"It is the Spirit who gives life; the flesh profits nothing. The words that I speak to you are spirit, and they are life."
The words that Jesus speaks are spirit and life. They actually bring life to your body, soul, and spirit when they are spoken–and they impart His Spirit into your Spirit.
That's pretty radical, right there. That means:
You can speak the words of Jesus and raise the dead.
You can speak the words of Jesus and bring life and healing to broken hearts and broken lives.
You can speak the creative words of Jesus–like, "Let there be light!" or, in our case, "Let there be favor! Let there be healing! Let there be promotion!" etc.–and those words will create the thing we send them to create.
I actually got saved after hearing a Christian teacher and motivational speaker talk about the power of words.
True story! I heard this man–I don't even remember his name, now–but I heard him teaching about the power of our words, and how we can create our reality using our words. He said that, in God's mind, we're blessed already; but we have to use our words to shape our earthly reality and pull forth the blessings from Heaven that God has for us.
When I heard this, I was interested but also kind of defiant. (Remember, I wasn't saved yet.) I wanted God to prove it!
So, I tested God. I had always told myself that, when I "was rich," I would drive a Corvette car. So I dared God in prayer, and told Him that if this guy was right and we were already blessed in His mind–and if we could create our reality through faith and prayer and speaking words of life–then I wanted to drive a Corvette car right then.
Three days later, I drove it home. 🙂 Here's a photo: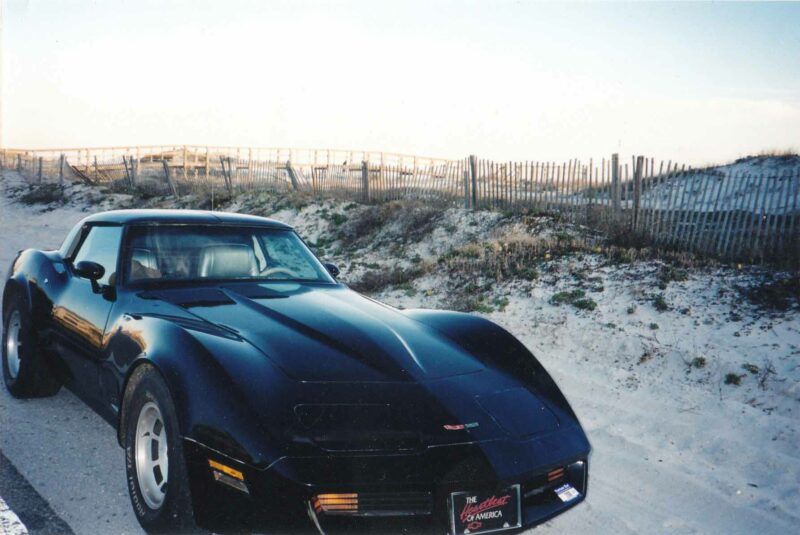 I'm not suggesting that we all need to drive a Corvette car in order to believe God. But I was young, messed up, defiant, and rebellious. God chose to get through to me using a great big blessing, because it's the goodness of God that brings men to repentance. And sure enough, my words manifested.
Since that time, I've been incredibly careful with my words.
I'm not saying I don't ever mess up; I do. But Holy Spirit keeps me on a short leash, and I ask Him to keep me on a short leash! I ask Him all the time to keep me from sinning against Him in the matter of my words. I ask Him to help me hear what He is saying, and say only that. I want to be like Jesus and speak words that are spirit and life. Don't you?
You can create your reality with your words of faith. That's the Word of God.
Words of faith aren't the be-all and end-all; you're not going to become a millionaire by sitting around saying, "I am a millionaire!" without ever doing any work. Faith without works is dead.
Read the whole 7 Prayers to Pray Over Your Character series!
But when you speak those words of faith and then put your faith into action, your words do indeed create fruit. They form and fashion the reality of your life. That's why the Bible says that death and life are in the power of the tongue, and that those who love it will eat its fruit.
To recap: there is no getting around obedience. Blessings come when we obey God. But part of "faith" is speaking words of life (the literal Greek definition of "faith" actually requires speaking your faith out loud), and imitating Jesus by speaking words that create and do not destroy.
So we each need to pray, "Lord, set a watch on my mouth!"
We need to ask Him for help with this each and every day. We need to practice speaking words of life and faith, instead of words of doubt and unbelief. And whenever we do speak words that are curses; words of death; words of doubt and unbelief, we need to repent for those words on the spot and replace them in the atmosphere with words of LIFE.
Do you want this? And if so, are you willing to pray with me right now–and continue praying every day–for the Lord to set a watch on YOUR mouth too?
I believe and pray you will. 🙂 So let's go to the Lord in prayer together. Pray this with me:
"Father God, in Jesus' name, I thank You for being alive and hearing me pray. Thank You for filling my life with Your beautiful words of hope; words of life; words that convey Your Holy Spirit into my spirit.
Abba Father, You are so good, and Your mercy endures forever. I take it as part of Your mercy today that You are showing me the paths of life. I know Your Word instructs us and teaches us in the way we should go. You use Your Word and Your voice to guide me with Your eye upon me. So Father God, I am listening to You today.
Lord, please forgive me for all the times when I have spoken words of death, doubt, and unbelief.
I confess right now that every word I have ever spoken in my life that was not like You–that did not line up with Your Word–was sin. Please forgive me, Father, for I have sinned against You. Wash me clean in the blood of Jesus; cover me, and fill me with Your Spirit where those things were.
Father, from now on, I desire by Your grace to speak only like You speak.
I choose to speak words that are spirit and life. I desire to create the reality with my words that You laid out for me in Heaven before the foundation of the world. I desire to aggressively build my life upon the rock of Your Word, spoken out and manifested so that my life begins to look just like Heaven.
Father God, in Jesus' name, I ask right now that You would set a watch on my mouth.
Fill my mouth with Your words, Lord. Let me speak as the oracles of God, every moment of every day–anytime I have anything at all to say. And Lord, if I'm even tempted to say anything at all that's not from you, then Father I ask in Jesus' name that You would let my tongue cleave to the roof of my mouth.
Lord, I ask that You would let my tongue be physically immobilized if I'm even tempted to release any words that are not from You; words that do not line up with Your Word.
Father, please help me.
I can only do this by Your grace, Lord; but I believe and acknowledge that Your grace empowers me to live a holy life; to live without sinning. So Father, You are helping me. Please help me to hide Your Word in my heart so that I will have the vocabulary to speak Your words of life in every situation.
Quicken and awaken my conscience, Lord. If I falter or speak words of death, help me to renounce those words immediately and repent of them. And teach me to speak out Your truth in that moment in place of those words.
Father, set a watch on my mouth. Let it be for Your glory and Your praise, and use me as a creative force on the earth to release Heaven everywhere I go.
Thank You, Abba Father. In Jesus' mighty and precious name I pray, amen."
Beloved, did you just ask the Father to set a watch on your mouth? If so, don't stop there! Begin speaking words of life today, and ask Him every day going forward to help you. He will do what you ask!
If this message speaks to your heart today, please leave a comment below.