Prayer 3: A New Heart and a New Spirit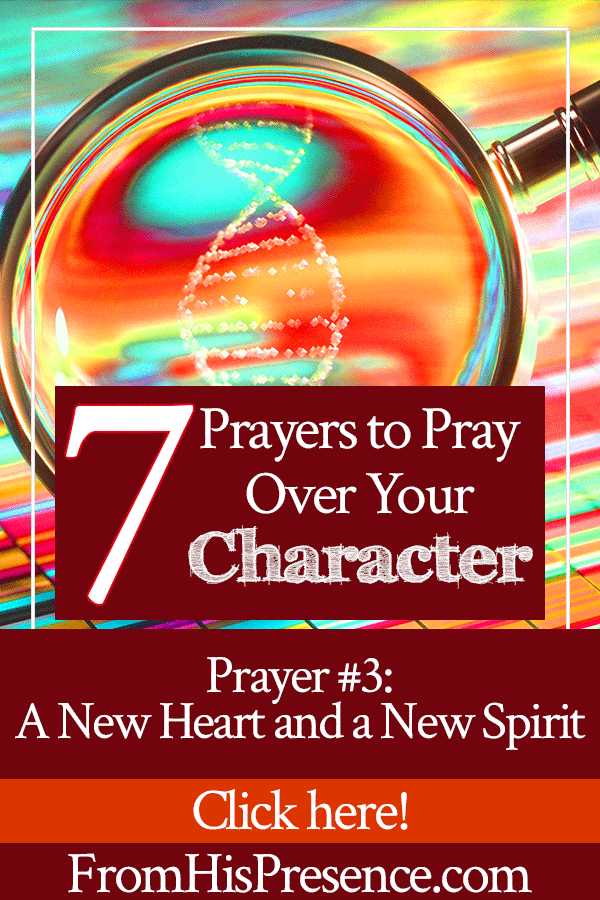 One of the most life-changing things you can ever ask God for is for Him to give you His heart. Having the heart of God totally transforms the way you live, the way you see people, and your effectiveness in the Kingdom. And fortunately, God has promised to give us just that; for His Word states He will give us a new heart and a new spirit if we but ask.
We read this promise in Ezekiel 36:25-32, which says:
"'Then I will sprinkle clean water on you, and you shall be clean; I will cleanse you from all your filthiness and from all your idols.

I will give you a new heart and put a new spirit within you; I will take the heart of stone out of your flesh and give you a heart of flesh. I will put My Spirit within you and cause you to walk in My statutes, and you will keep My judgments and do them.

Then you shall dwell in the land that I gave to your fathers; you shall be My people, and I will be your God. I will deliver you from all your uncleannesses. I will call for the grain and multiply it, and bring no famine upon you.

And I will multiply the fruit of your trees and the increase of your fields, so that you need never again bear the reproach of famine among the nations. Then you will remember your evil ways and your deeds that were not good; and you will loathe yourselves in your own sight, for your iniquities and your abominations.

Not for your sake do I do this,' says the Lord God, 'let it be known to you. Be ashamed and confounded for your own ways, O house of Israel!'" (emphasis mine).
God's heart is totally different from mankind's heart.
Here are a few ways that God's heart is different than our hearts:
God's heart changes everything.
My "Healing from Conditional Love" recorded webinar video class is one of the most touching, most impactful, and most transparent words of healing the Lord has ever given me. I had to go through hell to learn this. Grab the video class on my Gumroad store TODAY if people in your life have based their love for you on CONDITIONS!
Carrying God's heart will transform your life … and we haven't even begun talking about God's Spirit yet!
God's Spirit, also known as "Holy Spirit" or the "Spirit of the Lord," is a Person. He is almighty and magnificent; very God of very God; the third Person of the Trinity. If you have given your life to Jesus Christ and made Jesus the Savior, Master, and Boss of your life, then God the Father sent His Spirit to live inside your heart the very moment you surrendered your life to Jesus.
Yes: if you have given your heart to Jesus, Holy Spirit lives inside you right now. You do, indeed, have a new Spirit–God's Spirit.
But there are levels of surrender to God's Spirit.
You can either be not-very-surrendered or COMPLETELY and totally surrendered … or anywhere in between. And the amount of power God displays in your life–together with:
… All depend on how surrendered you are to God's Holy Spirit. They all depend on how much you obey Him, for all of God's promises are conditional.
So. You have Holy Spirit living inside you right now if you have given your heart to Jesus. But, do you listen to Him?
Related: Are You a Disciple of Jesus or a Fan of Jesus?
Do you listen when He tries to convict you of sin? Or, do you brush His voice aside so you can do your own thing?
Do you pay attention and obey when He tells you "Don't say that," or "Clean the house," or "Put your phone away and pay attention to your family," or "Tithe!"?
Do you listen when He nudges you to come away from what you're doing and spend time with Him, with Jesus, and with Heavenly Father–just you and God by yourselves? Or, are you too busy to be alone with Him?
Do you give Holy Spirit first place in your life, listening to His voice through the pages of His Word that He personally breathed out as a letter to you–and obeying what you find written there? Or, do you relegate Him to the sidelines, only paying attention to Him for a few minutes in your car or a few minutes at church each week–whenever you need a touch from God?
These are challenging questions, but they must be answered if you want to truly grow your character in the ways of the Lord and become like Him.
God's Word says He will give you a new heart and a new Spirit.
Related: Getting to Know the Sevenfold Holy Spirit
I believe He fulfills the promise to give you a new Spirit at the moment of your salvation. I believe He will give you a new heart when you ask Him to–and that the new heart He gives you will be His heart, for the manifestation of Himself is all He has to give.
But there are levels of operating in both His heart and His Spirit; and it's not enough to simply have Holy Spirit operating in you. You/we have to surrender to Him.
The same way, when He gives us His heart, we have to surrender to operating in it.
The enemy will tempt us to do things that contradict the heart of God. When people hurt you, the enemy will tempt you to be angry and take revenge. But you know what? The heart of God causes you to say instead, "Oh God, bless them; help them; heal them; forgive them; restore their lives, for this is Your will concerning them."
However, in order to operate out of God's heart like that, you have to be surrendered to the Lord. This means that the prayer for a new heart and a new Spirit isn't complete unless we pray for help actually OPERATING in God's heart and Spirit, as well as receiving God's heart and Spirit.
But that's exactly the kind of help God says He will provide in Ezekiel 36:27:
"I will put My Spirit within you and cause you to walk in My statutes, and you will keep My judgments and do them."
Did you get that? Not only is God "good for" giving you a new heart and Spirit–His heart and Spirit–but He will also actually CAUSE YOU to walk in His ways, to keep His commandments, and to do them! It's just like He says in Philippians 2:13:
"for it is God who works in you both to will and to do for His good pleasure."
Did you get that? Our dear Heavenly Father–our loving, kind, generous, GOOD Papa–works in us both "to will"–in other words, to use your will to actually want to do something–AND "to do" His good pleasure! That means He's working in you right now both to "want to" obey Him AND to actually OBEY! He gives you the "want to" AND the power to carry it out!
God is so good, isn't He? Only He would be so good as to do that much for us, in us, and through us. His grace truly does empower us to live holy lives. Thank You, Abba Father! Thank You!
So not only will God give you a new heart and a new Spirit when you ask, but He will also help you live your life MANIFESTING His heart and His Spirit.
Are you ready for this? Do you want this?
If so, pray this prayer with me for a new heart and a new Spirit:
"Abba Father, I come before You in Jesus' name.
Heavenly Father, I thank You for sending Your Son Jesus to the earth to pay the price for my sins. Your Word says that it actually pleased You to crush Him–not because You loved that He was crushed, but because You and Jesus agreed on the plan to save ME from my sins using Jesus' perfect blood shed in my place–because You both loved me so much.
Father God, thank You.
I can't understand that kind of love. But I thank You for loving me, and today I surrender to my life to You in a whole new way.
Lord Jesus, thank You for dying for me. Thank You for living a perfect life so You could die in my place. Thank You. I confess that I have done many wrongs in my life and have sinned many times; but I receive Your forgiveness right now and always.
Your blood goes on cleansing me, Jesus; and I make You the Lord, Boss, Master, and Savior of my life. Even if I have already prayed to make You the Lord of my life, Jesus, I do so again today.
Abba Father, Your Word says that You will give me a new heart and a new Spirit. It says that You will take away my stony heart and give me a heart of flesh. It says that You will take away my old spirit and give me Your Spirit.
So Father God, I ask You to do that today. Take away my old heart, Lord–and give me Your heart.
Even if I've already given my heart to You, I know I'm not like Jesus yet. My heart is worn out and old. So, I still need You to take away the heart that I have today and replace it with a brand-new heart instead.
And Lord, since You only give things that are manifestations of Yourself, I believe and know that the heart You are giving me right now is Your heart. So, thank You. Thank You for giving me Your own precious heart.
And Abba Father, please take away my old spirit and give me Your Holy Spirit.
Like David, I cry out, "Create in me a clean heart, O God, and renew a steadfast spirit within me. Do not cast me away from Your presence, and do not take Your Holy Spirit from me" (Psalm 51:10-11). Fill me with Your Spirit, Father, and let me be completely surrendered to Him.
Lord God, I ask in Jesus' name that You would work in me today both to WILL and to DO Your good pleasure.
Whatever You want me to do, Lord, help me do it. Whatever You want me to say, help me say it. And wherever You want me to go, help me go there. And no matter what, work on my "want to." Let me obey You willingly and eagerly, not grudgingly or out of necessity.
Abba Father, I confess that I am crucified with Christ, therefore I no longer live. Jesus Christ now lives in me. So Father, in Jesus' mighty, wonderful, and matchless name:
Father, I love You. Lord Jesus and precious Holy Spirit, I love You.
I love You with all my heart. Please forgive me my sins. Cover me with the blood of Jesus, and make me clean. Help me to live pure and holy before You today and every day, and help me to operate from and in Your heart and Your Spirit–and ONLY in Your heart and Your Spirit.
Thank You, Father. Thank You for loving me, for caring for me, and for hearing my prayer. Thank You for just being You and for being so good to me. I give You all the praise and all the glory.
In Jesus' name I pray, amen."
Beloved, did you pray that prayer with me? Did you ask the Lord for a new heart and a new Spirit? If so, He certainly gave it to you. Leave a comment below and tell me how the Lord is touching you right now!