Are You a Disciple of Jesus or a Fan of Jesus?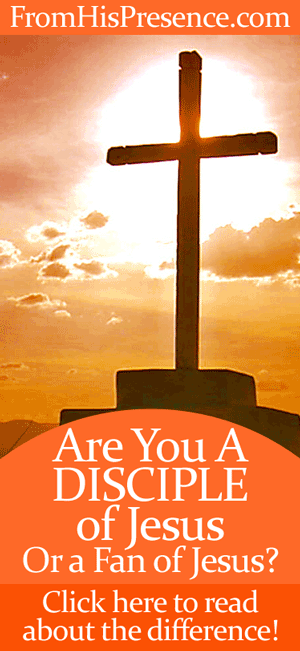 Have you ever stopped to wonder if you are a disciple of Jesus or a fan of Jesus?
It's an important question, and it sobers me up every time I think about it. Here's why:
Two thousand years ago, Jesus walked up to twelve guys individually and said, "Follow Me." Those guys were just normal guys doing normal guy stuff. They were working, fishing, and caring for their families. They were just being dudes.
But when Jesus approached them and called them, they dropped everything and obeyed the call. And because they decided to become disciples of Jesus, those guys' lives all got turned upside down.*
Seriously. These twelve men's lives changed FOREVER because Jesus invited them to be His disciples.
But what did that mean to them? What does it mean to you? What is a disciple?
In his book "Multiply," Francis Chan
writes:
The word disciple refers to a student or apprentice. Disciples in Jesus' day would follow their rabbi (which means teacher) wherever he went, learning from the rabbi's teaching and being trained to do as the rabbi did. Basically, a disciple is a follower, but only if we take the term follower literally. Becoming a disciple of Jesus is as simple as obeying His call to follow."*
That's pretty deep if you think about it.
In the Western mindset, we are trained to believe that there is a disconnect between learning and doing; between seeing and actualizing; between the word and the action.
So many Christians have a mindset that says, "I really love Jesus. Thank You, Jesus, for saving me. I love You. I'll listen to You, and then I'll decide if I'll do as You say. And even if I decide not to obey You, don't take it personally. I'll still love You just as much."
The only problem here is that THAT mindset is not called 'being a disciple.' THAT is called being a fan.
Fans of Jesus go to church. They enjoy a good sermon. They might even read their Bibles. They talk a good talk. But when it comes time to make the decision to obey Jesus, fans usually say no.
Disciples, by contrast, are vastly different:
Disciples obey God. Disciples receive the Word and do what it says, because that is what God teaches us we should do.
Disciples understand that there should be no disconnect between hearing the Word and obeying the Word.
Disciples are supernaturally empowered to obey because they understand that God's Word is actually creative. When God speaks His Word into you, it not only gives you new revelation, but it also literally births in you the power to perform it.
So, by the empowerment of the Holy Spirit, a disciple obeys God in all things and seeks to be like his Teacher.
In Bible times, being a disciple changed you. You got dirty with your teacher.
That's why Jesus said in Luke 6:40:
A disciple is not above his teacher, but everyone when he is fully trained will be like his teacher."
When Jesus said that, the Jews knew exactly what Jesus was talking about. Real discipleship was something they saw every day. It was a way of life for them.
But is it a way of life for you and me?
Does my love for Jesus show up in my actions? Does your love for Jesus show up in yours? If we are truly disciples of Jesus, it will show up in our actions. Our actions will show that we are following Christ, not just admiring Him.
Being a fan of Jesus means you can do what you want. But following Jesus means you become like Jesus. In his book "The Cost of Discipleship,"
 Dietrich Bonhoeffer, a great theologian and martyr of the 20th century, wrote, "When Christ calls a man, He bids him come and die." Disciples have to die to themselves and their own way of doing things, and embrace Christ and His way of doing things.
And when your life lines up with what you see in your Teacher's life, then and only then are you truly a disciple.
Are you a disciple of Jesus or a fan of Jesus? And if you're a fan, what do you need to do so you can start being a disciple instead?
*Multiply, 15-16
The links above to Amazon.com are my affiliate links. this means that, if you click on these links to purchase products on Amazon, Amazon will pay a small commission to me (at no additional cost to you of course). Thanks in advance for helping support this blog! (Disclosure policy here.)
Image courtesy of Waiting For The Word on Flickr via Creative Commons license. Image has been cropped and graphics added.