5 Encouraging, Prophetic Words About Rest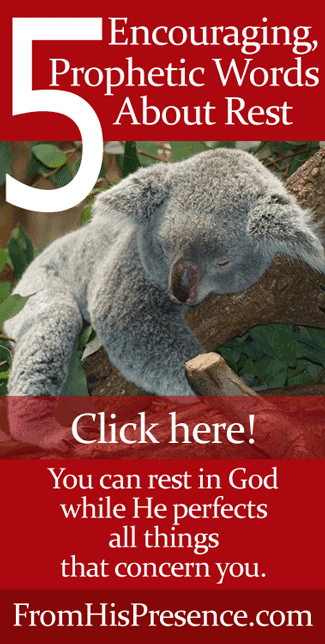 Dear readers, I know many of you feel tired and weary, so I asked the Lord to give me a piece of encouragement for you today. He gave me these 5 encouraging, prophetic words. If any of these resonate with you and speak directly to your spirit, would you let me know? (And I'm so grateful for how our Daddy God encourages His kids, aren't you?) 🙂
Here are the 5 encouraging, prophetic words I felt like the Lord is speaking for you today:
1. "Come to Me, My child. You are so weary from walking a long and dusty road.
There is sand in your eyes from the things you've been through. I desire to take you in My arms, protect you from the world, and RESTORE you in all things.
My good plans for you are not over. Your enemies have not bested Me. I am stronger. I am your Refuge, your Shield, and your Exceeding Great Defense. I am the Rock that is higher than you are, and I am quite capable of bringing you into the fullness of your destiny no matter what you have been through. Seek shelter under the shadow of My wings.
Psalm 17:8-9: "Keep me as the apple of Your eye; Hide me under the shadow of Your wings, from the wicked who oppress me, from my deadly enemies who surround me.""
2. "My child, I have protected you all these years.
You have no idea what I have protected you from. And I am protecting you still. It's Who I Am: your Protector, Provider, and your Rest. You are SAFE in My arms. Nothing shall by any means harm you.
So rest in Me, My child. Snuggle up to Me and let's just be close. I will perfect all things that concern you as you just seek Me. Matthew 6:33: "But seek first the kingdom of God and His righteousness, and all these things shall be added to you.""
3. "The sands of time have worn you down, but I desire to make all things new in your life.
The words that I speak to you are spirit and they are life. Would you separate yourself to Me for a time? Would you be filled with My Word, My Spirit, My life? I promise you it will be worth your while. I am the Way, the Truth, and the Life. I am the Solution for whatever you need.
Psalm 61:1-4: "Hear my cry, O God; attend to my prayer. From the end of the earth I will cry to You, when my heart is overwhelmed; lead me to the rock that is higher than I. For You have been a shelter for me, a strong tower from the enemy. I will abide in Your tabernacle forever; I will trust in the shelter of Your wings. Selah.""
4. "Resting in Me is not as hard as you think.
It involves seeking My Person–Who I Am, what I like, what I hate, what makes Me laugh, what makes Me weep. The same way you would develop intimacy with your best friend is the way you develop intimacy with Me. You were created in My image, and you were created to conform to My image in all things.
So let's talk. Let's hang out. Let's spend time together. I love you very much and I crave your company, just like you crave Mine, whether you know it or not. We were made for each other. YOU are the desire of My heart. Allow me the privilege of intimacy with you. You are free to enjoy Me. I'm fun to be with, and I think you are amazing.
As we do life together and develop closeness with each other, you will find rest for your spirit, soul, and body. Psalm 138:8: "The Lord will perfect that which concerns me; Your mercy, O Lord, endures forever; do not forsake the works of Your hands."
5. "Time together with you is the highlight of My day.
I want nothing more than to warm your heart with My words of love. I adore you. You are my beloved child, in whom I am well pleased.
Would you come away with me so I can stare into your beautiful eyes, beloved? I am your Daddy, and I dote on you. You are precious and beloved in My sight, and I desire to pour out all good things on you–first and foremost, My love. In the shadow of my wings, you will find peace.
Psalm 91:1-2: "He who dwells in the secret place of the Most High shall abide under the shadow of the Almighty. I will say of the Lord, "He is my refuge and my fortress; My God, in Him I will trust.""
Does one or more of these words leap off the screen into your heart? If so, the Holy Spirit is speaking to you. He loves you so much, and He desires the pleasure of your company. May you find rest today as you delight in Him.
If the Lord ministered to you through one of these words, would you leave a comment below and let me know? I'd sure appreciate it! And thanks!