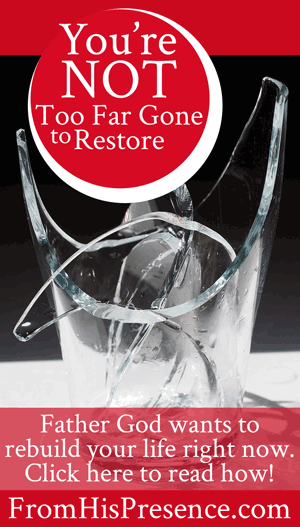 The Lord told me today that some of you are afraid that you're too far gone to restore. You think you've crossed the line; been abandoned by God; done too much that's wrong, or wandered too far away.
And He told me to tell you that, beloved son, beloved daughter: It is not too late for you.
It's always Father's will to heal you. It's always Father's will to restore you.
And His hand is not shortened, that it cannot save. The Bible says:
Behold, the Lord's hand is not shortened, that it cannot save; nor His ear heavy, that it cannot hear.

But your iniquities have separated you from your God; and your sins have hidden His face from you, so that He will not hear.

For your hands are defiled with blood, and your fingers with iniquity; your lips have spoken lies, your tongue has muttered perversity" (Isaiah 59:1-3).
God is ready and eager to help you and restore you FULLY, no matter what your circumstance is.
If you're sitting in jail while you're reading this, He wants to restore you.
If you're sitting in divorce court, He wants to restore you.
If you cried yourself to sleep last night for any reason at all, He wants to restore you.
Anytime we sin, it causes problems. Sin breaks things and hurts people, including you. That's just fact.
But no matter what you've done, you can be forgiven and restored–right now, today!
Isaiah 55:6-9 says:
Seek the Lord while He may be found, call upon Him while He is near.

Let the wicked forsake his way, and the unrighteous man his thoughts; let him return to the Lord, and He will have mercy on him; and to our God, for He will abundantly pardon.

'For My thoughts are not your thoughts, nor are your ways My ways,' says the Lord. 'For as the heavens are higher than the earth, so are My ways higher than your ways, and My thoughts than your thoughts.'"
Beloved, you can be restored. Your life can be fully healed and rebuilt, better than it ever was before.
If you've gotten into sin, restoration is going to take some changing on your part. It's going to take some choosing. You'll have to choose to abandon your sin and seek Him instead.
But you don't have to go it alone; He knows you're weak on your own, so He'll be right there with you all the way.
2 Corinthians 12:9 says:
And He said to me, "My grace is sufficient for you, for My strength is made perfect in weakness." Therefore most gladly I will rather boast in my infirmities, that the power of Christ may rest upon me."
Your weakness is okay with God. It makes you dependent on Him, and He WANTS you to depend on Him.
And AS SOON as you turn your face to seek Him, you will find that He's been right there waiting on you, all along.
Beloved, you are not too far gone to restore. And nothing you care about is too far gone to restore either.
That means it's:
Not too late for your marriage;
Not too late for your finances;
Not too late to turn your heart and soul back to seeking the face of Father;
Not too late for your health;
Not too late for you to rebuild your life after incarceration, addiction, homelessness, or abuse.
The enemy has been trying to tell you it's too late, but hear the word of the Lord today: It's not too late. It's not too late. It's not too late. God can and will restore you if you will seek Him.
Will you seek Him today, and allow Him to restore you as you focus on Him?
You'll get an email when new content is posted. I'll also send you exclusive prophetic words, teaching material, and more. You'll even receive my free, printable blessing cards and my ebook–The Presence Seeker's Creed–for free when you confirm!
Partner update: I need 1,000 partners to share in this Gospel work in the amount of $8 per month. Is God calling you to partner with me in this ministry? If so, please click here to read the details.
And partners: THANK YOU. I am more thankful for you than words could ever express, and I pray for you daily.