Prayer 4: Let Your Word Dwell In Me Richly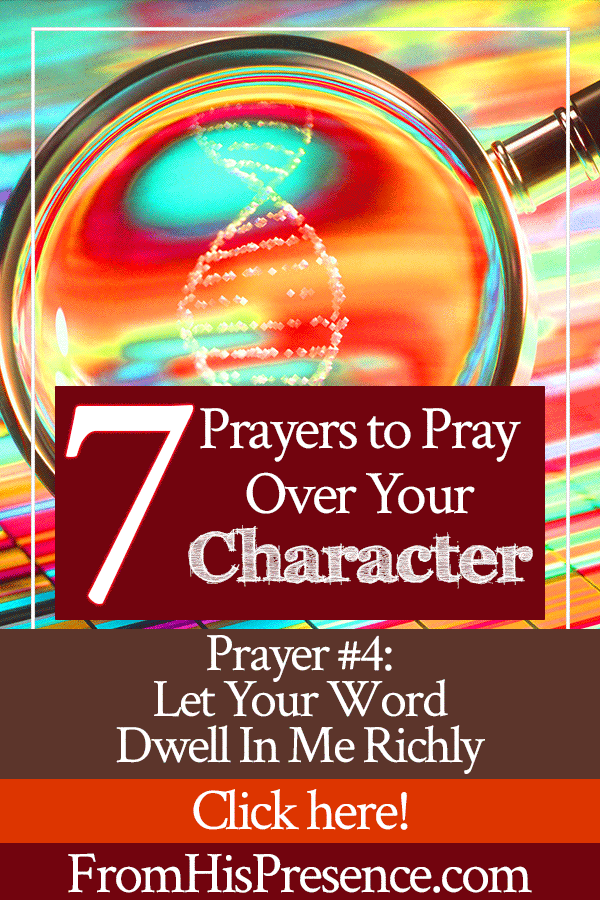 Do you want to be filled to overflowing with God's power? If so, then it will help you to pray, "Lord, let Your Word dwell in me richly!" every single day!
God's Word is the greatest source of power on earth.
Related: 7 Reasons to Love the Word of God
The Word of God is effectual, which means it carries power with it to actually birth whatever it speaks. It is comforting. The Bible even tells us that the words God speaks are spirit, and they are life. John 6:63 says:
"It is the Spirit who gives life; the flesh profits nothing. The words that I speak to you are spirit, and they are life."
God's Word, if it is received, brings change.
You can read the Word of God and not be changed if your heart is hard. We know this because Jesus told the Pharisees that they had searched the Scriptures, but had missed Him completely–the One who WROTE the Scriptures! We also know that it's possible to read God's Word and not be changed because even the devil knows the Bible.
Learn more about God's Word by exploring our How to Know the Bible is True series!
But, "knowing the Bible" does not equal holiness. Knowing God's Word does not equal obedience to God's Word. In order to be changed by God's Word, we have to actually let it dwell in us and submit to it.
Humility and submission to God's Word are essential.
If your heart is moldable and pliable before God, and if you ask His Holy Spirit for help, God will use His Word to change your heart. He will speak to you through His Holy Spirit, doing surgery on your heart, soul, spirit, and even on your body. He can only do this when you are willing to submit to His Word, though.
The long and the short of it is, if we don't submit to God's Word, then we are not Christ-followers at all.
John 14:23-24 says:
"Jesus answered and said to him, 'If anyone loves Me, he will keep My word; and My Father will love him, and We will come to him and make Our home with him. He who does not love Me does not keep My words; and the word which you hear is not Mine but the Father's who sent Me.'"
Jesus said that, if we don't keep His words, we don't love Him. That's pretty simple, and about as plain as you can get. Even in John 14:15, He said, "If you love Me, keep My commandments."
But DO we? Do we love Him, and do we keep His commandments? The answer is evidenced 100% by how well we keep His Word in our hearts and obey it.
Want to be closer to God? Get this book!
7 Prayers to Pray Over Your Character
If you want to be more like Jesus, get the book and pray these 7 prayers every week! You can use it as a rotating prayer plan. Memorize the key points of the prayers and cry out to the Lord daily! He will transform you as you pray, and you will draw ever closer to Jesus.
If you and I want to grow in character and Christlikeness, we simply have to let His Word dwell in us richly–taking root and bringing forth obedience to everything He tells us to do.
There's no getting around it. We have to believe and obey His Word. THIS is Lordship; the very definition thereof. Calling someone "Lord" means "Boss, Master"; and if we don't do what Jesus says, then He is not our Boss or Master.
If Jesus IS, however, our Lord, then we will read His Word, absorb His Word, meditate on His Word, and obey His Word–no matter what it takes. That is what true Lordship is all about.
So will you pray with me today and ask the Lord to help you yield and submit to His Word?
Will you ask Him to let His Word dwell in you richly, taking over your life and bringing you into total submission and subjection to God our Father, His Holy Spirit, and our Lord Jesus Christ?
If so, pray this with me:
"Abba Father, I come to You in Jesus' name. Father God, I love You.
Thank You for hearing my prayer today. Thank You for giving me another day of life today, and for sustaining me and helping me in all things.
Father God, I want to obey You. You are my God, and Your Son Jesus is the Lord of my life. But I confess to You right now, as You already know, that I don't always obey You–and I know that means that there are areas of my life where I have not made You Lord at all.
Abba Father, please forgive me, for I have sinned.
I have sinned against You and against my Lord Jesus by not obeying You in all things–in every single thought and word and action in my life. I have sinned against You also by saying You are my Lord, but acting completely contrary to what You have commanded me to do.
Lord God, Your Word says that, if I confess my sins, You are faithful and just to forgive me my sins, and to cleanse me from all unrighteousness. I have confessed my sins to You now, so I ask You to forgive me. Cover me with the blood of Jesus. Wash me clean and cleanse me, and fill me with Your Holy Spirit in all of my being. Thank You, Father, in Jesus' name.
Father, I choose from this day forward to make You my Lord in deed as well as in word. And to do that, Father God, I need Your help.
I need Your help to obey Your Word; to hide Your Word in my heart; and to submit to Your Word. Please help me from this day forward, Lord:
Lord, from this day forward, as I read Your Word, please sear it into my heart like a brand.
Let Your Word be like a cattle brand to my heart, forever changing and shifting the landscape of my heart as I read. Let there be smoke as Your Word burns into my heart and changes me, making me like You. Help me to remember Your Word and do it; make me a doer of the Word, and not a hearer only, deceiving myself.
Father, I pray also that Your Word would dwell in me richly:
Let it take root in my heart.
Speak to me out of the pages of Your Word, Lord.
Don't let Your words just be dry words on a page, but I pray that Holy Spirit would speak directly to me out of Your Word every single day.
Let Your Word jump off the pages into my heart, and help me to understand deep down in my heart that You are speaking directly to me.
Abba Father, I pray also for humility. Help me to humble myself before Your Word.
Lord, when Your Word says something good about me, help me to get rid of my pride that tells me I know better than You do–and help me to believe what You say about me. When Your Word convicts me of sin, help me to humble myself before You then too–and repent of my sin and change. No matter what You say in Your Word, Lord, please help me to accept it and not argue with You.
Lord, I want to be Your humble servant.
I don't want to kick against the goads. I don't want to combat You as You disciple me and teach me. I want to yield to You. I am Your servant, Father, and I desire to serve You well. When You come back to take me home, I want to hear You say, "Well done, good and faithful servant. Enter into the joy of your Lord."
But Father, I know I cannot ever hear that unless I obey You, listen to You, follow You, and walk in Your ways. And all of those things depend on how well I hear Your words and obey them. So Abba Father, in Jesus' name, I place myself into Your hands. I commit myself to reading Your Word, obeying it, and hiding it in my heart.
Let Your Word dwell in me richly, Abba Father.
Let me be good soil for Your Word to grow in. Let every word that I read out of the pages of Your Holy Word, the Bible, take root in me and bring forth good fruit–thirty, sixty, and a hundred times more fruit. Let Your Word run swiftly into my heart and take root in my life, yielding up perfect obedience to Your glory and Your wisdom.
Thank You, Father. In Jesus' holy and precious name I pray, amen."
Beloved friend, if you want to change, you must hide God's Word in your heart–and submit to it daily. Are you willing to do that? Did you pray the prayer above with me today? If so, leave a comment below! I love to hear from you.
Read the whole 7 Prayers to Pray Over Your Character series!