The Sevenfold Holy Spirit: The Spirit of Knowledge Gives Life-Changing Revelation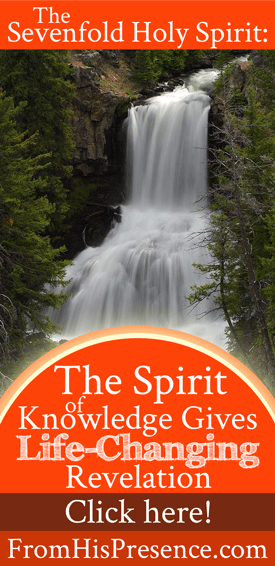 In this series, we've been talking about and getting to know the precious sevenfold Holy Spirit. Today, we're going to talk about the Holy Spirit of knowledge, who will give you life-changing, radical, gut-level revelation if you want Him to.
In the Western world and also in the English language in general, we have done ourselves a disservice when it comes to knowing God.
Somehow, through the course of history, we took God's concepts and watered them down to a humanistic, intellectual way of thinking—and by so doing, we robbed themselves of their power.
But God is still the same, and if we go back and study His Word the way He wrote it—not applying our Western traditions to it, but reading it for what it actually says—we can get back the power that He originally intended for us to have.
And if we learn the difference between knowledge (the way we think of it in English) and God's revelation, we can get so much of God's power back.
Getting to Know the Sevenfold Holy Spirit: A 12-Day Devotional Guide
Get the book and focus on communion with God's Holy Spirit for 12 days! Remember that He is your Helper, Comforter, and Advocate. You can't truly know God without knowing His Holy Spirit!
Think about this:
When you say, "I know that" about any particular subject, you generally mean that you are aware of a specific piece of information, right? For example, if I tell you that fire is hot, you would tell me you know that; and you would mean that you have the knowledge in your head that fire is hot.
However, if your body carries scars from burning yourself when you got too near a fire one day, and I tell you that fire is hot, you're going to say "I know that" in a totally different way. Your "I know that" actually means, "I have experienced that and I carry the results with me to prove it."
Here's the difference between the Western/English concept of knowledge and God's definition of knowledge:
In Hebrew, "to know" doesn't mean to have a particular piece of knowledge in your head. Instead, it means to have an intimate, experiential, life-changing knowledge.
It is this kind of knowledge that we read about in Genesis, when God told us that Adam "knew his wife, and she conceived and bore" a son (Genesis 4:1). Um hum. "Knowing" resulted in the conception of a baby. That's knowing for sure by intimate experience, and that kind of knowledge is the only concept of knowledge that exists in God's economy.
In other words, "head knowledge only" doesn't exist. It's not real knowledge.
REAL knowledge is intimate, gut-level, life-changing, experiential knowledge that changes your life forever.
And that, my friend, is what the Holy Spirit of knowledge gives you.
Remember that Isaiah 11:1-2 says:
There shall come forth a Rod from the stem of Jesse,
and a Branch shall grow out of his roots.

The Spirit of the Lord shall rest upon Him,
the Spirit of wisdom and understanding,
the Spirit of counsel and might,
the Spirit of knowledge and of the fear of the Lord.
In this passage, the Lord identifies the sevenfold Holy Spirit for us, and tells us that one of His names is "the Spirit of knowledge." So …
… in the same way that the Holy Spirit is the Spirit of Yahweh who keeps covenant with you and wants to be known by His first name
… the same way He is the Spirit of counsel who will advise you, instruct you, and guide you
… and the same way that He is the Spirit of might who will fight on your side …
… the Holy Spirit of knowledge–of intimate knowledge, not "head knowledge"–wants to give you gut-level, life-changing, radically-transforming revelation.
Do you want this?
For example:
Do you want to really know, deep down on the inside, how much God loves you–to feel His love and taste it and smell it–and have His love transform your life?
Do you want to really know how good He is, so you can trust Him and rest in His goodness?
Do you want to truly, deeply understand the Scriptures, so that every time you read your Bible, your life changes and you become a little bit more like Jesus?
I sure do.
I first heard about the concept of life-changing revelation from the Holy Spirit by listening to Joyce Meyer teach God's Word. And when I heard about it–hearing how messed-up she had been and looking at where she is now–my heart became hungry for the same thing. So I began to cry out this simple prayer to God:
"Lord, give me revelation!"
I didn't know at the time that the Lord is the actual Spirit of revelation. I just knew I needed help–all the help I could get. And I still do. He answered then, and He answers now, because I cry out to Him often for more and more and more revelation.
I crave Him and His truth. I need to know Him, and I need His truth to change my life.
So I ask. Lord, give me revelation.
Do you want true revelation from the Holy Spirit of knowledge today? Pray this simple prayer with me:
Heavenly Father God, Holy Spirit, I come before You in Jesus' name.

Holy Spirit, thank You for being the Spirit of true knowledge and revelation. You and You alone have all knowledge and all understanding in heaven and earth. So Father God, please fill me up to overflowing with Your Holy Spirit today.

Holy Spirit, give me revelation. Help me to know You, to know Jesus, and to know my Abba Father. Fill me with gut-level, life-changing, intimate knowledge of You and Your truth in every way. Help me to receive revelation from You that changes my thoughts, my actions and behavior patterns, and my outlook on life completely.

Father God, let everything about me and my life line up with Your truth, in Jesus' name. Holy Spirit, I surrender myself completely to You. Please have Your way with me. Sear Your Word into my heart like a brand, and help me to understand it.

Thank You, Father God. Thank You, Holy Spirit, for Your knowledge and revelation. I love You, and I thank You for hearing and answering my prayer. In Jesus' name, amen.
Do you need revelation from the Holy Spirit of knowledge? Does this word stir a hunger in your heart? If so, please leave a comment below. I'd love to hear your thoughts!
Related: