Notes from the Trenches: This Month's Inspiring Stories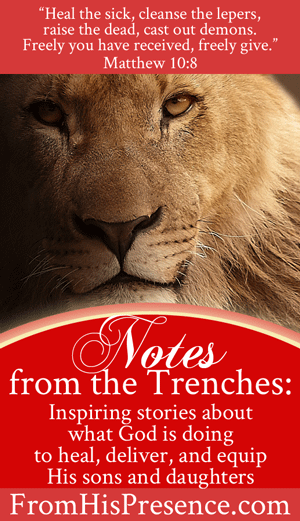 It's on my heart to share with you today what I have seen God doing over the last month. I will be doing this once each month going forward, and this will also be my partner update for those of you who have partnered with me.
I want to share stories with you so you can see what God is doing in His Body, and also so my partners will know that your partnership is making a difference.
Your partnership allows me to serve the Body of Christ, and the Lord is touching His sons and daughters day in and day out. I believe this is good ground, and I pray continually for Abba Father to multiply your seed back to you in increasing abundance.
First, blog reach and other notable stuff for the last month:
In March 2016, this blog received 38,880 pageviews. Thank You, Jesus!
I published 21 new blog posts since the first of March (counting today's), including a giveaway of my Supernatural Grace for Glorious Fasting teaching mp3.
I, um, didn't want to limit the amount of fasting and prayer the Lord could receive, so I ended up giving away 42 copies of that MP3 between the partner giveaway and the regular giveaway. 🙂 (By the way, if you listened to that and it blessed you, please let me know so I can add testimonials to the product page for the fasting MP3. Thanks in advance!)
I attended and worked at a 5-day conference at my church–morning, afternoon, and night. In addition to soaking up the worship and Word (which were sooo good!), I also led our prophetic team as we served over 80 of our guests in personal prophetic ministry appointments, plus I served in our  altar counseling ministry.
The pageviews for March were lower than my goal because I was unable to promote the blog on Pinterest (one of my largest traffic sources) during the conference, as well as for the week afterward while I went back to work and tried to recover physically from the conference. 🙂
God also supernaturally made a way for me to attend The Call Azusa (Azusa Now) in Los Angeles, California, this last weekend, for a day of fasting and prayer with over 100,000 people for revival in America. I'll be writing more about that shortly, as well as sharing impartation that I received from it. Freely we have received, freely give, right? 🙂
Papa also provided for my mission trip to Nicaragua in June to be nearly completely paid for. Only a short way to go! Thank You, Jesus!
Ok, now for ministry testimonies. As I share, please know these things:
God does the work and I give Him all the glory.
I'm very grateful that He has allowed me to participate in any way whatsoever in something HE did.
He is no respecter of persons. He will do the same things in and through your life if you ask Him to.
He LOVES you just as much as He loves the people I will tell you about.
The testimony of Jesus is the spirit of prophecy (Revelation 19:10). As you read these stories about what God has done for others, if you will join your faith to what the Holy Spirit is doing, He will literally release a grace into your life to help you receive the same thing.
And a little bit about the way I have written the stories below:
I will refer to every person as a "son" or "daughter." This doesn't mean they are my son or daughter specifically. We are simply ALL sons and daughters of Abba Father, and referring to people simply as "son" or "daughter" preserves their confidentiality.
The situations I describe below are all from my personal experience–things I have seen with my own eyes from the people God and my pastors have asked me to serve over the last month.
Just so you know, I am not a counselor. I am an intercessor … but if you're with someone who needs help, if you call on Jesus the Wonderful Counselor, He'll do the counseling while you do the praying. So that's what I do. I follow Him and let Him do the tough work while I pray and ask questions … and He always comes through. Always.
Papa's amazing like that. 🙂
Here are the stories about what God has done in the last few weeks:
A son empowered to receive:
I walked a son through an inner-healing/prayer session. This son was unable to receive from the Lord. When Papa tried to bless him, he would refuse to be blessed. He was incapable of receiving love or provision from the Lord because of it.
As our intercessor prayed for us, the Holy Spirit showed him what had happened in his past that made him unable to receive. He forgave the person who had hurt him. He then saw in his mind's eye a picture of the Holy Spirit smashing down the wall that this son had built between him and God. Then he sensed the Holy Spirit picking him up, cradling him close like a baby, and dumping showers of blessing on him. The Lord opened his heart to receive for the first time in his adult life.
A marriage saved:
A son who wanted to leave his wife, didn't. And a daughter who wanted to leave her husband, didn't. Instead, with the supernatural help of the Holy Spirit, they stayed, forgave, and decided to follow godly counsel and pursue healing.
A son delivered from suicidal thoughts:
A son said he had a gun and wanted to kill himself. He was hurting and the pain felt unbearable. As I spoke with him and prayed with him, the Holy Spirit comforted him and showed him that the hurt was healable through the power of forgiveness.
That son chose to forgive the person who had hurt him that day, and he came out of agreement with the demonic spirit of suicide. He allowed the Holy Spirit to fill him and lead him in the paths of life.
A wife repented to:
A son had been treating his wife harshly, hurting her spirit. The Holy Spirit convicted him, and he humbled himself and admitted his harshness to her, asking her forgiveness. She wept and forgave, and both received great healing that day.
A son's arm healed:
A son had an old football injury and his arm caused him pain even into his adult life. As his wife and I prayed for his arm, Papa healed his arm and removed the pain.
A grandpa's life extended:
A grandpa had been given an immediate death sentence by his medical doctors. We stood in faith in God's Word against the enemy, knowing that it was not his time to go … And his life was extended.
A daughter touched with joy:
A teenage daughter, newly saved, asked for prayer, and as we gathered around her, the Holy Spirit touched her heart and filled her with joy. Tears and mascara ran down her face as she shook and wept and was filled with the love and joy of Abba Father.
A son conquered the enemy:
A son was challenged to take a first and second step toward the area of his calling. It was difficult as he had to overcome much fear in order to even be willing to try. There was also much spiritual warfare trying to prevent him from even beginning the journey.
But instead of letting the enemy win, he got alone with God, asked the Holy Spirit for help, and submitted to one-on-one teaching of the Lord. Then he went out and completed the assignment with excellence and anointing.
A woman didn't leave her local church:
A woman was in tears and frustrated because she felt so alone. She wanted to leave her local church, even though she had not plugged in. I simply listened to her share her heartbreak for a long time. Then the Holy Spirit opened the door for me to pray with her and talk with her about getting plugged into Biblical community so she wouldn't have to bear life alone.
She stayed. Praise God!
A daughter's mind set aright:
A daughter was filled with so much anger and unforgiveness that she said she felt literally insane. She couldn't think rationally and only the Holy Spirit kept her from making some bad decisions.
Over several days of a very difficult time, the Lord kept her and worked on her heart as we prayed. After several days, she was able to release her unforgiveness and choose to forgive instead. As soon as she did, her thoughts came into alignment with wisdom and she felt her mind stabilize and her ability to think right return.
A daughter got right with God and the people she hurt:
A daughter had committed a sin months before, and had refused to listen to the convicting voice of the Holy Spirit and godly counsel about the matter ever since. Each day she refused to heed the Lord, she felt herself grow more distant from Him … and her life got harder and harder.
When things crashed all around her, she sought counsel and we discussed the passage of Scripture the Lord had been convicting her about. The Holy Spirit helped her to admit her sin, repent of it, and make things right with the people she harmed. As soon as she did, the floodgates opened and she could sense the presence of the Lord again. She came in heavy and burdened, but went out light and restored.
A son answered the call to put his hand to the plow:
A son had skills and talents needed in the Body, but the enemy had tried to convince him he wasn't wanted. BUT GOD swept in and gave him the courage to offer himself up for service … and he was enthusiastically accepted.
A daughter received the will to live again:
I emailed this story out to partners shortly after I rolled out my partnership program, but I want to share it again publicly as the last story. The story below was life-changing for me.
A young lady approached me for prayer during an altar call. I asked her what she needed prayer for, but she couldn't get any words out. She could only stare at me, and I could see the pain in her eyes. I offered to just pray for her without her telling me anything, and she nodded her head.
I wrapped my arms around her and began to pray. I didn't know her or what she needed, but the Holy Spirit helped me and gave me the words to pray. This precious sister began to weep. She cried so hard she was shaking and sobbing. I just held her while the Lord touched her. I prayed for the Lord to give her her hope and courage back, to heal her heart and give her the will to live, and whatever else the Lord gave me to encourage her.
She held onto me and cried. She cried so hard that her tears and snot soaked through my dress. But it didn't matter. It was such a holy, sacred moment, and this sister was crying tears of release; healing tears.
When she could talk again, she told me that she had not known what to say. She had indeed lost her will to live, and the enemy had been telling her she should end her life. But the Holy Spirit defeated the enemy that day. Instead of listening to the murderous whispers of the devil, she fell at the feet of Jesus that day and HE restored her and gave her hope, courage, and the will to live.
When I left my church after that service, I was undone. I had seen something so holy that it felt almost sacrilegious to wash her tears out of my dress. I had stood on holy ground and seen Jesus wrap His arms around a hurting woman, and nothing else and no One else could have done what He did.
Stories like these happen day in and day out.
Time would fail me to tell of them all, and there are many that I cannot share due to confidentiality. BUT GOD is so beautiful and precious, and I see Him touch His sons and daughters multiple times every day.
There's no one like Him. No one can love hurting hearts like He can. No one can heal hurting hearts like He can. And no one can make disciples–empowering, equipping, and raising people up–like Jesus can.
But He uses us as His hands and feet and voices.
In Isaiah chapter 6, Isaiah the prophet saw Yahweh sitting on His throne, high and lifted up, and the train of His robe filling the temple. When he heard that the Lord had a need for someone to go and carry His message, Isaiah cried out, "Here I am! Send me!"
And "Here I am, send me!" is the cry of my heart as well. 
The fields are ripe for harvest. Sons and daughters must be equipped and taught and healed and ministered to so we can all touch the lost and hurting and broken all around us with the love of Jesus.
We're all called to reach people in different ways. The calling on my life is described in Isaiah 61:1-3:
The Spirit of the Lord God is upon Me, because the Lord has anointed Me to preach good tidings to the poor; He has sent Me to heal the brokenhearted, to proclaim liberty to the captives, and the opening of the prison to those who are bound;

To proclaim the acceptable year of the Lord, and the day of vengeance of our God; to comfort all who mourn, to console those who mourn in Zion, to give them beauty for ashes, the oil of joy for mourning, the garment of praise for the spirit of heaviness;

That they may be called trees of righteousness, the planting of the Lord, that He may be glorified."
But I need your help to reach these precious sons and daughters.
As you may know, I am currently employed full-time as a financial analyst in a Fortune 500 company. Between my job, writing this blog, and volunteering at my local church teaching, leading prayer meetings, and helping in our prophetic ministry, I work 70+ hours every week. That doesn't count any time spent being a wife, trying to run my home, trying to exercise, time for rest and soul care, preparing my lessons and teaching materials, or any time for my family.
I minister because I am called. It's hard. It's challenging. It's worth it, but I'm tired, and I cannot go on doing all that I am doing.
And I'm not called to do math. I'm called to preach the Gospel, heal the sick, and touch the hurting and broken with the love of Jesus … and I could never stop reaching people for Jesus.
So, after years of prayer, and after consulting with my pastor/spiritual dad about this, my husband and I have decided that it's time for me to come out of the corporate world and focus on serving God's people full-time (between writing and teaching via this blog, plus serving at my local church).
But we still have to eat and pay our living expenses just like you do, so we need partners in order for me to do this.
Some of you have already partnered with me. THANK YOU.
You have been so generous. Many of you have partnered with me for $8 per month, which is the partnership amount I asked for. But some of you have gone over and above that and partnered with me for more–$10 and $20 and $50 or for whatever amount the Lord has laid on your heart!
I was honestly shocked (in a good way!) when that started to happen, because only God could do that. Several folks sent one-time gifts as well. Whichever one you did, THANK YOU. I am overwhelmed and surprised and happy and blown away by God's goodness.
Because of your generosity, in one month, God has brought 44 partners.
Those 44 partners are giving various amounts, and we are about 20% of the way to where we need to be financially. That's huge to me. 20% in one month is a big deal.
But I need the other 80%.
One of you, my precious blog readers, read that I was believing God for 1,000 partners (as I'm believing Him for abundance plus the money to go to other cities and countries with my church body and minister), and she sent me Deuteronomy 1:11: "May the Lord God of your fathers make you a thousand times more numerous than you are, and bless you as He has promised you!"
I freaked out when she sent that (thank you, if you're reading!), because I had been seeing the numbers 111 everywhere but I wasn't sure what God was saying to me with those numbers yet. Well, now I know!
So today I ask: Would you partner with me financially, helping me reach people for Jesus and equip the saints for the work of the ministry?
Through your financial support, would you help me dedicate myself full-time to the work of the Gospel, teaching and healing and building up and equipping sons and daughters all over the world so we can preach the Gospel in the world between our own two feet?
You can partner with me for as little as $8 per month. If God is calling you to this ministry, please click here to enroll as a monthly partner on my Gumroad store.
Thank you so much for your support.
Your support will allow me to serve our Daddy full-time to reach these hurting and broken ones. To be one of many laborers in His harvest field, dedicating my life to see Papa's sons and daughters come back to their rightful place at Father's bountiful table of love.
Thank you, and I am praying our Papa would bless you a thousandfold for your blessing and partnership with me.
Much love in Christ,
Jamie