Getting to Know the Holy Spirit: The Holy Spirit Is Generous!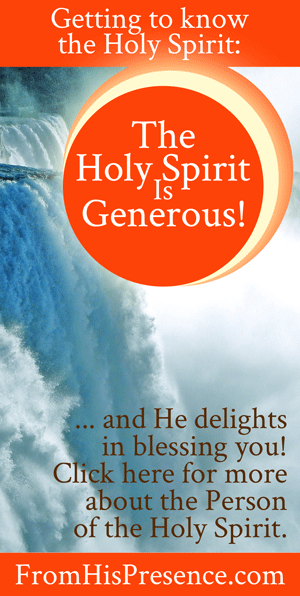 In this series about the Holy Spirit, we first talked about the fact that He is God. Then we talked about how to receive the Holy Spirit so that He will be with you, actually dwelling inside you, constantly.
Today, we're going to begin talking more about what the Holy Spirit is like … beginning with His generosity.
The Holy Spirit is generous: overwhelmingly, unendingly generous. He LOVES to give.
Psalm 51 tells us this:
Restore to me the joy of Your salvation, and uphold me by Your generous Spirit."
He is generous. He LOVES to pour out on His kids.
I think we tend to forget this aspect of who God is. We know that He is powerful, but that's only intellectual knowledge. Our lives don't get changed by knowing in our heads that He is powerful.
But when we suddenly get the revelation that our God is generous? That He WANTS to pour out on us? That nothing makes Him happier than to be able to bless His kids? THAT is a life-changing revelation! THEN, our faith begins to rise up!
Getting to Know the Sevenfold Holy Spirit: A 12-Day Devotional Guide
Get the book and focus on communion with God's Holy Spirit for 12 days! Remember that He is your Helper, Comforter, and Advocate. You can't truly know God without knowing His Holy Spirit!
Look at Psalm 145:8-9:
The Lord is gracious and full of compassion, slow to anger and great in mercy.

The Lord is good to all, and His tender mercies are over all His works.
In this passage, the word "gracious" literally means "to bend or stoop in kindness to an inferior;" to bestow; to show favours.*
"Gracious" doesn't just mean that the Holy Spirit is nice, kind, or pleasant to be around (although, of course, He IS all of that). "Gracious" actually means He's bending down to our level, giving and giving and giving to you and to me. 🙂 Yes, He's giving to you right now. He's good to ALL.
Wow. That must be why He says "His tender mercies are over all His works." I know that outside of Christ, I don't deserve any tender mercy, goodness, or blessing. But in Christ! Because we are in Christ, when God looks at us, He sees the righteousness of Jesus.
And being righteous like Jesus makes us blessable. 🙂
So how does that help us get to know the Holy Spirit better?
Imagine your best friend is a huge giver. Imagine that he or she has plenty of money, and spends bunches of it giving gifts to people:
Imagine that this friend carries money with them everywhere and gives it freely to people in need on the street.
Imagine that this friend gives you presents for your birthday, your anniversary, Christmas, or just because.
Imagine that this friend gives you random presents all. the. time.
Imagine the look on your friend's face every time you open a present: the joy, the eager anticipation, the delight in seeing you open it and love it.
That is what the Holy Spirit is like, times a million millions.
Remember that the Holy Spirit is a Person. He has likes and dislikes, joys and sorrows just like you do. (You were created in His image!)
And one of the things the Holy Spirit loves to do is give.
Holy Spirit delights in blessing us. He delights in giving to us. It THRILLS Him to give every manner of blessings to you and to me.
Those blessings include:
Intimacy with the Father and with Jesus (the greatest blessing there could ever be!);
Relationship blessings – beautiful friendships, marriages, family relationships, etc;
Financial blessings of every kind, providing for your needs according to His RICHES in glory in Christ Jesus (Philippians 4:19);
Blessings of opportunity;
Blessings of favor;
Random presents and love notes that are special between you and Him;
and anything else you can think of that is good in your life.
It all comes from Him! Our God is generous and loves to give to us. That's why James 1:17 says:
Every good gift and every perfect gift is from above, and comes down from the Father of lights, with whom there is no variation or shadow of turning.
In his classic and powerful book Christ the Healer, F.F. Bosworth wrote:
Suppose the vast Pacific Ocean were elevated high above us. Then conceive of its pressure into every crevice to find an outlet through which it might pour its ocean tides all over the earth. You have a picture of God's benevolent attitude toward us."
The Holy Spirit is generous to the extreme.
It brings Him great joy to pour out His blessings and favours on you and on me. His tender mercies are over you and me right now. Yep; He is being good to YOU right now, and He wants to pour out on you even more today.
So here's your assignment for today:
1. Ask Papa to help you notice the good and perfect gifts the Holy Spirit is giving you today.
2. Thank Him for each gift and blessing as you notice them, all day long.
(A little secret: The more you thank Him for, the more you will notice, and the more you will actually receive. Thanksgiving opens your soul and spirit to receive from the Lord.) 🙂
3. As you notice His gifts, begin to tie the gift to the Giver in your mind and heart.
Make the connection in your heart that the gift you just received came from a Person–the Holy Spirit, who is right inside you. Notice how happy it makes Him feel to give to you. (You will, if you're focusing on the Lord!) Allow yourself to sense His delight in giving. And bless and honor Him back with your enjoyment and thankful heart for His gifts.
The Holy Spirit is a Person, and we're getting to know Him.
By noticing what He's doing and how it makes Him feel, we are learning His personality–what He likes, what makes Him happy, and how He spends His time. He's amazing, and we'll fall in love with Him more day by day as we learn how amazing He is.
Heavenly Father, thank You for the Holy Spirit. Thank You for giving me this Friend and Companion. Help me to get to know Him more today than I have ever known Him. Help me to notice His generosity and goodness toward me, and give me a thankful heart for everything You have done for me. Thank You, Father. In Jesus' name, amen!
Does this aspect of the Holy Spirit's nature encourage you? If so, leave a comment below. I'd love to hear from you!
Related:
*Strong's Concordance