The Sevenfold Holy Spirit: The Spirit of Counsel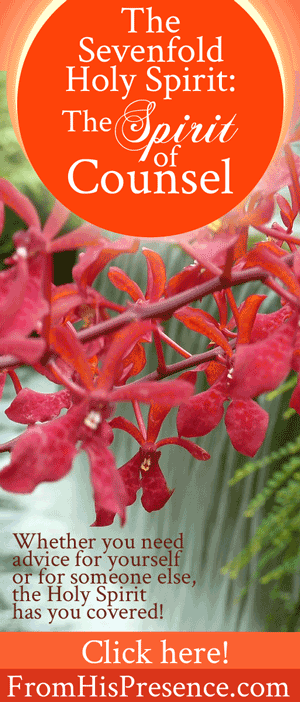 Today, we're continuing our study of the sevenfold Holy Spirit as described in Isaiah 11:1-5. We've already talked about the Spirit of Yahweh, the Spirit of wisdom, and the Spirit of understanding. Today, we're going to talk about the Spirit of counsel.
Have you ever been in a situation in which you absolutely knew you did not have the answer, but then you sat there and watched God solve an unsolvable situation before your very eyes?
I have.
I can't tell you how many times I have been working in deliverance sessions, inner healing sessions, or crisis intervention, only to encounter situations that I knew I couldn't handle. For example:
I can't bring someone to repentance.
I can't convict them of sin.
I can't diffuse a person's rage by myself. Although each of us can always bring a soft answer that turns away wrath (Proverbs 15:1), only the Holy Spirit can take the rage out of somebody.
I can't change someone's heart and take away their hatred for their pastor, spouse, or friend.
But the Holy Spirit can, and He does.
Getting to Know the Sevenfold Holy Spirit: A 12-Day Devotional Guide
Get the book and focus on communion with God's Holy Spirit for 12 days! Remember that He is your Helper, Comforter, and Advocate. You can't truly know God without knowing His Holy Spirit!
Over and over, I have walked into situations that I have not been able to handle.
And every time, the only thing I have been able to do is to pray and call on the Lord as our Wonderful Counselor–the Spirit of Truth, who will convict the world of sin, righteousness, and judgment–and then wait and pray some more.
In the toughest situations, that has often meant that I haven't been able to do anything but pray and watch Him work. Other times, He has told me what to do and say, one step at a time. Either way, every single time, the Holy Spirit has come through.
Every time, He has walked into the room and started dealing with people's hearts in His ever-so-loving, gentle, honoring, caring way.
Every time, He has comforted the folks who have needed it, wrapped them in His arms, assured them of His love, and convicted them of sin.
Every time, I see Him pick up His kids and hold them, telling them what they need to know and changing their hearts.
Every time, I've watched Him drain His child's anger, rage, resentment, and hurt right out of their souls.
Every time, I've seen the Holy Spirit show each person how they have been acting; how the Lord wants them to act; and overwhelm them with so much goodness and holy conviction that they get right with God and with people.
His help is so tangible that I truly believe I have seen Him walk into the room, stand right next to someone as his or her personal Counselor, and solve everything. I have watched Him bring total healing to hearts and relationships, over and over.
Also, so many times in my personal life, I have not known how to respond in certain situations or conversations.
But when I call on the name of the Lord, He shows me just what to do, how to respond, and what to say. The words could only come from Him, but He gives them generously and carries me right through the toughest things with dignity.
It's amazing. He's amazing. And He comes through every time.
Why? Because He is the Spirit of counsel.
The Holy Spirit is a Counselor just like Jesus is. He's available to counsel you, anytime, anywhere.
Remember that the Holy Spirit is "another of the same kind" as Jesus is, and Jesus is the Wonderful Counselor. That makes the Holy Spirit our Wonderful Counselor too.
And He sure is wonderful.
He'll help you through crises. He'll show you what to do in every situation in your personal life, relationships, ministry, business, and more.
Maybe that's why He told us, in Psalm 32:8:
I will instruct you and teach you in the way you should go; I will guide you with My eye."
I claim that promise in prayer nearly every day, lifting Father's words back up to Him and asking Him to do what He said. I need His help so desperately; without Him, I wouldn't know how to do anything. I feel like Solomon, who as a full-grown man of 40 years old, confessed to the Lord:
… I am a little child; I do not know how to go out or come in" (1 Kings 3:7b).
Oh, how I need His help and counsel! Don't you? And He is available to counsel us.
The actual meaning of the word "counsel" in Isaiah 11:2 is that the Holy Spirit:
advises us;
acts as our expert consultant;
guides us; and
resolves things on our behalf.
Oh, He'll give you instruction and strategy. He'll download His divine blueprints into you. He'll teach you everything you need to know … all because He is the Spirit of counsel.
Isn't that comforting?
The Holy Spirit stands ready to counsel you at a moment's notice.
All you have to do is ask, and the precious Holy Spirit of counsel will walk in the room, instruct you, lead you, teach you, work in your heart, and fix everything up.
Do you need some counsel and divine guidance from the Holy Spirit today?
Won't you call on His name today as your Wonderful Counselor? You don't have to have fancy words. Just breathe out to Him the cry of your heart. Remind Him of His promise to instruct you and teach you in the way you should go and guide you with His eye. Ask Him to counsel you personally.
Then pay attention, because you'll hear Him whispering in your ear, convicting your heart, and see Him guiding your steps right away.
Does this message about the Spirit of counsel encourage your heart? If so, please leave a comment below. I'd love to hear from you!
Related: