The Sevenfold Holy Spirit: The Spirit of Understanding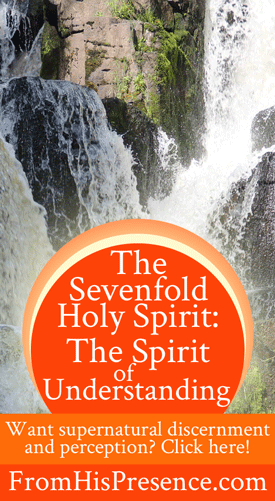 Today, we're continuing our study of the sevenfold Holy Spirit as described in Isaiah 11:1-5. We've already talked about the Spirit of Yahweh and the Spirit of Wisdom. Today, we're going to talk about the Spirit of understanding.
Here's what "understanding" really means, and how it benefits you:
In Hebrew, the root of the word used in Isaiah 11:2 for "understanding" means to distinguish between things in one's mind; to perceive and discern.* Understanding is what gives you discernment. When you have understanding, you'll see the following things in your life:
You'll understand what's going on behind the scenes. You'll be able to piece together what's really happening.
You'll perceive why people act the way they do.
You'll find it easier to see people and situations with God's eyes and maintain His perspective.
You'll be able to discern God's timing more easily.
The Spirit of understanding, the Holy Spirit, is also where the gift of discernment of spirits comes from. When you have understanding, you'll be able to discern what spirit is saying or causing things you deal with from day to day.
Understanding gives you supernatural perception. It gives you X-ray spiritual insight into the "whys" of life.
Getting to Know the Sevenfold Holy Spirit: A 12-Day Devotional Guide
Get the book and focus on communion with God's Holy Spirit for 12 days! Remember that He is your Helper, Comforter, and Advocate. You can't truly know God without knowing His Holy Spirit!
Sounds like a pretty valuable gift, right? And the great news is that understanding is WHO the Holy Spirit is. He IS the Spirit of understanding; so when you embrace Him and ask Him to fill you up, giving Him full rein in your life, you receive everything He is.
Including understanding. 🙂
Maybe that's why King David instructed Solomon with these words:
Get wisdom! Get understanding!
Do not forget, nor turn away from the words of my mouth.
Do not forsake her, and she will preserve you;
Love her, and she will keep you.

Wisdom is the principal thing;
Therefore get wisdom.
And in all your getting, get understanding.

Exalt her, and she will promote you;
She will bring you honor, when you embrace her.
She will place on your head an ornament of grace;
A crown of glory she will deliver to you"(Proverbs 4:5-9).
I love that. This man David, the only man in the Bible who was described as a man after God's own heart, said to first get wisdom and then understanding. David, the king of ancient Israel, certainly knew how important it was to understand the behind-the-scenes aspects of every situation. I'm sure that running a nation was no easy task, and a lot of discernment was required.
But your life is no easy task either, so you need understanding and discernment just as much.
Having understanding will protect you from being seduced by evil things, because understanding gives discernment. When someone comes to you who is not operating in pure, holy motives … you'll know it.
(Sometimes you won't even know why. You'll just have a feeling that you'll need to pray about; but as you pray, the Holy Spirit will show you what you need to know.)
Having understanding will preserve your relationships, because you'll understand why people act the way they do.
You won't get angry at your spouse or friend when they say or do hurtful things, because you'll see the hurts and wounds they have that are causing them to act like that. You'll be able to respond in a heart of love and compassion, instead of anger.
Having understanding will help you be kind and gentle in difficult situations, because you'll see what's really going on behind the scenes. You'll perceive, by the Holy Spirit, what cogs and wheels are turning the situation–and you'll be able to roll with it.
Understanding takes so much of the stress out of life! So let's ask the Father to fill us with His Spirit of understanding, shall we?
Pray this with me:
"Dear Heavenly Father,

I come before You in Jesus' name. Father, thank You so much for sending Your Son Jesus to die on the cross for me. Thank You for giving me the free gift of the Holy Spirit, purchased for me with the blood of Your Son. And Father, thank You for giving me all things suited to life and godliness–including understanding and discernment by Your Holy Spirit.

Father God, in Jesus' name, I ask that You would fill me up with the Spirit of understanding today. I ask that the Holy Spirit would have free rein in my life. Holy Spirit, Father, Lord Jesus–I yield myself to You completely. Please fill me; help me to be fully surrendered to You; and have Your way in me.

Father, I pray that You would give me wisdom today according to Your promise that if any person lack wisdom, we should ask and You will give it to us liberally (James 1:5). And Father, together with that wisdom, please fill me with Your supernatural perception and discernment.

Help me to see people and situations with Your eyes. Help me to understand why people act the way they do and say the things they say. Help me to see what You are doing behind the scenes. Help me to discern what spirits are operating in every situation, and show me how to overcome and see Your victory manifest in every situation.

Father God, please lead me, instruct me, and teach me in the way I should go all day today. And as I go, I choose to wear Your armor:

I put on the helmet of salvation.
I put on the breastplate of righteousness.
I gird my loins with the belt of truth.
I put on the shoes of the preparation of the Gospel of peace.
I hold up the shield of faith and the sword of the Spirit, praying always in the Spirit.

And having put on my armor, I will obey You and stand, resting in You and Your Holy Spirit today.

Thank You, Father. Thank You for helping me and loving me. Thank You for taking care of me and keeping me safe. I love You, Abba, and I give You all the glory. In Jesus' name, amen."
Do you need understanding and discernment today? Does it encourage you to hear that the discernment and understanding you need are freely available to you in the Holy Spirit? If so, please leave a comment below! I'd love to hear from you.
Related:
*Strong's Concordance, Hebrew word #995