21 Days to the Manifest Presence of God: Day 8 (Fifteen Minutes)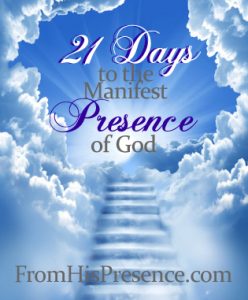 Welcome to Day 8 of my series about developing an awareness of God's presence! You can refer back to Day 1 if you'd like to know my backstory for the series.
I encourage you to read all the posts in the series if you are just joining us. Each day's assignment builds on the previous assignments, and they are all vitally important! (Be sure to subscribe to receive my daily posts so you won't miss anything.)
Today on Day 8, we are going to talk about one of the most life-changing decisions you will ever make, aside from accepting Jesus as your personal Savior.
That life-changing decision is THE THING that will grow your relationship with God the most.
It's THE THING that will help you walk in His manifest presence the most.
It's THE THING that will help you become the person you dream of being.
It's THE THING that will satisfy your soul more than friends, popularity, money, fame, drugs, alcohol, or any kind of earthly fun ever could. 
Day 8 is the decision to spend time alone with God, one-on-one, every day.
Starting today and for the rest of your life.
I'm glad that this turned out to be my subject for Day 8. I didn't plan it that way on purpose, but 8 is the number of new beginnings. Why is that significant? Because making the decision to spend time alone with God every day will give you a new beginning.
It's time to draw the line in the sand.
THIS IS THE DAY to start.
And once you've started, you'll be hooked.
You'll never go back to the old ways, where you went about your business without spending time with your Father first. I know you'll be hooked because Psalm 16:11 says, "You will show me the path of life; in Your presence is fullness of joy; at Your right hand are pleasures forevermore."
Joy is addicting. I'll take all of it I can get. There's nothing more fulfilling than that sweet satisfaction I get in my soul and spirit when I'm alone with God.
And when I say "fulfilling," I mean it literally. When you are alone with God, He literally fills you up.
Everything that was wrong, becomes all right again.
Everything that hurts, He fixes.
When you're lonely, He fills you up with His own companionship, and you suddenly won't care if anyone else is around or not.
When you're sad, He'll make you happy.
Whether we realize it or not, we all have a deep, inner longing for special time with God.
And God longs for that special time with you, too.
So your assignment today is to start your daily quiet time with God.
Go to the special place you picked out yesterday.
Set aside 15 minutes.
Yes, 15 minutes. You can do that.
You may be busy, but we're all busy. You may think you can't afford to take 15 minutes, but the truth is that you can't afford not to.
(Don't worry, God is a really big God. He can actually redeem your time and make your remaining time  much more productive, just because you put Him first.)
And, you're going to have to do it on purpose. If you leave this time to chance, it won't happen. You have to DECIDE that today is the day you will start.
So set aside 15 minutes, and go into the place you picked out to meet with God.
And ask Him to meet you there. Sit there and open your Bible. Start reading in the Psalms, like we talked about the other day.
Find a few verses that you can identify with, and tell God about how you're feeling as you read those verses.
Then sit back and let Him to minister to you. Focus your thoughts on Him. Imagine your Father God hugging you.
Then thank Him for helping you spend this time with Him. Ask Him to help you get alone with Him again tomorrow.
This is the start of your new life.
What happened when you met with God today? How did He speak to you or minister to you? Please leave a comment below and share your experience.