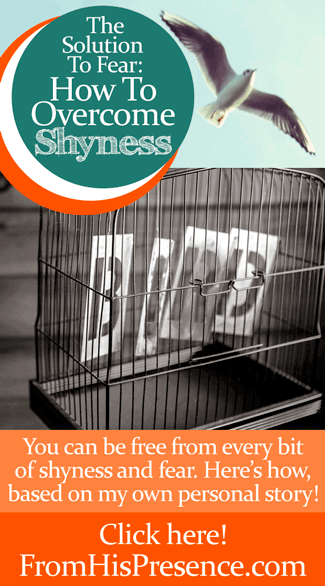 As I shared in The Solution to Fear (Part 1): How God Delivered Me From Fear, I used to be very afraid. I was especially fearful of people; I was shy and didn't know how to reach out.
However, God has changed my heart, and I'm no longer shy. I truly love people now. In this post, I'm going to share my story about how to overcome shyness so you can have true, covenant friendships and love people the way God calls us to.
Fear of people impacts many Christians in different ways:
Maybe you desire to have more friends, but you don't know who to talk to or how to start a conversation. So you sit alone at lunch, at work, and everywhere you go, lonely.
Maybe your church has an inner-city evangelism team, and you really feel called to that ministry; but you're shy and can't imagine yourself talking with people. So you feel like you're missing out on your call in life.
Maybe you know someone is hurting, but you feel too intimidated by the size of their problem to try to help them. You want to help, but you feel like you have nothing to offer.
Sound familiar? I thought so. I have dealt with all of these manifestations of fear also. And every one of these, precious reader, are tricks from the enemy. You can be totally free from all of these things.
That's right:
You can completely overcome fear in EVERY ONE of its manifestations. That means you can overcome shyness too. There IS a solution.
Would you like to know how to overcome shyness, so you can be a voice of light and hope everywhere you go? Here's how: [Read more…] about The Solution to Fear (Part 2): How to Overcome Shyness