Architecture as Worship: Monastery of the Holy Spirit
Have you noticed that you can learn new things about God anywhere, if you will just look for Him?
I love to look for hints and clues about God's character in untraditional places, and architecture is one of those untraditional things that can be a great demonstration of God's character.
I know we usually think of architecture as a way to manufacture shelter, hopefully with beauty that is pleasing to the eye and functional for everyday life. However, some of the most beautiful architecture in the world wasn't done for the purpose of just being practical; it was used as worship. Architecture has been used to worship and glorify God for thousands of years.
It was an amazing day at an amazing place. After we explored the grounds and museum there, I was able to spend the afternoon sitting in the balcony of their church. This church, which I would call a cathedral by my standards, 🙂 was beautiful. As soon as you walked in, you could feel the weighty brooding of the Holy Spirit. This is what it looked like on the inside: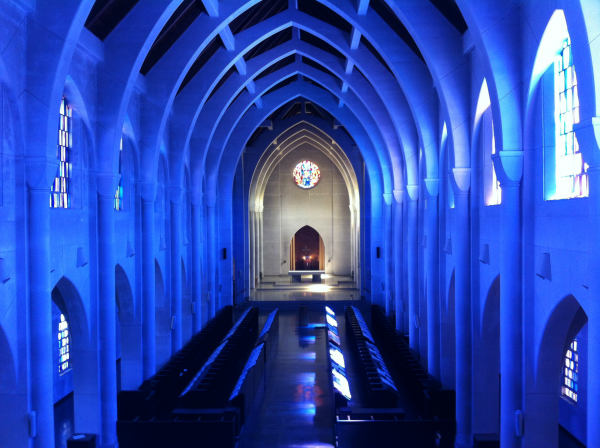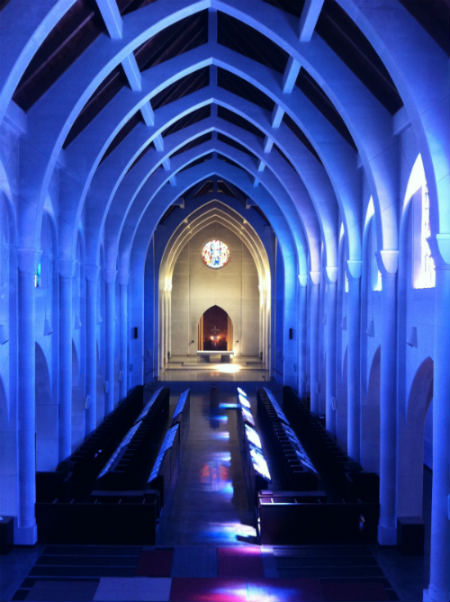 The chapel is not actually blue, but the stained glass windows have a lot of blue in them, so the windows put a blue cast on everything. But in reality, the columns and arches are all whitish-gray concrete. This entire church was molded, framed, and poured by hand by the Trappist monks that live there. It's amazing.
As I sat in the balcony, I was overwhelmed by the Presence of the Lord there. He was so heavy. You could feel Him so powerfully that I just sat there and cried and cried, and looking at the beauty of the building brought me a deeper revelation of His majesty.
While we were there, I wanted to try recording some of my thoughts from this experience, and my husband was kind enough to record for me. Here is my first-ever vlog. It's very short, but I believe it will move you as seeing this place moved me. Take a listen:

God is everywhere. His majesty is on display for all to see. Let's look for Him everywhere we go today, shall we?