I Saw the Terror of the Lord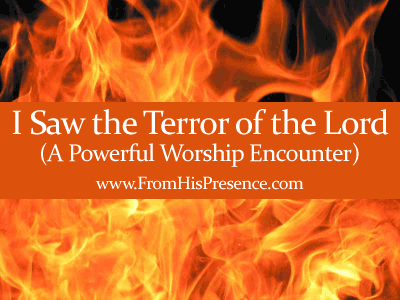 Last night, I had the privilege to attend a conference meeting where Bill Johnson, Senior Pastor of Bethel Church in Redding, California, was speaking. It was awesome. For the first time, during worship, I saw the terror of the Lord.
What do I mean by "terror of the Lord"? Well, before worship–actually right when Pastor Bill walked in the room, because he carries so much of the Presence of the Lord–and during worship, the Lord revealed a side of Himself that I had never encountered before: His terrible-ness. I caught just a glimpse of how powerful He is, and how awesome, and how totally other He is.
God is not like me.
Am I made in His image? Yes. But God is not like me.
He is OTHER.
And He is terrible.
Seeing this side of Him first-hand inspired me to fear.
Was it a holy fear? Yes. It was not a demonic fear. But it was fear nonetheless. It wasn't just respect, and maybe there's a better word for it than "fear," but if there is I don't know what it is. So I can only use the language I have to describe how I felt when He revealed Himself to me.
I felt afraid.
It was the first time I have ever encountered the Lord and literally prayed, "Please don't kill me."
Because He could.
And other than praying "Please don't kill me," I was mostly speechless, except for having this prayer going over and over in my head:
"Have mercy upon me, O God, according to Your lovingkindness. According to Your tender mercies, blot out my transgressions.

And please don't kill me."
I had heard about how terrible He is, and read about it in the Bible, but I had never encountered this side of Him.
It was awesome. And it was terrible.
I must have felt something like Isaiah felt like, when he saw the Lord in Isaiah chapter 6: "Woe is me, for I am undone; because I am a man of unclean lips, and I dwell in the midst of a people of unclean lips; for my eyes have seen the King, the Lord of hosts."
Some people say the fear of the Lord is just respect. Bill Johnson says, "Yeah, you stand in front of the One whose eyes burn with fire, and tell me it's just respect." The apostle John saw Jesus one day and immediately fell at His feet as if dead (Revelation 1:17). That's what I felt like doing last night.
I don't have a point to this blog post other than to describe what I saw. I'm not an authority on this subject. This is the first time I have seen this side of God. I literally felt like I could have died, on the spot, before His awesomeness. I prayed and prayed for this Perfect, Holy One to cleanse me. And eventually, the Holy Spirit moved me into a place of feeling just His love, and not His terror.
But it was an encounter I needed. Too often, I trivialize God. Don't you? We obey if we feel like it. We worship when we feel like it, or when we have time.
But God is great, and mighty, and terrible. Is He loving? Yes. Is He good? Yes. But He is terrible as well.
And His terror commands a holy, yet still gut-wrenching fear.