21 Days to the Manifest Presence of God: Day 6 (How Much God Loves You)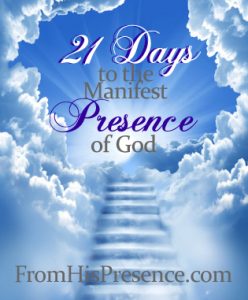 Welcome to Day 6 of my series about how to walk in the manifest presence of God! You can refer back to Day 1 if you'd like to know my backstory for the series.
I encourage you to read all the posts in the series if you are just joining us. Each day's assignment builds on the previous assignments, and they are all vitally important! (Be sure to subscribe to receive my daily posts so you won't miss anything.)
Are you ready for Day 6? Here we go:
Day 6: Abiding in God's Love
One of the most pivotal keys to walking in the manifest presence of God is understanding–and truly RECEIVING–His love for you.
God loves you. His heart beats for you.
There's no one on earth He loves more than you.
Your picture is on God's refrigerator.
Take the time to listen to this song by Graham Cooke and Jonathan David Helser, about how much God loves you:
Before Jesus came, God's command to men was to love Him. They had to work up a love for God.
Matthew 22:35-40 says, "Then one of them, a lawyer, asked Him a question, testing Him, and saying, "Teacher, which is the great commandment in the law?" Jesus said to him, "'You shall love the Lord your God with all your heart, with all your soul, and with all your mind.' This is the first and great commandment. And the second is like it: 'You shall love your neighbor as yourself.' On these two commandments hang all the Law and the Prophets" (NKJV)."
But Jesus came to give us a better plan.
Before Jesus came, everyone had to obey the "Law." And the "Law" said that we had to make ourselves love God.
But by sending Jesus, God ushered in a new era.
The new plan is for us to just receive God's love, and be His sons and daughters.
The new plan–called the "Kingdom" plan, because it's the operating system of the new Kingdom of God–is for us to live in God's love daily.
An overwhelming awareness of God's love is to be our daily reality.
First John 3:1 says, "Behold what manner of love the Father has bestowed on us, that we should be called children of God!…"
In John 15:9, Jesus says, ""As the Father loved Me, I also have loved you; abide in My love."
So here is your assignment for Day 6:
Listen to the YouTube video above over and over. All day long, think all day long about how much God loves you.
If you know intellectually that God loves you, but you don't really feel like it, read my series entitled "How to Feel Like God Loves You." These posts will help you actually start to FEEL like God loves you.
Feeling God's love will change everything for you.
Will you open your heart to Him today?
Take a moment and ask Father God to help you receive His love right now. He will.
Are you starting to be aware of God's presence with you? I'd love to hear your thoughts. Please leave a comment below.