21 Days to the Manifest Presence of God: Day 1 (Constant Companion)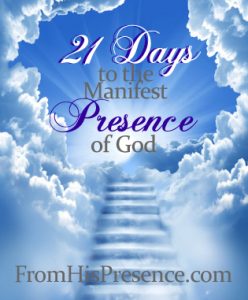 Welcome to Day 1 of my new series about how to develop an awareness of God's constant presence! This series, called "21 Days to the Manifest Presence of God," will teach you how to commune with God every moment of your day. Continual communion with God will not only draw you closer to the Lord, but will also help you do the following:
Build a prayer life enjoyably!
Accomplish all your daily tasks with God's inspiration, guidance, and wisdom!
Become aware of God's loving interaction with you all day long! and
Notice the answers to your prayers.
Several years ago, I made the decision to learn to live every moment I'm alive in the manifest presence of God. I asked God to teach me how to do this, and He did! I'm going to share with you the same things He taught me. Each day's assignment will be simple and fun, so I promise you will enjoy this process!
Are you willing to set aside the next 21 days to learn how to walk in the presence of God? If so, I promise that your life will be radically changed. God is the Game-Changer, and His presence is better than life itself! (Be sure to subscribe to receive my daily posts so you won't miss anything.)
Are you ready? Here we go:
Day 1:
Read Psalm 139. (It's a short chapter). Then read verses 7-8 again.
Psalm 139:7-8 states: "Where can I go from Your Spirit? Or where can I flee from Your presence? If I ascend into heaven, You are there; If I make my bed in hell, behold, You are there" (NKJV).
Think about that for a few minutes.
No matter where you go at any time, God's Holy Spirit is there with you.
Where you are right now? Are you sitting in bed? Working at the office? Riding the bus or train? In your living room?
Wherever you are, God is right there with you.
Now wave your hand around in the air in front of you. 
Since God's Spirit is everywhere, that means you just touched God.
No, really. Do it again!
You just touched God.
His presence with you is not just an abstract idea. God Himself is actually everywhere around you. He's in front of you, behind you, above you, below you, and, if you know Jesus Christ as your personal Savior, the Holy Spirit of God is even inside you.
Amazing, right?
Your assignment for today:
Everywhere you go today, think about God being with you in that place.
You may not "feel" His presence yet, although you may! It's ok if you don't! We're building an awareness here.
So all day long–at work, at home, in the bathroom, mowing the lawn, eating lunch–think about the fact that God is with you in that place and at that time.
Think about this throughout your entire day today, as often as possible. Imagine Him walking beside you. (That has always helped me.) Make mental notes about how different it feels to think this way.
Then check back tomorrow for the next assignment!
If you're with me on this 21-day quest for an awareness of God's presence, I'd love to hear your response to the assignment for Day 1. Please leave a comment below and tell me how you did!