Healthy Cooking Idea: Vegetable Wraps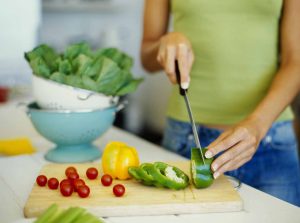 I'm working on getting healthy. I'm getting fit for several reasons. I know people say to do it for yourself and your family, and I am. But if I just concentrate on those reasons, it's easy to procrastinate.
So my main inspiration has to be that I'm doing it for the Lord. I know God has a great destiny for me and I don't want to be a "profane person like Esau, who for one morsel of food sold his birthright" (Hebrews 12:16). I want all God has in store for me. And I'm going to have it.
So here's my healthy cooking update for today:
As a vegetarian, I tend to get bored with my food sometimes. So, I am trying to find ways to cook a nice variety of healthy foods, so I don't get bored (and return to pasta and sweets).
Last week, I found a vegetable wrap idea that is SO yummy, I thought I'd share. You make it like this:
1 whole wheat tortilla, with lite mayo on half of it;
1 slice of provolone (optional);
Lightly sauteed onions;
Lightly sauteed bell peppers (I use red or orange);
Fresh tomatoes;
Sliced mushrooms (portabellos for protein, or baby bellas); and
Lots of spring mix (fresh greens and various kinds of lettuce).
This wrap is great warm or cold. If I am eating it warm, I just heat the tortilla and provolone, and put freshly-sauteed veggies in. Then I leave the rest of the veggies cold.
You can put everything into the tortilla, and eat it like a taco.
There are loads of nutrients in these colorful veggies. I have eaten several of these for lunch the last few days, and I really think I feel sharper already!
Have you tried this recipe, or a similar one? If so, what did you think? And I'd love for you to share your recipe with me if you have one!