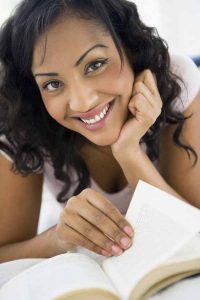 It's the new year! Are you feeling inspired to expand your horizons, like I am?
Reading is one of the primary ways I stretch myself to grow (see blog post about that here). I highly recommend it!
If you'd like to make a reading plan of your own, here are my suggestions for how to get started:
Pick a couple of books you already own and have been meaning to read.
Pick 1 or 2 categories of books that you don't own, about topics you'd like to grow in.
Go to the bookstore and find one or two that look interesting in your "growth" categories.Write down the titles you want to read, and keep the list with you in your planner, on your smartphone/tablet, etc. (I stick with paper, personally… electronic notes just don't motivate me.)
Pick one–any one–and get started. If you read a few pages every day, you can easily finish most books in a month's time, or less.
To keep yourself motivated, I suggest writing the date you read each chapter on the table of contents. That way, you can see your progress at a glance.
Even if you've never read for fun, you can do it. The most important thing is just to begin. Do it now! You'll never be sorry.
What books will you put on your reading list? Leave a comment below; I'd love to hear about it.