21 Days to the Manifest Presence of God: Day 2 (The Wow Factor)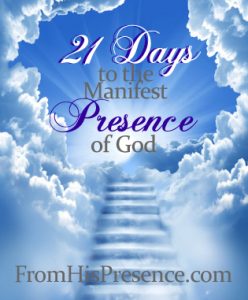 Welcome to Day 2 of my series about developing an awareness of God's presence! You can refer back to Day 1 of "21 Days to the Manifest Presence of God" if you'd like to know my backstory for the series.
I encourage you to read all the posts in the series if you are just joining us. Each day's assignment builds on the previous assignments, and they are all vitally important! (Be sure to subscribe to receive my daily posts so you won't miss anything.)
Are you ready for Day 2? Here we go:
Day 2: Adding the "Wow Factor"
Yesterday we learned from Psalm 139:7-8 that God is always with us. Everywhere we go, we are in the physical presence of God the Holy Spirit.
Today we're adding the "wow factor."
According to the Bible, God is Himself all the time. He never changes.
God never leaves half of Himself at home, showing up at your door with only the other half. His COMPLETE self is with you right now.
Everything God is, and everything He can do, is a part of Him. He can't divest Himself of any part of His nature. All of His characteristics are with you right now, because all of Him is with you right now.
Malachi 3:6 states, "For I am the Lord, I do not change…"
Hebrews 13:8 says, "Jesus Christ is the same yesterday, today, and forever."
John 3:34 reads, "For He whom God has sent speaks the words of God, for God does not give the Spirit by measure."
So what are God's characteristics? Who is this God who is with you?
No human has the complete answer to that question, but God has revealed Himself to us in a lot of ways. For example:
He is our Father (1 John 3:1; Isaiah 9:6).
He is our Counselor (Isaiah 9:6).
He is our Comforter (John 14:16).
He is our Healer (Exodus 15:26).
He is our Provider (Philippians 4:19).
He is our Friend who loves us more than any other friend (John 15:13).
He is a Mighty Warrior who fights on our behalf (Exodus 15:13).
He is our Savior, who saves us from our sins (Matthew 1:21).
The list could go on forever. [If you want to revolutionize your understanding of who God is, I really encourage you to listen to the music CD "I AM": 365 Names of God, from John Paul Jackson's Streams Ministries (see my review here) and also to read my favorite book on this subject, "The Knowledge of the Holy: The Attributes of God: Their Meaning in the Christian Life
" by A.W. Tozer (my review here). These two resources have changed my life and will change yours also.]
So if everything God is and everything He can do is with you right now, that means:
He could part the Red Sea again right now. Or the Pacific, the Atlantic, or anything else that needs draining.
He can heal you of any sickness, disease, or infirmity, right now.
He can forgive your sins and give you a new life through Jesus, right now.
He can fill you with His Holy Spirit right now.
He can give you supernatural wisdom right now.
He can help you get through your job today.
He can fill you with His love so much that you never deal with fear another day in your life.
This God

is the One who is with you right now.
Your assignment for today:
Today your assignment is to meditate all day long about who this God is who is with you.
Think about how much power He has.
Think about how holy He is.
Think about how He ruined every funeral He ever went to, including His own.
Think about how He sent His Son, Jesus, to DIE just for you because He wanted you to be His child. Your Father couldn't bear the thought of spending eternity without you.
Think of how much He must love you to have been willing to let Jesus die for you.
Think about how death couldn't hold Jesus down. He's got resurrection power.
And the same God with that resurrection power–God the Holy Spirit–is with you right now.
As you purposefully guide your thoughts toward the wonder of WHO GOD IS–this God who is with you–let yourself be filled with wonder. Let the awe of God overwhelm your heart.
You're in the presence of THIS GOD.
Which one of God's characteristics overwhelms you the most? Leave a comment below, and we'll see you again tomorrow for Day 3!