21 Days to the Manifest Presence of God: Day 3 (Starting to Pray)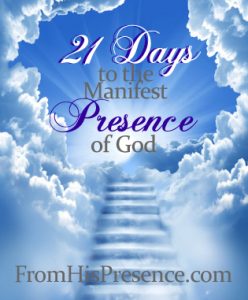 Welcome to Day 3 of my series about developing an awareness of God's presence! You can refer back to Day 1 if you'd like to know my backstory for the series.
I encourage you to read all the posts in the series if you are just joining us. Each day's assignment builds on the previous assignments, and they are all vitally important! (Be sure to subscribe to receive my daily posts so you won't miss anything.)
Are you ready for Day 3? Here we go:
Day 3: Starting to Pray
After understanding that God is always with you, prayer is THE BIGGEST KEY to walking in the manifest presence of God.
Prayer is a huge subject that I couldn't possibly cover all in one blog post. But today, we do need a basic understanding of what prayer is… and what it is not.
What it is: Prayer is conversation with God.
What it is not: Prayer is NOT something that has to take one particular form in order to be valid.
What it is: Prayer is the natural result of a LOVING RELATIONSHIP.
What it is not: Prayer is not hard or painful.
Prayer can take many forms. You can converse with God in your bedroom on your knees. You can converse with God by reading the Bible and praying the verses. You can converse with God by singing songs to Him. Sometimes I even converse with God by slathering paint on canvas. When the words won't come, the colors and pictures become my language.
The first key to effective prayer:
The only effective way to pray is to pray honestly. Many people try to build a prayer life without understanding this. Then they don't understand why they're not successful.
We need to pray honestly because we're building a relationship with God. A relationship you try to build on lies can't possibly get very deep.
Plus, God already knows everything about you, and He loves you anyway. You're not going to shock Him by what you tell Him. 🙂 You're not going to change His love for you. So you might as well be honest. Be completely open and vulnerable before Him.
If you're telling Him about a struggle you're having, you can admit to Him that you need help with it, and ask Him to help you. 
If you're happy about something, you can tell Him all about it, and thank Him for blessing you.
It's ok to ask God for help with anything. For example, you can ask Him to help you pray, help you want to know Him better, help you enjoy your day at work, etc. You're His baby. He is ready and willing to give you any help you need.
Your assignment for today:
Today we're going to get started with the most effective form of prayer: praying God's Word back to Him. Here's how:
1. Grab your Bible. Open to the Psalms. (Any part of the Bible will work, but the Psalms are the easiest place to start.)
2. Scan the lines and chapters until you see a line or two that summarizes how you're feeling.
For example: I'm praying earnestly for the Lord to give me a child. I know He will; He has promised me He will. The verse that best summarizes how I'm feeling about this is Psalm 84:11: "For the LORD God is a sun and shield; the Lord will give grace and glory; no good thing will He withhold from those who walk uprightly."
Just reading this verse makes me choke up. Bearing a child is a good thing. God is my loving Father. He would not withhold any good thing from me, including this good thing. He wouldn't.
So that's the promise I'm circling. When I pray, I make this verse my own. I say to my Father:
"Daddy! You are my sun and my shield. I'm depending on You completely. You promised you will give me grace and glory. You would not withhold any good thing from me! Your Word says that you will not withhold any good thing from those who walk uprightly. So Father, I pray again that you would cause Bruce and I to conceive the baby/babies that You send from Heaven to earth at this time. The babies that you know even now, before they are in my womb. And I thank You, Father, for doing it. I know You are faithful. I love You so much. Thank You for my children."
Praying like this is open, transparent, and comforting. It brings you heart-to-heart with God.
3. When you find a couple of verses that are meaningful to you, pray them back to God. Add your own words and thoughts, so you are talking to Him from your own heart.
4. Then sit quietly and focus your thoughts on Him. Ask God to touch you and speak to you. He will. He can't wait to talk with you.
<shhhhh>…
Did you hear Him or feel His comfort? What did He say?
Walking in the presence of God is constant, heart-to-heart communion (like you just experienced if you did this assignment)! God delights in you. As you continue to seek Him for these 21 days, your communion will keep getting better and better!
If you're with me on this 21-day quest for an awareness of God's presence, I'd love to hear how God spoke to you when you did the assignment for Day 3. Please leave a comment below and tell me how you're doing!