21 Days to the Manifest Presence of God: Day 4 (Everyday Conversation)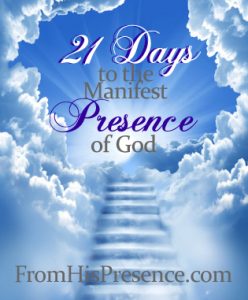 Welcome back to Day 4 of my series about developing an awareness of God's presence! You can refer back to Day 1 if you'd like to know my backstory for the series.
I encourage you to read all the posts in the series if you are just joining us. Each day's assignment builds on the previous assignments, and they are all vitally important! (Be sure to subscribe to receive my daily posts so you won't miss anything.)
Are you ready for Day 4? Here we go:
Day 4: Strike Up a Conversation
Yesterday we talked a bit about prayer: open prayer, honest prayer, and starting to pray Bible verses back to God. Prayer is THE BIGGEST KEY to walking in the manifest presence of God.
Today we're going to continue learning about prayer, but it's going to be a little different kind of prayer. We're going to strike up a conversation with God about the seemingly ho-hum parts of your day.
Talking to God about mundane things has become one of the most powerful things I do to stay aware of God's presence.
Here's how to do it:
Things you could talk to God about:
If you're going to put laundry in the washer, tell the Lord, "Father, I've got to put this laundry in. Would you help me do it quickly and easily?"
If you start to work on a new project at work, say, "Father, would you help me complete this project quickly and accurately? And let it be fun?"
If you're going to write a blog post, ask the Lord to write it through you. (He is the Creator, you know; He can cause His creativity to flow through you, and the result will be better than you could imagine!)
If you have to clean the house and don't want to, just pray, "Father, I have got to get this house cleaned up. I really don't feel like doing it. Would you give me Your motivation and inspiration to get it done right now?"
The first time I did this, I was in college. I had to write an essay, and I asked God to literally write it through me. He did; I could sense His ideas and His flow. And that essay got published!
When you start to pray this way, you will also see God answer. By striking up a conversation with Him, you're giving Him permission to be actively involved in your day.  He loves that because He loves to hang out with you. You're His favorite child.
So this is your assignment for today. Start including God in the tiny parts of your day.
Make it a point to ask Him for help.
Then notice when He answers, and thank Him for it! The help you got wasn't a "coincidence." The easy flow you experienced in that task wouldn't have "happened anyway." Your answer was directly from God!
The more you include God in each part of your day, the more you will sense His presence with you. You will see Him at work alongside you, and you'll start to feel His companionship. 
Exciting, right? I've been doing it for awhile and it still thrills me to have God Himself, my Daddy, walk alongside me and help me with every part of my day!
How are you doing so far? I'd love to hear how your first three days are going, and even how Day 4 is impacting you.
Please leave a comment below and share your experience so far… and have a great day hanging out with your Heavenly Father!