Worship Art: "Times of Refreshing"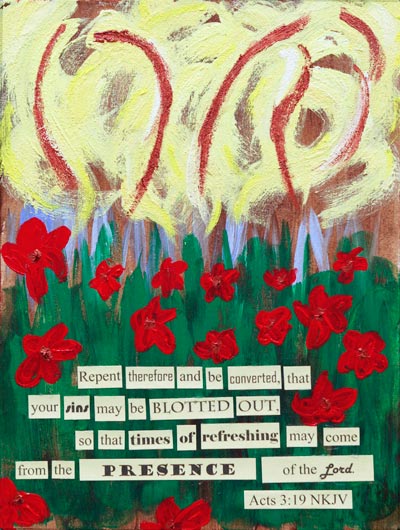 This is a worship art painting I did last year during live worship at my church. It's called "Times of Refreshing."
It's metallic and high-gloss acrylic, paper, and glass beads on canvas.
"Times of Refreshing" shows the glory of God falling upon dry ground. When God's glory falls, beauty springs up. Life, renewal, and refreshing come.
If you feel dry in your soul right now and need renewal, God is able to give it to you. All you have to do is repent (which means to change your mind), and receive Jesus Christ as your personal Savior.
If you will do that, God Himself promises to give you times of refreshing in His presence.
Do you need times of refreshing in God's presence right now?
If so, why don't you stop and change your mind and turn toward Him right now? He's longing to meet you, wrap you in His arms, and restore your weary soul.
If this painting encourages you, I'd love to hear about it. Please leave a comment below and let me know how God has blessed you through it.