Prayer #2: Lord, Teach Me to Love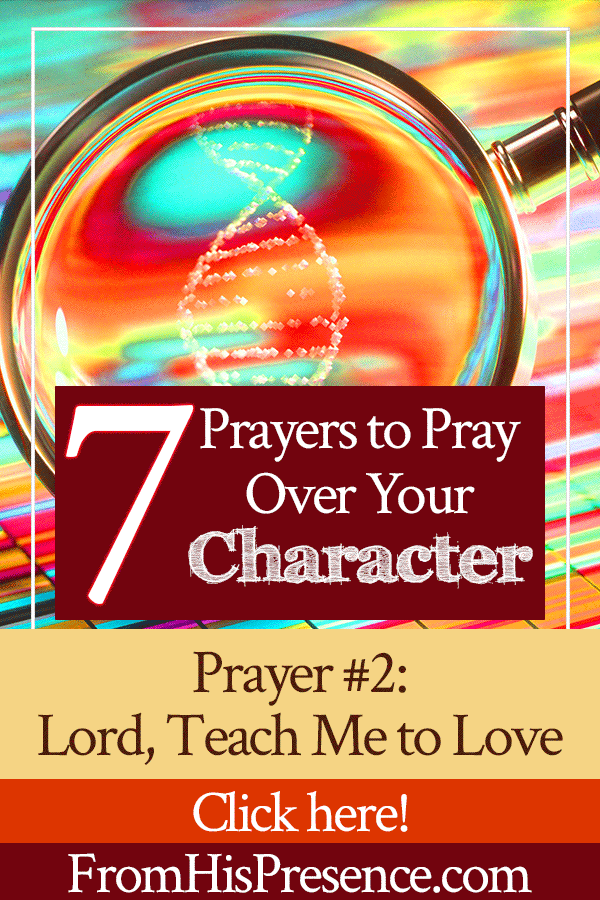 Did you know that there is ONE character trait the Bible says is absolutely required in order for us to abide in God and know Him? It's true. That one character trait is LOVE … and for that reason, TODAY, I urge you to pray, "Lord, teach me to love!"
This can be a hard thing to talk about, because walking in things that are NOT love has become "cool" in the Body of Christ these days.
It has become cool:
To brag and say, "I don't have the gift of mercy" … which is a character defect, not a thing to brag about. (Luke 6:36: "Therefore be merciful, just as your Father also is merciful.")
To attack and abuse people who have different theological or political persuasions than you have.
To dismiss people whom we deem to be un-redeemable.
I understand the fleshly urge to do all these things. We all battle with these thoughts. However, we all have to figure out ways to overcome our flesh and our fleshly thoughts and determine to walk in LOVE instead. We can disagree with people while still loving them.
Want to be closer to God? Get this book!
7 Prayers to Pray Over Your Character
If you want to be more like Jesus, get the book and pray these 7 prayers every week! You can use it as a rotating prayer plan. Memorize the key points of the prayers and cry out to the Lord daily! He will transform you as you pray, and you will draw ever closer to Jesus.
What is love?
As the Bible tells us in 1 Corinthians 13:
Love is patient.
Love is kind.
Love is NOT envious.
Love doesn't make a martyr of the fact that you love.
Love is not puffed up.
Love is NOT rude.
It is NOT self-centered.
It is NOT irritable and easily provoked.
Love finds joy in truth; it does not find joy when you catch someone in sin.
Love "bears all things, believes all things, hopes all things, endures all things."
Love NEVER fails or stops.
Related: Kill the Wounded Soldiers While They're Down … Or Not?
I'm preaching to myself here, folks. I need that kind of love in my heart. Don't you?
And the thing is, the Bible says that UNLESS we have love–THIS LOVE–in our heart, then WE DO NOT KNOW GOD.
Brutal, huh?
That's right. If you and I have the kind of love that fails, stops or runs out …
If we have the kind of love that snickers and laughs behind our hands (instead of grieving) when someone else is caught in sin …
If we have the kind of love that thinks the worst of people, instead of ALWAYS, without fail, 100% OF THE TIME believing the ABSOLUTE BEST about them, and clinging to God's redemptive purpose for their lives …
If we are not kind ALL THE TIME …
If we don't focus on others instead of focusing on ourselves …
Then we do not have real love in our hearts, and we do not know God.
Ouch.
I don't know about you, but I'm not there yet. I'm not there yet where I always think only good thoughts about people–even the people who hurt me–no matter what. I'm not to the place yet where I never get irritated. Oh, I think I "love." But do I really? Do I really have love in my heart according to THIS definition of love?
Not yet. I need to grow in this area.
Do you?
If we don't love like the Lord describes in 1 Corinthians 13, we do not yet know God.
Without this kind of love, we don't know God. Without this kind of love, we don't abide in Him. And without this kind of love, even if we can prophesy, speak in tongues, give millions of dollars to evangelism efforts, and have miracle-producing faith, all of those things do us no good.
True story.
First Corinthians 13:1-3 tells us this:
"Though I speak with the tongues of men and of angels, but have not love, I have become sounding brass or a clanging cymbal. And though I have the gift of prophecy, and understand all mysteries and all knowledge, and though I have all faith, so that I could remove mountains, but have not love, I am nothing. And though I bestow all my goods to feed the poor, and though I give my body to be burned, but have not love, it profits me nothing" (1 Corinthians 13:1-3).
And 1 John 4:7-16 says this:
"Beloved, let us love one another, for love is of God; and everyone who loves is born of God and knows God. He who does not love does not know God, for God is love.

In this the love of God was manifested toward us, that God has sent His only begotten Son into the world, that we might live through Him. In this is love, not that we loved God, but that He loved us and sent His Son to be the propitiation for our sins. Beloved, if God so loved us, we also ought to love one another.

No one has seen God at any time. If we love one another, God abides in us, and His love has been perfected in us. By this we know that we abide in Him, and He in us, because He has given us of His Spirit.

And we have seen and testify that the Father has sent the Son as Savior of the world. Whoever confesses that Jesus is the Son of God, God abides in him, and he in God. And we have known and believed the love that God has for us.

God is love, and he who abides in love abides in God, and God in him" (1 John 4:7-16, emphasis mine).
This is a really big wake-up call. These passages contain some very hard truths to swallow.
But, instead of getting discouraged about all the places where we have failed to walk in love, it's time for you and me to go before the Lord and ask Holy Spirit to help us love. It's time to pray, "Lord, teach me to love," and then go out into our day-to-day lives with one thought on our mind:
"I am working on my love-walk. Lord, teach me to love today. Help me to love like You want me to today."
So are you ready to pray, "Lord, teach me to love"? If so, pray the prayer below with me today–making the words your own as Holy Spirit leads:
Read the whole 7 Prayers to Pray Over Your Character series!
"Abba Father God, I come to You in Jesus' name.
Father, You love me so much. Your Word says that You love me so much that You sent Your one and only Son, Jesus, into the world to die for me. Thank You. And Lord Jesus, You love me so much that You willingly gave Your life for me when You died for me on the cross.
Lord, I can't compete with love like that. I could never exceed that kind of love; Your love is the ultimate love. But, I know I can walk in that kind of love–the love that You have toward me–because Your Word says that You will help me; that Your grace is sufficient for me; that Your strength is made perfect in my weakness; and that I can do all things through Christ who strengthens me.
But Abba Father, for me to walk in Your love like You do, I need a heart change.
I confess my sin to You today, Lord. I confess that I have not walked in love to this point. I have not loved the way You say I should love. I have sinned in many ways by my failure to love, and I repent for it today.
Lord, Your Word says that if I confess my sins, You are faithful and just to forgive me my sins, and to cleanse me from all unrighteousness. I confess that I have not loved; so, I humbly ask for Your forgiveness. Please forgive me, Lord. Cover me with the blood of Jesus. Wash me; make me clean; and fill me with Your Holy Spirit.
I'm so sorry, Lord, for sinning against You in failing to be loving and merciful. I'm sorry, Lord. Thank You for forgiving me.
Lord, I desire to move forward into the love-walk that You have prescribed.
So today, Father, I ask You to change my heart. In Jesus' name, please take away my old heart–the stony heart–and give me a heart of flesh. Give me Your heart, Lord. Take away my old spirit and give me Your Spirit.
Lord, please give me the heart of love that You have:
Help me to receive Your great love for me.
Help me to love myself the way You want me to, with Your own perfect love that You have placed in my heart.
Help me to love You back with Your own love–with all my heart, mind, soul, body, and spirit.
Then, Abba Father, help me to love others with the same love You have for me.
Lord, help me to exhibit Your love every single day. Saturate me with Your love:
Make me the kindest, most merciful, most patient person on the planet.
Teach me to see people the way You see them.
Give me Your heart and compassion for others.
Help me to always believe the best about every person.
Help me to always be calm and gentle, and to NEVER be irritated or irritable.
Help me to be kind, nice, and sweet to people at all all times–even to those people who are close to me, like my family, spouse, and children.
Lord, set a watch on my tongue.
Give me loving words to say at all times, and keep me from saying any words at all that are not loving. Keep me from hurting people with my words. Keep me from spreading gossip and from speaking word-curses over or about people, which are all unloving things to do.
Let me speak as the oracles of God, Lord; and if I'm even tempted to say anything that is not from You–anything that is not loving–then let my tongue cleave to the roof of my mouth and keep me from speaking those things out at all.
Teach me to love, Lord. Help me to abide in love.
Lord, place a deep conviction about the love-walk in my heart. Help me to remember from this day forward that I can't abide in You or even know You unless I love. Teach me to love, Abba Father. Help me.
Abba Father, I love You. I want to abide in You. I desire You more than anything.
But Your Word says that I cannot know You nor abide in You unless I abide in love. So today, Abba Father, I surrender to You. I surrender to Your love. I surrender to receive Your love; to love You back with the same love; and to love others with Your own perfect love.
Teach me, Lord. Help me. Keep me on a short leash and convict me, Lord, about the importance of love AT ALL TIMES. Thank You, Lord. I know You will help me, for this is Your perfect will for me.
Thank You, Abba Father. In Jesus' holy and precious name, amen."
My friend, do you need to improve in your love-walk? Did you pray this prayer along with me today? If so, leave a comment below and publicly renew your commitment to walk in love with the help of the Lord going forward!