Prayer for Deliverance from Hatred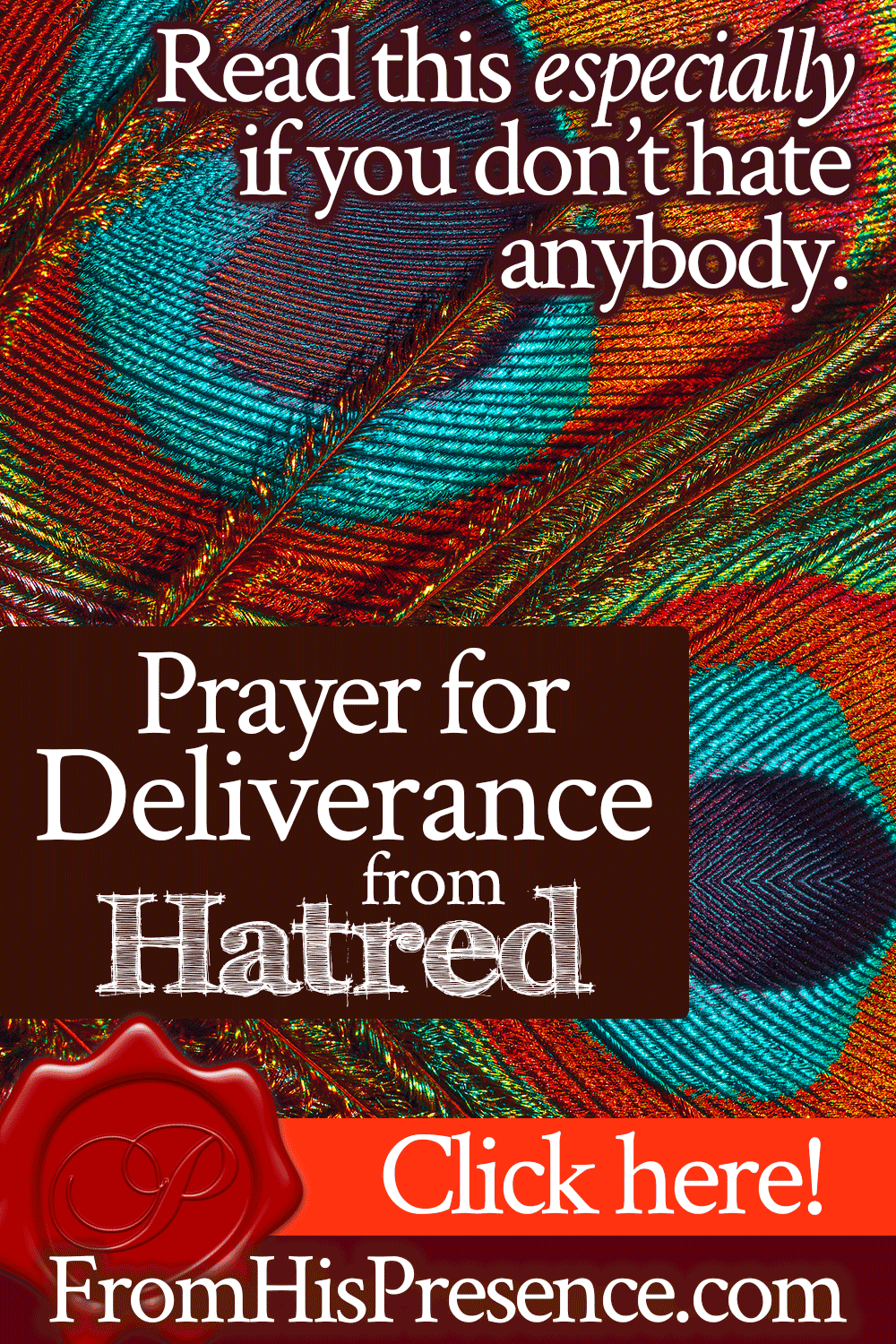 Has anyone ever hated you? Or, have you ever thought less of someone or loved them less than others? If so, today's prayer for deliverance from hatred might be the prayer you never knew you needed–but which may save your life.
Once upon a time–also known as yesterday–the Lord showed me that I hated someone.
And since I am called to be transparent about my own failings in an effort to help you, today I'm going to share:
how He showed me that I hated someone;
how He changed my heart;
how He forgave me, delivered me, and healed me.
I pray that you will also find healing and deliverance from hatred through my testimony.
Here's how God showed me that I hated someone–and how He led me to this prayer from deliverance from hatred:
Yesterday, I was really hurting over some things that have happened to me recently. I had already forgiven the people involved, but it still hurt. And I have learned, through years of serving in deliverance ministry and inner healing ministry, that if it still hurts, there is some aspect of the situation that I have not yet forgiven.
I knew I was at a crucial point yesterday. I knew the emotional torture simply had to stop. I couldn't bear the pain any longer, and it had become too great to ignore. It hurt too badly for me to pretend that it didn't hurt. I had to do something.
I have been in a fasting season lately, and fasting seasons are always ripe for deliverance and healing of every kind.
Related: Read my article series about fasting and prayer (and how to go about fasting) here.
I knew this, and I also could feel the Lord wooing me into prayer. I knew He could heal me, and I felt like He wanted to show me some things about this situation.
So first, I asked a friend to agree with me in prayer that He would heal this specific situation. Then, I answered the call and got alone with the Lord to pray it out.
When you come to the Lord like that, not knowing what is wrong or what the solution is, the first thing to do is always to just ask Holy Spirit for help.
So that's what I did. I asked Holy Spirit to pray through me and intercede for me, since I didn't know how to pray at all. Then, I began to pour my heart out to the Lord. I told Him how badly the situation hurt, and I asked Him to heal and deliver me from it.
Next, since I still didn't really have an answer, I simply began to tell the Lord more about my feelings. (Remember, He already knows–but He always wants you to tell Him about it anyway. He's our Father, and He yearns for us to open our hearts to Him.)
As I prayed:
I told Him about several situations that had hurt me in the past or were still hurting me.
I told Him that I couldn't live with this hurt anymore, but that I couldn't think of anything else to forgive the people for who hurt me.
I asked again for His help.
And I told Him about my questions and uncertainties regarding these hurtful situations, imploring Him for guidance and discernment.
Next, it occurred to me (with the Spirit's help) that I was angry I had been treated this way.
Anger produces bitterness, and the wrath of man does not produce the righteousness God requires. Therefore, I began to repent for my anger. I asked the Lord to forgive me for it, and I began again to forgive the people who had hurt me–forgiving them for everything I could think of.
Part of the forgiveness prayer that I use and recommend includes confessing the sin of hatred.
One of the sentences in the prayer says, "I confess that I have harbored bitterness, unforgiveness, hatred, anger, resentment, and a spirit of murder." In inner healing ministry, we always have people pray through all those things, even if they don't think they are harboring these things. And personally, I always pray through the prayer verbatim, even if I don't feel those things toward the person.
In this particular situation yesterday, I definitely didn't think I felt any hatred, etc.–but I prayed the prayer anyway. And as I was praying that particular sentence, confessing and repenting for hatred, anger, resentment, the spirit of murder, etc., I suddenly felt Holy Spirit stop me.
Holy Spirit told me to look up the Hebrew and Greek meanings of "hatred" in the Bible.
Welp. That was a new idea. 🙂 So I got out my trusty phone and googled it up. And you know what I found?
The Biblical definitions of "hatred" shocked me.
I had always felt like "hatred" was a kind of feeling the devil has toward us–or that really mean people feel:
A feeling where you have such animosity toward someone that you want to destroy them, and where you work to destroy them at any chance you get.
The kind of feeling that would make someone bare their teeth, manifest demons, and growl like an animal.
The kind of feeling you would get if you spent years upon years of your life despising and detesting someone.
And even though there are some people I have encountered in my life that I don't like all that much, I would never have thought that I hated anybody.
But you know what? That's not what hatred means in the Bible at all.
In the Bible, hatred means to love less.
It also means 'to slight' or to dis-esteem someone.
Did you hear that?
I'll say it again, even if it's just for myself and I'm not talking to anybody else here:
Hatred means to love less; to slight; or to dis-esteem someone.
I was shocked when I read this.
And Holy Spirit instantly brought to my mind that, just a moment before …
… when I had been confessing sin and my feelings to the Lord …
… while I had been praying desperately about what on earth was the open door of sin or unforgiveness in my life that the devil was using to torture me with this hurt …
… The Lord reminded me that, while confessing the sin of anger to the Lord, I had also confessed that I "can't stand" a particular person.
The person I "couldn't stand" isn't even someone I know.
However, during my interactions with them, they have hurt me quite badly a number of times, either directly or indirectly. And I definitely didn't think well of them.
To be clear: I wasn't walking around "hating on" this person. I felt like I could love and honor them in the Lord as a human being created in the image of God, but I simply didn't want a relationship. And I was smitten with conviction from the Lord, because I definitely "loved them less" and "dis-esteemed" them.
Oh, God, have mercy.
So, with glaring obviousness, the Lord showed me that I did, in fact, hate somebody.
I hated them because I loved them less and dis-esteemed them.
Ouch.
Beloved, this is really transparent; but, I'm being so transparent because I want this story to help you too.
To be frank, I never knew I hated somebody–and I was appalled at myself and my sin when the Lord showed it to me! I never could have discovered this sin in my own heart, either. It took Holy Spirit to show it to me.
As the Bible says in Jeremiah 17:9:
"The heart is deceitful above all things, and desperately wicked; who can know it?"
God alone knows our hearts, and He is the only One who can reveal the hidden things to us. But He is faithful, and so He does.
And for me, He did.
Hatred.
There it was, staring me in the face. Sin. Hatred that I never knew was in my heart, but which had created a BIG open door to the enemy.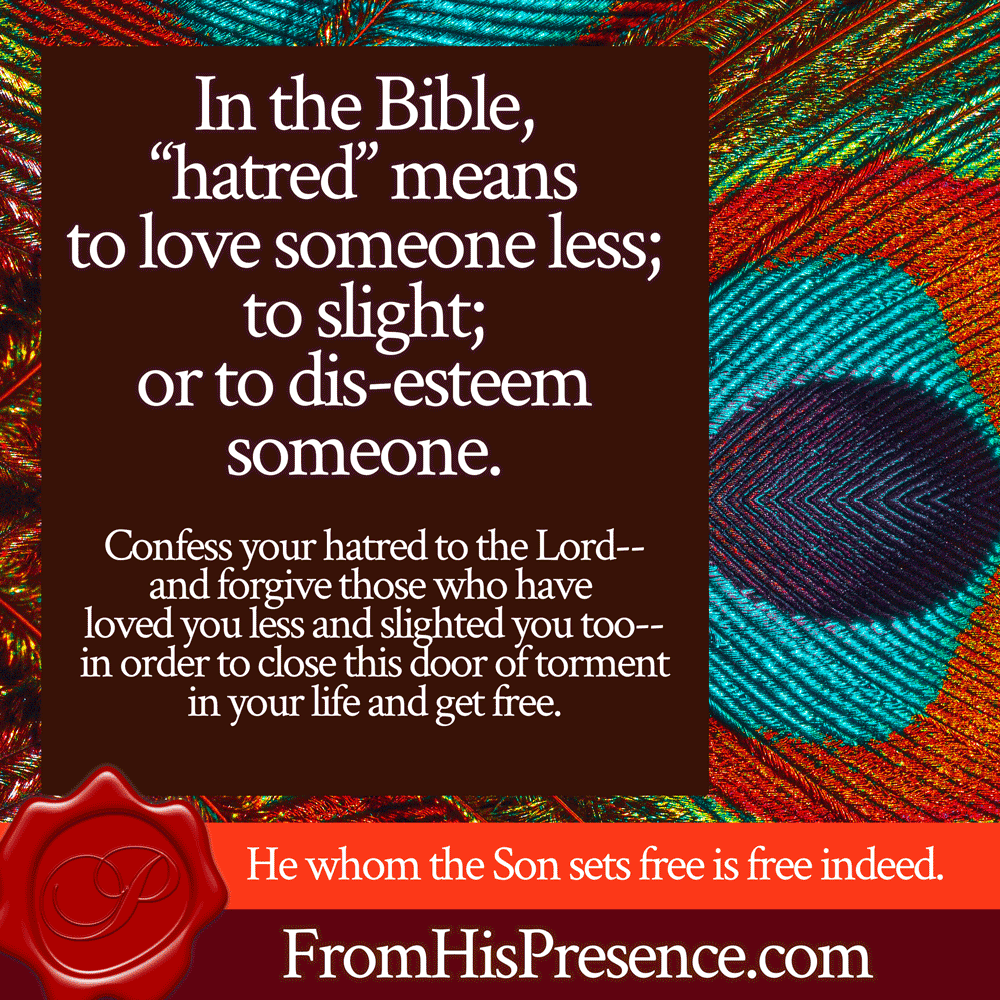 In case you aren't familiar with the concept of open doors:
An "open door" is an access point through which the devil and his evil minions gains access to your life to steal, kill, destroy, or torment, or through which he can harass or aggravate you.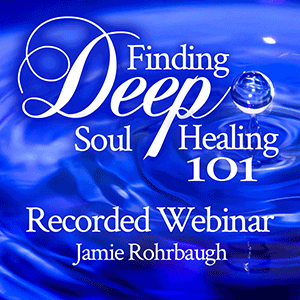 A curse without a cause cannot alight, so we know that there's always an open door to the enemy somewhere anytime we are hurting or being tormented by the devil. Watch my video classes, Finding Deep Soul Healing 101 and Finding Deep Soul Healing 102, to learn how to close all the open doors to the enemy in your life.
Anyway, back to the story.
Immediately when the Lord showed me that my dislike of this person was actually hatred, I began to repent for hatred.
I admitted it to the Lord. It was there in black and white, so it was no use trying to get around it. I definitely loved this person less and I definitely dis-esteemed them, which is hatred.
The strange thing was that the person I hated wasn't even part of the event over which I was hurting! 
But you know what? That didn't matter. My hatred for this person–my loving them less and dis-esteeming them–still was a sin in my heart, so it opened a door to the enemy to torment me over the other situation that he knew was even more hurtful for me.
God, thank You for Your mercy. He is definitely the Revealer of the hidden things.
So I began to pray and repent for my hatred. (If Holy Spirit is convicting you right now also, you can pray the prayer below with me in just a moment.) But then the Lord showed me something else vital:
As I prayed, the Lord showed me that I needed to forgive other people who had hurt me for hating me.
Again, I would never have thought of that on my own because I didn't know the Biblical definition of "hate." However, the Lord showed me that I needed to forgive certain people for loving me less and for dis-esteeming or slighting me.
Oh God. Again, thank You for Your mercy. Only Your Holy Spirit can show us these things; only You are the Revealer of secrets.
So I kept praying–not only repenting for having hatred in my heart toward one person that I "couldn't stand" to be around, but also forgiving other people who knowingly or unknowingly didn't love me like they should, slighted me, or dis-esteemed me.
And when I prayed through both aspects of the situations that concerned me, a huge weight fell off me and the pain disappeared.
I don't mean "I felt slightly better." I mean the wounds closed up completely, healed up, and those areas became perfectly new. Healed and whole. The pain went away and I wasn't even angry anymore.
You know what? I suddenly didn't even dislike that one person (the person I had hated) anymore. I felt perfectly normal about them–like I'd be thrilled to see them and happy to say hi if I passed them on the street.
I even felt God's love toward them, just like I feel His love toward any of my friends.
It was a miracle. A miracle that only God could do. Only God. Thank You, Abba Father.
All of that happened yesterday.
This morning, as I was praying and studying and preparing to write this article about deliverance from hatred, it occurred to me:
How many people have I met in the past that I don't particularly care for? How many people have I "loved less," or dis-esteemed, or thought poorly of in my own thoughts–even if I had a reason for said feelings/thoughts?
Because all those things count as hatred according to the Bible.
And God the Holy Spirit convicted me again:
He showed me a few people from my past that I love less, so I repented again–and felt even better.
Again, all of a sudden, after repenting for hating these people, I suddenly felt like I'd be so happy to see them if I encountered them in a store, restaurant, etc. All sense of animosity and "I don't want to have anything to do with them, thank you very much" suddenly left.
When God heals, He does a good job. He heals and delivers and saves to the uttermost. And His Holy Spirit is the best Surgeon around.
After all this heart surgery, even though I felt so much better, I also was quite broken-hearted because I knew I had offended the Lord.
All that time, hatred was in my heart and I didn't know it. All that time, Holy Spirit was grieved regarding this iniquity that I didn't even know I had. I'm so thankful that He rooted it out, but I also was brokenhearted because I never want to hurt Him.
But you know what? God is so gracious. He is merciful, and His mercies are new every day. And as I prayed this morning and communed with Him, He told me to read and pray through Psalm 51–the Psalm of repentance and restoration.
So I did.
The whole Psalm was meaningful and it took me awhile to pray through it.
(This Psalm has been precious to me for many years; I highly recommend reading it, studying it, and praying through it often!) But the Lord highlighted Psalm 51:17 in particular to me:
"The sacrifices of God are a broken spirit, a broken and a contrite heart–these, O God, You will not despise" (Psalm 51:17).
Whenever we genuinely repent for something, God forgives us immediately. First John 1:9 says:
"If we confess our sins, He is faithful and just to forgive us our sins and to cleanse us from all unrighteousness" (1 John 1:9).
And I knew that the Lord had forgiven my sins. However, I still felt distanced from Him–like He wouldn't want me to be close just yet because of what I had done.
Those feelings were not from the Lord, and I knew it.
However, I needed God's help to get past them and stop beating myself up. And as I read Psalm 51, those feelings fled away.
The clincher was Psalm 51:17 (quoted above), through which the Lord reassured me that He saw my brokenness over the sin that had been in my heart (the sin which He didn't even remember, for He had forgiven it)–and that He saw my contrition … and accepted them.
The Lord comforted me, and I knew through His Word that everything was set right again by the blood of Jesus and by the grace, mercy, and forgiveness of God.
Thank You, Abba Father, for Your mercy and forgiveness! I love You so much!
O beloved, I am sharing my extremely transparent testimony because I believe there is probably hatred in each of us.
Is there someone that you "love less"? Is there someone in your life whom you dis-esteem or slight? Is there someone you think less of?
If so, that's hatred.
And it's both sin and it's an open door to the devil to torture you.
God, help us.
The good news is that Father God will forgive you the moment you confess your sins to Him.
When you repent and forgive, He will also make you new.
Are you ready to pray? If so, pray this prayer for deliverance from hatred today:
"Dear Heavenly Father, I come before You in Jesus' name.
Father God, Your Word says that we should come boldly before Your throne of grace, that we may obtain mercy, and find grace to help in time of need. Thank You for that, Lord. Thank You that Your ears are open to my cry.
I confess right now that I don't know what to pray for as I ought, nor how to offer it worthily as I ought.
But, I ask in Jesus' name that Holy Spirit would pray through me and for me with moanings and groanings which cannot be uttered, and that You who search the heart would know what the mind of the Spirit is, for He makes intercession for the saints according to the will of God.
Father, I can see that I have hatred in my heart.
I don't want it to be there, Lord, and I didn't even necessarily know it was there. But You are convicting me right now, and I see the hatred. I admit it.
Father, I confess that I hate ______. I can't stand them; I dislike them; I dis-esteem them in my thoughts and think less of them. I have even slighted them because of my lack of love for them, which is hatred. I'm sorry, Father. I confess this as sin, and I repent of it right now.
Abba Father, in Jesus' name, I claim Your promise from 1 John 1:9, which says that if I confess my sins, You are faithful and just to forgive me my sins, and to cleanse me from all unrighteousness. I have confessed the hate and hatred in my heart as sin, Father, and I ask You to forgive me.
Thank You for forgiving me, Father.
Lord God, Your Word also says in Ezekiel 36:25-27:
"Then I will sprinkle clean water on you, and you shall be clean; I will cleanse you from all your filthiness and from all your idols.

I will give you a new heart and put a new spirit within you; I will take the heart of stone out of your flesh and give you a heart of flesh.

I will put My Spirit within you and cause you to walk in My statutes, and you will keep My judgments and do them" (Ezekiel 36:25-27).
Lord, I need a new heart and a new spirit today.
And because I need a new heart and a new spirit today, I ask right now in Jesus' name, Father, that You would sprinkle me clean with the washing of Your Word and the blood of Jesus. Cover me and wash me with the blood of Jesus, and fill me with Your Holy Spirit where those things were.
Take away my old spirit, Lord, and give me Your Spirit. Take away my old heart of stone, Father, and give me a new heart–Your heart. Going forward, help me to walk in Your statutes and do them; help me to keep and obey Your Word, and to hide Your Word in my heart, that I might not sin against You.
Thank You, Father, for forgiving my sins. Thank You for giving me Your heart and Your Spirit.
Abba Father, please give me Your heart and Your love for the people I used to hate.
Please help me to love them the way You do, Lord. Help me to see them the way You do. Help me to think the thoughts about them that You think, Lord, and no other thoughts. Help me to esteem them highly, love them as I should, and honor them, the way Your Word says I should.
Father, I choose to forgive all the people who have hated me.
In the name of Jesus, I choose to forgive ________. I forgive this person/these people for:
Loving me less;
Thinking less of me;
Slighting me;
Dis-esteeming me; and
Treating me with dishonor.
I forgive them for their actions; their communications or lack thereof; their behaviors; their habits; and even for their personalities in every way they were offensive to me or hurtful to me.
I forgive these people in every way for every circumstance and every occasion upon which they loved me less and hated me, dis-esteemed me and slighted me, whether they meant to or not.
Father, I forgive these people for hating me.
Related: Jesus Says, "I Hate What They Did To You"
I choose to forgive them right now, and I choose to leave these things, let them go, and give up all resentment. I confess my anger about these things as sin, and I repent of it and lay that down too.
Abba Father, Daddy God: I lay all of these burdens right now at Your feet. By Your grace and mercy, I choose to not pick them back up anymore.
Father, in Jesus' name, I confess that I have harbored bitterness, unforgiveness, hatred, rage, anger, resentment, and even a spirit of murder toward this person/these people.
I confess my bitterness, unforgiveness, hatred, and resentment as sin.
I have not loved these people like I should have, and I confess my lack of love as sin also. Father God, in Jesus' name, please forgive me for MY sin. Cover me with the blood of Jesus. Wash me clean. Fill me with the Holy Spirit, and make me like You in all things.
And now, Father, I pray for all these people who have harmed me and hated me.
Forgive their sins; forgive them for _____. Cover them with the blood of Jesus. Wash them. Cleanse them.
Make them pure and holy, Lord. Fill them with the Holy Spirit, and draw them closer to Yourself. Bless them, Father. In Jesus' name, amen."
Friend, I know this is a heavy topic–but I believe that this prayer for deliverance from hatred could save your life today.
Whether you're hurting so badly that you don't want to live anymore or whether you're hurting just enough to make your life miserable, hatred is a sin that will bind you.
Nevertheless, Jesus Christ can set you free. He will help you repent for hating other people–for loving them less and dis-esteeming them–and He will also help you forgive the people who have hated you.
And after you do these things, I believe your life will never be the same.
Did you pray this prayer for deliverance from hatred today? If so, please leave a comment below and tell me about how Holy Spirit ministered to you!