How To Love Yourself (The Way God Wants You To)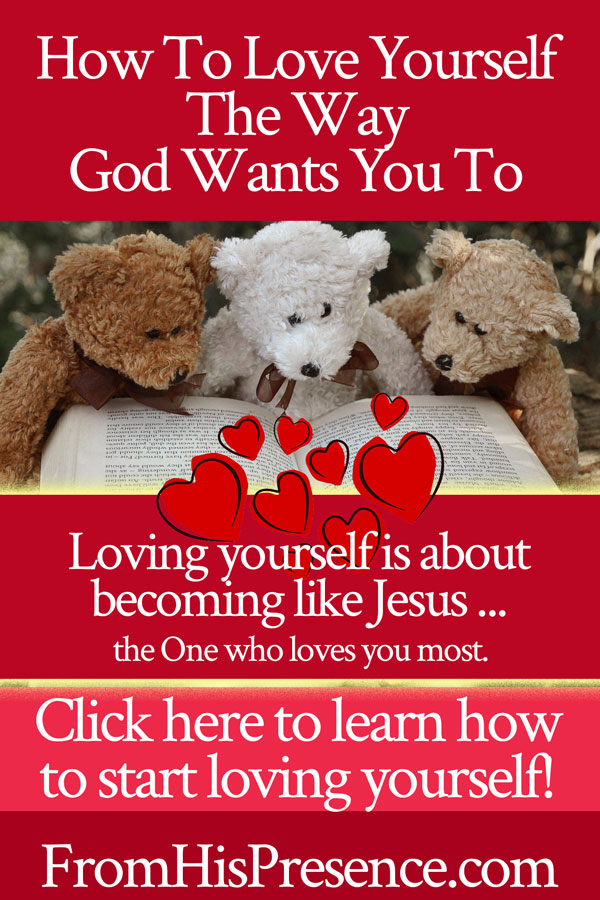 Do you struggle to love yourself? Do you struggle with low self-image and feelings of negative self-worth? If so, the Lord wants to heal your heart today and teach you how to love yourself.
A dear friend asked me recently how to love yourself.
She had been working on the concept of loving yourself for many years, but a minister had recently spoken over her that she wasn't quite there yet. So, she was asking for any insight about how to love yourself like God does.
I believe there is one main premise that will help you love yourself faster, better, and in a more holy way than anything else. And that one main premise is what I'd like to talk with you about today.
First, how do you know that you even should love yourself?
Well, we know we should love ourselves because the Bible says we should. Check out Mark 12:31:
"'And you shall love the Lord your God with all your heart, with all your soul, with all your mind, and with all your strength.' This is the first commandment. And the second, like it, is this: 'You shall love your neighbor as yourself.' There is no other commandment greater than these" (Mark 12:31).
Did you get that? Jesus said, "You shall love your neighbor as yourself." From this verse, immediately notice three things:
Jesus used the word "shall." This is a command to you and to me–an absolute mandate.
Jesus said to love your neighbor "AS YOURSELF." You can't love your neighbor "as yourself" if you don't love yourself at all.
Jesus said that there is no commandment greater than loving God and loving your neighbor "as yourself." This means that, as seriously as God takes His other commandments–commandments like "don't lie, don't cheat, don't steal, don't murder," etc–He considers these commandments to love God and love others "as ourselves" to be even MORE important.
That's pretty deep, and that means that somehow "loving God" and "loving others as ourselves" must encompass pretty much everything in life.
Okay, so you're convinced. We should love ourselves. But how do you go about getting started? How do you actually start loving yourself?
Here are four steps to take as you learn how to love yourself:
1. Recognize that God has entrusted you with stewardship of yourself.
God has given you one person, and one person only, to steward for your entire life (well, from the age where understanding begins, anyway). That person is you.
That may seem like a strange or irrelevant statement, but I believe it's actually of utmost importance. Think about it:
You don't steward your children your whole life. It took you a few years to get them, and they'll be adults after a few more years. You only get to steward them for a few short years.
You don't steward your spouse your whole life. You were an adult when you got married, and so were they. You lived many years without them. Also, your spouse really has the responsibility to steward himself/herself. You take care of your spouse in some ways, but in other ways they have to be an adult and fend for themselves too (e.g. in their own spiritual growth, etc.).
But YOU are with you your whole life. And from the age where understanding begins–typically in toddlerhood–you have had to steward yourself.
You had to care for yourself even when you were a child. You had to choose to eat and drink. You had to choose to obey your parents. You had to choose to be cautious and safe.
YOU are responsible for YOU. God made you that way.
And when it comes to loving yourself, after you understand that you are stewarding yourself, you have to realize: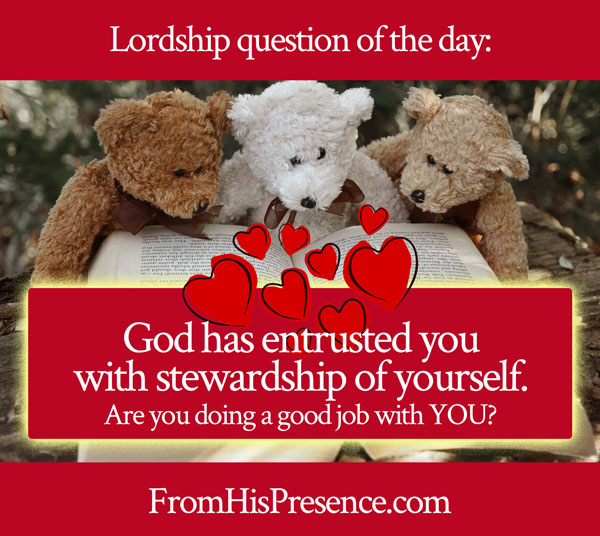 2. Know that God wants you to steward yourself well.
You belong to God, and He takes the way you treat His stuff–and His children–really personally. The Bible tells us that He cares how we treat things like:
Animals: "A righteous man regards the life of his animal …" (Proverbs 12:10).
Money: "Be diligent to know the state of your flocks, and attend to your herds; for riches are not forever, nor does a crown endure to all generations" (Proverbs 27:23-24).
Children: "But whoever causes one of these little ones who believe in Me to sin, it would be better for him if a millstone were hung around his neck, and he were drowned in the depth of the sea" (Matthew 18:6).
We could go on and on. God cares A LOT about how we treat His stuff, but ESPECIALLY about how we treat His people–His children that He loves (regardless of their age; everyone who has made Jesus their Boss and Lord is considered God's child).
Remember what Jesus said about how important you are to God:
"Are not two sparrows sold for a copper coin? And not one of them falls to the ground apart from your Father's will. But the very hairs of your head are all numbered. Do not fear therefore; you are of more value than many sparrows" (Matthew 10:29-31).
God REALLY cares about His stuff. However, even more than that, He really cares about His children …
… and YOU are His child.
That brings us to step #3 in this revelation about how to love yourself:
3. God gets very upset if you don't steward His stuff well.
Everything He gives you, He expects you to take good care of. Think of Matthew 25:26, where Jesus spoke of the servant who failed to steward what the Master left with him. What did Jesus call that servant? A "wicked and lazy servant"!
Lord, have mercy. Oh, how my heart is smiting me as I write this! Why?
Because the Lord has been speaking to me about stewardship of stuff for a long time, and I've been working so hard on trying to get in alignment with Him in this area. I'm in tears as I write this because I want to obey God in every area of stewardship, but honestly I am so FAR from being where I need to be.
Do I take good care of everything God has given me? No! For example:
Do I care diligently for my health? I am trying, but I'm nowhere near stewarding my health like I should!
Is my home neat and tidy? No!
Do I keep the car the Lord blessed me with clean and free of clutter at all times? No!
Father, forgive me … I don't want to be a wicked and lazy servant.
Do you?
But now let's take this revelation a little farther:
4. God values YOU more than He values His "items" or "stuff."
You are of more value than many sparrows. Therefore, it's reasonable to ask:
How much more does it displease God when you and I do not steward ourselves well?
A lot, I'm sure. When we don't take care of ourselves well, God is not pleased. And part of stewarding ourselves is treating ourselves like God wants us to be treated.
So ask yourself this: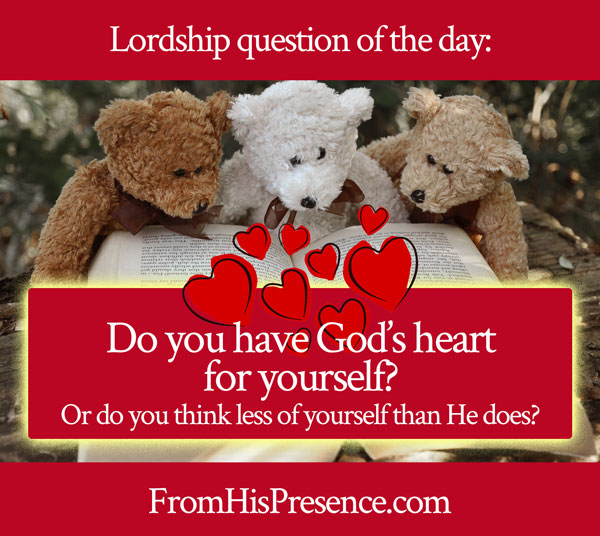 You are a person God has entrusted to your care. How good are you doing at taking care of you?
Think of yourself very objectively. Separate your ability to analyze this from your personal feelings for a moment. And then, ask yourself these questions–just as if you were standing a few feet away from yourself and examining the relationship YOU have with YOU:
Do you esteem yourself highly, the way God does? Or low-ly?
Do you cherish yourself, the way God does? Or do you hate or dislike yourself?
Do you value your gifts and talents the way God does? Or do you belittle them and diminish them in your sight and conversation?
Do you protect yourself the way God wants you to, in a holy way–as the steward of you? Or do you submit yourself to danger and abuse?
Do you ever do anything nice for yourself? Or do you think in your heart of hearts that you don't deserve anything nice?
Do you speak about yourself positively? Or do you abuse yourself with your own words?
We could go on and on. Basically, what I am trying to say is:
If you look at yourself objectively, closely examining your work of stewarding yourself and treating yourself the way God wants all of His children to be treated, how would you rate your stewardship? What grade would you give yourself?
How are you treating God's child–God's child named "Y-O-U"?
Loving yourself starts with deciding to treat yourself, think of yourself, talk about yourself, and esteem yourself the way God treats you, thinks of you, talks about you, and esteems you.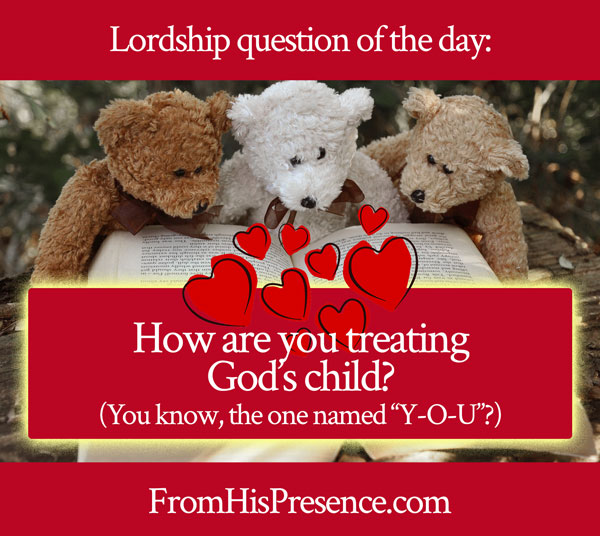 And in case you aren't sure what that looks like:
God treats you with everlasting compassion, gentleness, and kindness–and He expects others (including you) to do the same.
God speaks LIFE about you. He talks you up. He says that you're of more value than many sparrows; that He has plans to prosper you and not to harm you; to give you hope and a future.
God esteems you so highly that He sacrificed His one and only Son on the cross so He could get you back from the slave market of sin. How He must cherish you!
God loves you so very much. He treats you kindly and well. (Honestly, we would see even more of His kindness if we had faith to believe and receive it and stopped limiting what we let Him do for us.) He places EXTREME value on you, to the point of giving His Son Jesus in exchange for your life.
Do you really have the right to do anything less?
No. No, you do not. If "on earth as it is in Heaven" is to be reality in our lives, we have to think the thoughts of God; do the deeds of God; and exhibit the heart of God. We have to manifest Heaven in all things, including in how we think of ourselves, talk about ourselves, and treat ourselves.
We have to see that we are God's workmanship, and we have to value God's workmanship. Even when doing so hits really close to home. 🙂 As it says in Ephesians 2:10:
"For we are His workmanship, created in Christ Jesus for good works, which God prepared beforehand that we should walk in them" (Ephesians 2:10).
So to me, loving yourself is really just a stewardship issue …
… which boils down to a Lordship and obedience issue, because God commands us to steward His stuff and His children well. All His children, including ourselves.
Ask yourself now:
Do you believe that God only gives good and perfect gifts?
Do you believe that you are fearfully and wonderfully made–that marvelous are His works?
If so, then you have to believe that, when Father created you, He gave Himself and the world a good and perfect gift. You have to believe that you are a marvelous work, and that He crafted you piece by piece, atom by atom, ON PURPOSE–and that He did a good job.
That's what His Word says, and that's what you have to believe if you're serious about learning how to love yourself. You can't love what you don't esteem, and you can only esteem yourself the way God wants you to if you see yourself the way God sees you.
It's all about becoming like Jesus.
If you are going to become like Jesus, you have to begin seeing with the eyes of God, thinking the thoughts of God, hearing with the ears of God, and feeling with the heart of God. You have to think God's thoughts and do His stuff everywhere you go, in every situation you encounter.
That means we have to think of ourselves the way God thinks of us. We have to esteem ourselves the way God does. We have to treat ourselves the way God does. And yes, we have to love ourselves the way God does.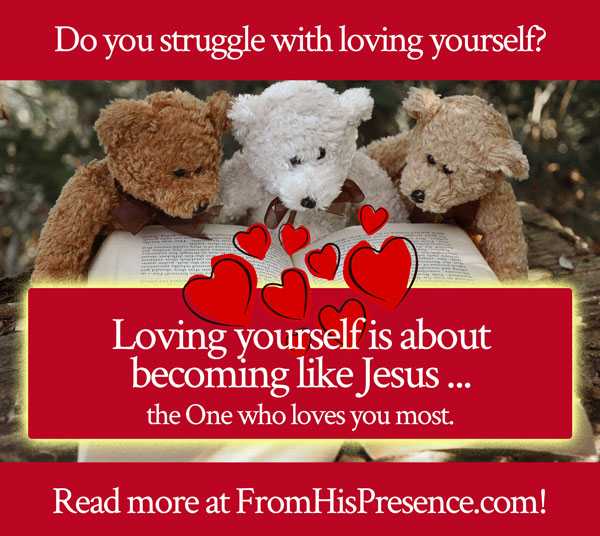 How do you act on this, practically speaking?
After you've examined how you're currently doing with treating yourself the way God treats you–including loving yourself the way God does–then write down where you need to change.
Then, present those changes to the Lord.
Ask Him to take away your old heart and give you His heart. Ask Him to take away your old spirit and give you His Spirit.
Remember Ezekiel 36:26-27:
"I will give you a new heart and put a new spirit within you; I will take the heart of stone out of your flesh and give you a heart of flesh. I will put My Spirit within you and cause you to walk in My statutes, and you will keep My judgments and do them."
God will give you His heart and His Spirit if you ask. Even if you've already accepted Jesus as your Savior, we can all come up higher in having and demonstrating more of His heart and manifesting MORE of His Spirit. It's really just a Lordship issue.
Did you get that? I'll say it again:
It's really just a Lordship issue.
The same way that my not keeping my house neat and tidy is a Lordship issue …
The same way that my needing to clean out my car and get the clutter out is a Lordship issue …
The same way that I need to lose 50 pounds is a Lordship issue …
… Sigh; help us, Lord …
… That's the same way that it's a Lordship issue when we don't love ourselves yet the way God does.
Everything is a Lordship issue.
Everything is a submission-to-Jesus issue. Everything is a becoming-like-Jesus issue. There's really nothing to the Christian walk except for becoming like Jesus and obeying Him.
There's nothing simpler than becoming like the Master; our entire task is to glue our nose to His back and follow Him, even all the way to the cross–and, after that, beyond the cross–right into resurrection life. That is why I put this phrase on the back of my inner healing handbook, The Presence Seeker's Guide to Inner Healing:
"The Gospel is simple: Jesus saves. He heals. He delivers. He raises you up into newness of life by His Spirit … and it's easy."
So beloved, after you've examined yourself; after you've presented your needs to the Lord; after you've asked Him for a new heart and a new spirit …
Then it's time to spend some time asking Him about the way He sees you.
Ask Him questions like:
"Lord, what talents did you put in me?"
"Lord, what do you love about me?"
"Lord, what do you cherish about my heart?"
"Lord, what do I do that pleases you?"
Of course, we always need to be asking the Lord to convict us also of things we do that don't please Him. But that's not the point of this blog post; we're talking about how to start loving ourselves the way God does. And hearing from the Lord about how you need to improve is not going to help you love yourself more. We need the conviction of the Holy Spirit daily, moment by moment; it's just that that particular prayer isn't relevant to this exercise. 🙂
So back to the exercise …
Ask the Lord the questions above. Listen carefully and write down His answers. Do this multiple times on multiple days. And every time the Lord shows you something He loves about you–every time He shows you His heart for you–then STOP:
Stop and write down what He said.
Stop and meditate on what He said.
Stop and think about what He said.
Stop and RECEIVE what He said.
As you do this, your heart will change:
Your heart toward yourself will change.
Your mind will change.
Your thoughts will be transformed little by little into God's thoughts.
Your attitude about yourself will change bit by bit into God's attitude about you.
And the way you feel about yourself will be changed, thought by thought; emotion by emotion.
It takes time in the presence of the Lord, listening to Him and receiving from Him, in order to change.
But if you will commit the time to Him and RECEIVE what He shows you about how much He loves you and what He thinks about you, change you will. 🙂 Ask Him for help at every point, and He will help you. He will change you.
And as He changes you, He will teach you to love yourself in obedience to His Word.
Is the Lord challenging you to change the way you treat yourself, think about yourself, and love yourself–to line these things up with how HE feels about you? If so, leave a comment below and let me know if this message helped you!