Pray This If You're Working for Love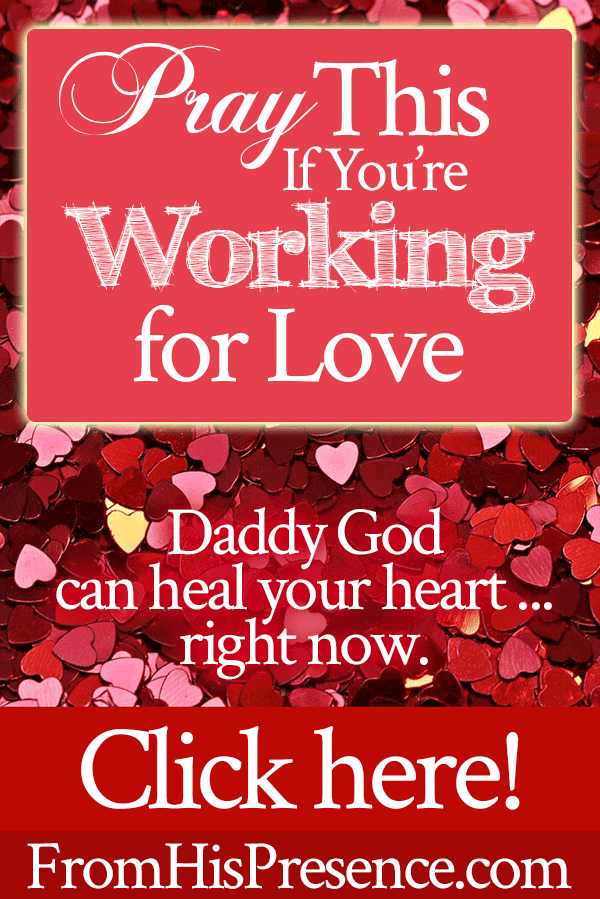 Have you ever found yourself to be working for love? As in, you look down at yourself one day and realize that you've been working soooo hard to get people to accept you and love you?
Maybe you're trying to look just right for your boyfriend. Maybe you're trying to act just right for your girlfriend. Maybe you're trying to be the perfect husband or wife so your spouse won't criticize you anymore.
Regardless of the cause, working for love is never good.
But until we receive the Lord's help, we won't be able to stop–because love is a basic human need.
If you're working for love, you probably already know it. Your spirit probably started shouting agreement when you read the first few lines of this blog post! Working for love is a painful thing, and those that are doing so either already know it or Holy Spirit will show you that you're doing so right now.
So what do you do if you're working for love?
Several things:
1. Stop.
Even before you get healed of the tendency to work for love–before the hole in your heart gets all filled up so you don't have to work for love anymore–you can still stop.
In your tracks.
Right where you are.
I did this once. Once upon a time, when I was working in my corporate job, I was in a salaried position where people were expected to work whatever hours it took to get the job done. It was a tough job; one of those kinds of jobs that's never, ever done … and if you got close to "caught up," then you got "rewarded" with the privilege of doing someone else's work who didn't bother to work as hard as you.
#CanIGetAWitness
So anyway, I was wearing myself out at this job.
It was an emotionally draining job as well as a mentally challenging one. And I was putting in the hours to get and stay as caught up as I could.
One day, however, I noticed what I was doing to myself. I realized that the toll this job was taking on my health was NOT WORTH IT. I asked myself why I was doing it, and immediately the thoughts came to mind:
"I want them to like me."
"I want them to promote me."
"I want them to think I'm good enough."
Whoa!
The realization that those thoughts had actually been in my mind–let alone driving my actions–hit me like a ton of bricks. Sure, there's some amount of accountability and working toward established goals and metrics in any job. But when I examined myself about this, I wasn't saying "I want to do a good job. I want to hit our team's metrics and business goals." No, I was looking for inner fulfillment.
There's a big difference.
As soon as I realized what I had been doing, I stopped.
I didn't stop doing a good job, but I did stop trying to get my inner fulfillment from my performance at my job. I stopped trying to get my inner fulfillment from the people I worked for. I did the best I could every day; I did my job; and then I went home.
Was I meeting their expectations for being a "team player"? Yes. Was I meeting their expectations of being a corporate slave? Not after that day …
… Because working for love is a form of slavery. It's bondage.
Working for love means that you are handing over yourself, your emotions, and your heart to someone else and letting them dictate what happens to you. You're letting them dictate how you feel, how fulfilled you are, and how much freedom you have.
And that's slavery. It also goes against SO many of God's commands, like:
"Who may ascend into the hill of the Lord? Or who may stand in His holy place? He who has clean hands and a pure heart, who has not lifted up his soul to an idol, nor sworn deceitfully" (Psalm 24:3-4).
And:
"Now the Lord is the Spirit; and where the Spirit of the Lord is, there is liberty" (2 Corinthians 3:17).
As well as so many others. So if you're working for love today, the first thing to do is stop. Recognize what you're doing. Continue to do a good job and give your best in every aspect of your life, but if you're doing specific things to try and earn someone's love, stop.
2. Take your heart needs to the Lord.
There's nothing wrong and everything right with admitting your needs to the Lord. God made you to need love. He formed you IN love; His love is the artist's medium–the potting soil, you could say–in which He created you. Of course you need love!
So go to the Lord. Tell Him your heart hurts for love. Tell Him you yearn it and crave it. If you feel like no one has ever loved you, tell Him so. If you feel oh-so-lonely, tell your Papa God so.
We have to be honest with God. He already knows everything about us, so nothing we say is going to shock Him. But until we are honest, we give Him no room to work.
3. Ask the Lord to meet your need for love.
God is the Creator and Author of love. He is Love Itself. Love is not something He has; it's WHO HE IS. So when we need love–which is, well, all the time–there's nobody better to fill us with the love we need than our Abba Father.
When you come to the Lord with the needs of your heart, ask Him to fill you up:
Ask Him to fill you with His Spirit, in whose bliss we cry out "Abba! Father!"
Ask Him to fill you with His perfect love.
Ask Him to help you sense His presence and affection.
Ask Him to help you depend on Him and look to Him only for the love you need.
Ask Him to comfort you by His Holy Spirit.
Here's a sample prayer you could use if you like:
(Use your own words as needed.)
Dear Heavenly Father, I come before You in Jesus' name.
Father, thank You for hearing me. Thank You for loving me. Thank You for washing all my sins away in the blood of Your Son Jesus.
Father God, I need You. I just realized that I've been working so hard, trying to win people's love. Trying to earn love. Trying to be good enough; to fit in; to measure up; to be part of the in-crowd; to be promoted and promotable; to have people not think badly of me.
Father God, I'm sorry. I'm so sorry. I've been lifting up my soul to people to meet the needs of my heart. I've been looking to humans to fulfill me in my emotions, instead of looking to you. Father, I'm sorry. Please forgive me. Fill me with Your Spirit and wash me clean with the blood of Jesus.
Abba Father, please fill me with Your perfect love right now.
I need You to help me–because it's the right thing to do to ask You; AND also because You're the only one who can. I'm needy and completely dependent on You, Lord. So Abba Father, please fill me up. Open my heart, soul, spirit, body, mind, emotions, and everything else to receive Your love. Help me to sense Your presence and Your affection. Help me to know and feel how You feel about me. Meet all my needs, Lord; I bring them to You.
Father, in You is perfect love. Please make me perfect in love–Your love–so that I won't fear anymore.
Comfort me and encourage me. Let me sense Your love as the tangible, ever-present force that it is. Help me to feel secure and safe in Your love and to feel Your arms wrapped around me.
Father, I don't want to be alone, left out, or unloved. And in You, I know that I have Your companionship. I know You are embracing me. I know You love me. Please help me to meditate on Your love; to really get it, so that I don't even feel the need for other people's love anymore. Then, I can be free to love them without expecting me to fill my love tank, which only You can fill.
Father, as I'm learning and receiving, please comfort me.
Help me to depend on You and You only, and please correct me if I start looking to idols again. I confess my idolatry, Lord, in looking to people to fill me with the love that only YOU can give. Please forgive me. Fill me with Your Spirit and wash me clean in the blood of Jesus. And Father, please help me to lift the cup of my life only to You from now on.
Thank You, Father God. In Jesus' name, amen."
Years ago, before I was married, I was crying out to the Lord one day, asking Him to send me a husband.
That was a common prayer of mine, but that day was different. On that day, immediately after I asked for a husband, the Lord said to me:
"Why do you want to get married?"
And the answer immediately welled up in my spirit: "So I will feel like someone loves me."
Ouch.
Well, that was obviously wrong; the wrongness of it hit me in the gut right away. I had never realized that I felt like that! So I started repenting, because obviously if I was looking for a man to fill me with love, then I was looking in the wrong place. I was looking to a person instead of to God to meet my emotional needs.
That one convicting touch from Holy Spirit started me down the journey of learning how to feel like God loves you.
Ultimately, you can't be free of working for love until you learn to receive love by grace, without work. And the only place you can receive true love that will fill you up is from God Himself. After you get filled with His love, all the people in the world can love you and you can enjoy it, but you won't look to those people to fill up your inner needs. Your inner needs will already be filled, and you won't need to "receive" anything from PEOPLE–because your RECEIVER will already be filled up with the love of God.
Beloved, if you're working for love, you are treading down a path that will never see your needs met.
Real love doesn't have to work. Real love doesn't require you to work. Real love is the love of God. Real love loves you not for any reason except simply that you exist. Real love is a free gift.
So stop working today. Stop striving. Take the real needs of your heart to the Lord and be open and honest with Him. Ask Him to fill you with His love, and keep going back to Him for more love day by day, moment by moment. Ask Him to help you receive His love; to open up your "receiver" so you can really receive from Him. Ask Him to heal your heart and to look only to Him to fulfill your inner needs.
You'll be glad you did.
Are you working for love today? Are you ready to be healed so you don't have to strive anymore? If so, leave a note in the comments and tell me what the Lord is speaking to your heart about!