Church History 101 FREE Mini-Course!
I'm so beyond EXCITED to open my newest free gift to you today: my new Church History 101 FREE mini-course!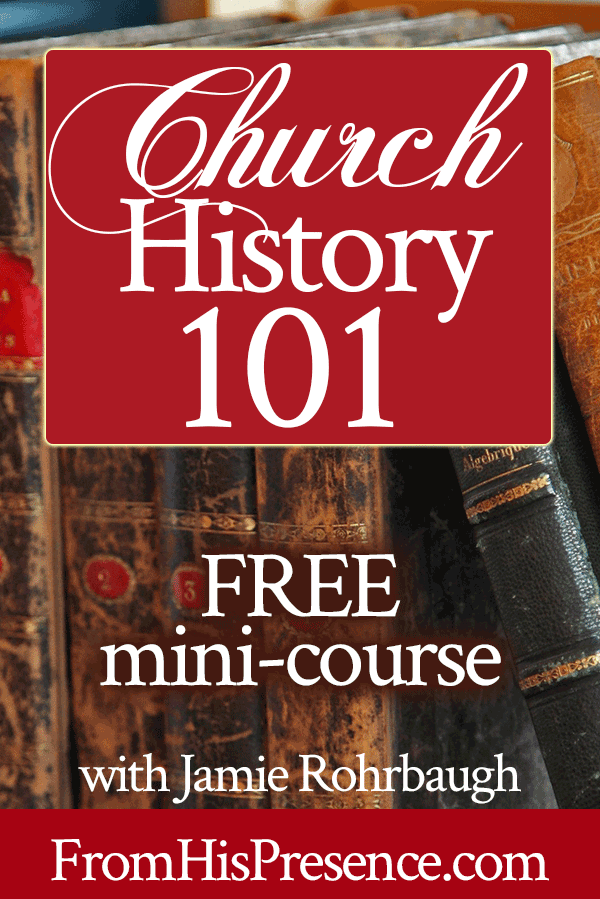 Church History 101 is my brand-new, email-only mini-course that is available FREE to all my email subscribers.
This course consists of 10 class lessons, each spaced 7 days apart. The first lesson will be delivered to your email inbox immediately after you confirm your enrollment. Then, you will receive one email every 7 days for 10 weeks (as long as you remain subscribed).
The Church History 101 lessons cover the time period from the ministry of Jesus through the third century and partway into the fourth century. Subsequent centuries will be covered in Church History 102, 103, and 104.
This mini-course is set up in question-and-answer format.
Each email lists a series of about 10 questions you might ask about that period of church history, and then provides the answer. Here's a short excerpt from one of the modules so you can see what I mean:
4. Who was Pantaenus?

Pantaenus was one of the first Christians who taught the truths of the Gospel in a methodical and philosophical way. He asked the same questions about the meaning behind things that gnostics and Greeks asked, but he gave orthodox Christian answers instead of pagan answers. He won many to Christ by teaching Christian theology in this manner. He lived around 180 A.D.[iv]

…

6. How were Clement and Origen different from the gnostics?

Clement and Origen asked the same deep questions that the gnostics asked, but they answered those questions with the Gospel of Christ. Also, the gnostics did not concern themselves with building of godly character; but Clement and Origen, in accordance with the Word of God, taught that godly character was necessary to gain spiritual insight.

Gnostics rejected the notion that created beings had any purpose from God. However, Clement and Origen emphasized character because humans were created by God and for God, and that truth and goodness could be seen in the Christian believer because of the working of the Holy Ghost.[vi]
Learning more about church history really helped me build my faith! It will help you too!
When you learn what God already did throughout the centuries, you will know more about what you can believe Him to do again! Also, when you study both the "ups" and "downs" of history, you can gain wisdom that will keep you from making many mistakes in your own lifetime.
Are you ready? This course is absolutely free, and you don't even have to read a textbook! Sign up for free email updates, and the course is my free gift to you when you confirm your email address. (And if you're already one of my email subscribers, just sign up below also. You won't receive duplicate emails from using this form.)
Sign up below for Church History 101, and I pray this mini-course will be a blessing to you!