Kill Wounded Soldiers While They're Down… Or Not?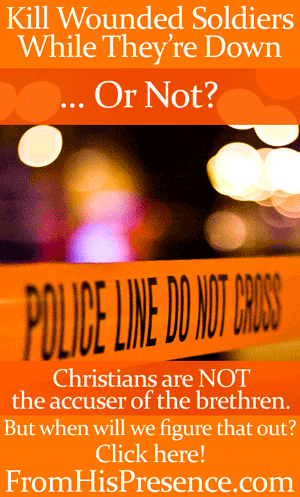 One of the ways you can tell if you're a disciple of Jesus or merely a fan of Jesus is how you treat your wounded soldiers.
Lord Jesus, help me write this.
Christian headlines these days seem to be full of gore about exposing people's sin:
A prophet who was married to the ministry instead of to his wife, whose wife left him in the middle of an internationally-recognized outpouring of revival and miracles.
A pastor of a huge megachurch who fell into homosexuality.
Anointed, gifted singers and musicians who fall into sin.
And, God help us, some Christians seem to love it. They revel in the sensationalism. Their flesh enjoys the chance for retribution. They never liked those people anyway, they say.
So they kick 'em when they're down. Some people even kill 'em when they're down.
But killing wounded soldiers when they're down does not demonstrate the Father's heart.
It does demonstrate the heart of the accuser of the brethren. But not the heart of the Father.
Why?
Because, when Jesus stood up in the synagogue at the beginning of His ministry and said:
The Spirit of the Lord God is upon Me, because the Lord has anointed Me to preach good tidings to the poor; He has sent Me to heal the brokenhearted, to proclaim liberty to the captives, and the opening of the prison to those who are bound; to proclaim the acceptable year of the Lord" (Luke 4:16-21; Isaiah 61:1-2a, emphasis mine).
He meant it.
He actually meant it when He said that it was His job to heal the brokenhearted. Why? Because it's the goodness of God that leads men to repentance (Romans 2:4). Jesus knew that all of God's wrath would be poured out on Him, and on Him alone. This means that after Jesus died on the cross for my sin, your sin, and the sins of all believers in Christ–even when they fall from grace–there is no more wrath in God's heart to be had.
It all got poured out on Jesus.
Is there discipline? Yes. Is there correction? Yes. But we are not the accuser of the brethren.
Hebrews 12 tells us that God is a Father, and He corrects His children for their own good. When someone sinned in the Corinthian church by having a sexual relationship with his mother-in-law, the apostle Paul commanded the elders there to throw him out of the church so that his fleshly sins would be burned off, and his spirit could still be saved at the return of the Lord (1 Corinthians 5:4-5). But even that man was restored to the church again (2 Corinthians 2:5-8).
There are always consequences, but God is the one that does the correction. Will He use godly leaders? Yes. But human involvement stops there.
So what is our job, as brothers and sisters in Christ?
We are called to emulate Jesus in every area, even when we don't feel like it. If we are going to be disciples of Jesus, we must do what He did.
That means:
We must speak to men for their edification, upbringing, and comfort (1 Corinthians 14:3). We have no right to accuse.
We must do unto others as we would have men do unto us in the same situation (Matthew 7:12).
We must bind up the brokenhearted (Isaiah 61:1).
We must speak life into every situation.
But do we do it? Do we act righteously and respond rightly toward our wounded soldiers? Or do we spew venom, throw accusations, and think up specific punishments they should have to endure?
God help us. So often, what I have seen in the Christian world is the latter. We spew venom and play with the lives of men and women as if we were rolling dice. We say, "I sit a queen, and am no widow, and shall see no sorrow" while our soldiers lie on the ground, bleeding and battered, eyes glazed over with spiritual and emotional death as the wounds of supposed friends do more harm than the sin ever did.
I am weeping as I write this. God, have mercy on our souls.
Forgive us, Father. Forgive us.
The ancient judges of Israel fasted and prayed for three days before they would decide a case: LEST THEY PERVERT JUSTICE. How much more should we approach our wounded soldiers with weakness and trembling?
How much more should we remember:
That what does the Lord require of us, but to do justice, and to love MERCY, and to walk humbly with our God (Micah 6:8)?
That vengeance belongs to God alone (Romans 12:19)?
That the blood of Jesus paid the WHOLE price for the sins of men and women (1 John 1:9)?
That our God is literally obsessed with redemption (John 3:16)?
How much more should we remember:
That the hatred, anger, and desire for retribution in our hearts are just as evil as the sins committed by our wounded soldiers?
That we have all sinned and fallen short of the glory of God?
That, even though some sins are more sensational than others, that all sins cost the blood of Jesus…
…and that His blood is equally effective at forgiving and forgetting all types of sins?
But we do not.
Church, it's time to change that.
It's time to be disciples of Jesus, instead of merely fans of Jesus. It's time to act like Jesus in all things. It's time to heal the brokenhearted, bind up their wounds, and declare God's goodness: the goodness that leads men to repentance.
It's time to ask God to give us His heart for people; to see people with God's eyes, speak with His words, and do only as the Father does.
It's time to love. It's time to forgive. It's time to restore.
Will you kill 'em while they're down? Or will you emulate the Father's heart and be an agent of restoration and redemption on the earth? Please leave a comment below and tell me what you think about this subject!
Image courtesy of Tony Webster on Flickr via Creative Commons license. Image has been cropped and graphics added.