Giving Thanks For Small Beginnings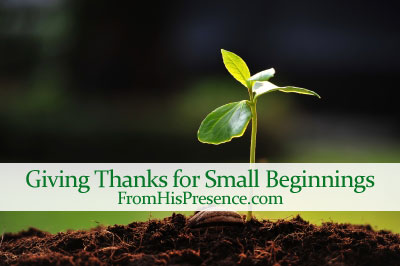 Have you been entrusted with anything small that you would like to see grow? You can. The growth you long for starts with giving thanks for small beginnings.
Your small beginning could look like any number of things:
A teeny, tiny savings account that you'd like to add to;
One simple gig leading worship, when you dream of leading worship full-time;
A date with a godly man or woman, when you're single and haven't had a date in years; or
An interview with a good company, when you've been out of work for 8 months.
The examples we could give of small beginnings are endless. No matter what your small beginning looks like, though, you can see your tiny start become the root of a big thing in your life. How?
By giving thanks to God for the small beginnings He entrusts to us.
In Zechariah 4:9-10, God Himself says:
"'The hands of Zerubbabel have laid the foundation of this temple; his hands shall also finish it. Then you will know that the Lord of hosts has sent Me to you. For who has despised the day of small things? For these seven rejoice to see the plumb line in the hand of Zerubbabel. They are the eyes of the Lord, which scan to and fro throughout the whole earth'" (emphasis mine).
In this passage, God is pointing out that the foundation of the temple in Jerusalem had been rebuilt, and that the entire temple would be reconstructed as well–and by the same man. God Himself then pointed out that we should not despise the day of small things–small beginnings. Every large project begins somewhere, and every mighty deed begins with a foundation.
Yesterday, someone insinuated to me that this blog was insignificant because it doesn't make a lot of money.
It's true; this blog doesn't make much money. It doesn't even pay for itself yet. Its only income is from the ads you see on the left, and from sales of my teaching mp3s (and I only have one teaching mp3 so far–but it's really good, and you should definitely buy it today if you haven't already). 😉
2017 update: The Lord now uses this blog and the generous gifts from YOU, our precious community, to allow me to work full-time as a domestic missionary. Also, we are now reaching well over 100,000 pageviews per month. But I haven't changed the wording above or below, because I want you to see how much the Lord has done! He can do the same for you, in your small thing!
But you know what?
This blog is very significant to me. It's my small beginning.
Is it still tiny? Yes. Most months, I get between 2,000 and 3,000 pageviews per month. In the world of blogging, that's very small. But I am so very thankful for what God has done with this blog in the 14 months I've been blogging:
I'm thankful because you, my readers, leave comments that say you have encountered the love of Jesus in my posts.
I'm thankful because Google Analytics tells me that people find my blog by searching for things like "how to feel like God loves me," "how to be free from pornography," "healed after my abortion," and "prayer for those that hate you." Every time someone finds me by searching for a subject like that, I'm able to touch hurting, broken people with the healing found in Christ Jesus.
I'm thankful because all of you who read, comment, follow me on Facebook, and subscribe to my posts by email are such an encouragement to me.
I'm thankful because, since I began blogging, there have been 25,401 visits to my blog to date. That means I've been able to encourage, comfort, and preach the Gospel to people 25,401 times in the last 14 months.
Look what the Lord has done.
I'm so very thankful. I'm thankful for what Papa has entrusted to me so far, and I'm thankful for YOU. (Thank you for your support, readership, email subscription, emails, Facebook and Twitter shares, and comments. THANK YOU.)
I'm also believing God to grow all of the above, and that growth starts with giving thanks for small beginnings. It starts with acknowledging what God HAS done, rather than looking at what He has not done yet. This is a huge Kingdom principle. Jesus said:
"For whoever has, to him more will be given, and he will have abundance; but whoever does not have, even what he has will be taken away from him" (Matthew 13:12).
When we give thanks for the small beginnings Papa has entrusted to us, He gives us more.
Related: To Him Who Has, More Will Be Given
What do you need to thank God for today? Your tiny savings account? Your retail job that you don't love, but that at least puts food on your table? Your teeny-tiny ministry teaching Sunday School every week?
God cares about your dreams. He wants to increase you in every area of your life. It starts with giving thanks for small beginnings.
Will you thank God for your small beginnings today?
Image courtesy of amenic181 / freedigitalphotos.net.