Prayer for a Divine Reprieve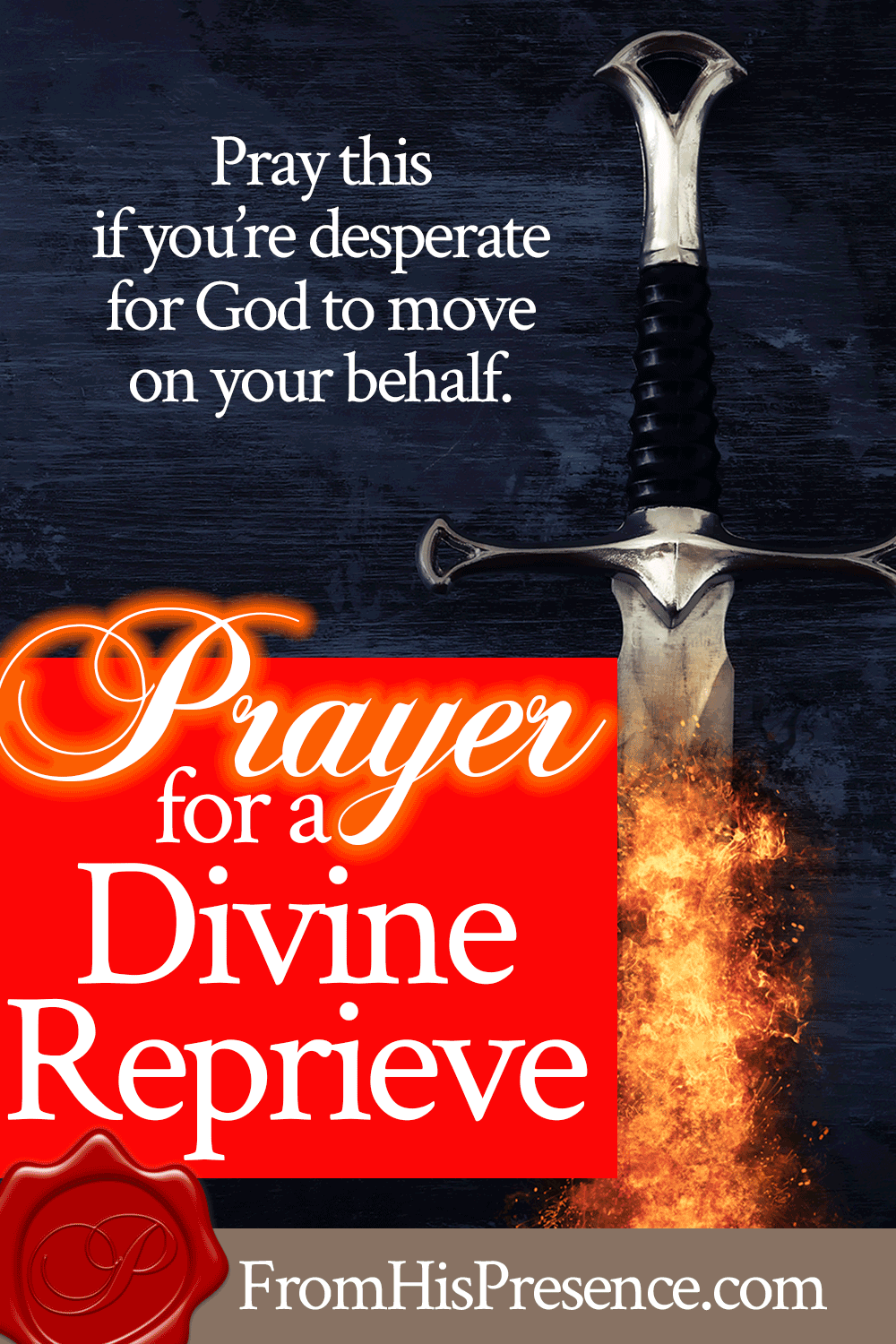 Are you desperate for God to move on your behalf? If so, pray this prayer for divine reprieve from all that concerns you. When you turn your desperation into a Scriptural cry for mercy, God will hear you and answer you.
The Scripture I felt led to remind you of today is Psalm 145:18:
"The Lord is near to all who call upon Him, to all who call upon Him in truth" (Psalm 145:18 NKJV).
Beloved, even when it feels like God is far away, He is near you. He is in you if you have given your life over to His Son Jesus. He is right with you right now, and the same Spirit who raised Jesus from the dead dwells in you.
God has not abandoned you nor forsaken you.
Even if it feels like He has, He has not. He will never leave you nor forsake you! But He answers the prayer of faith. And when things get really hard in life and the going gets tougher than it has ever been, the devil will tempt us to get out of faith and over into doubt and unbelief.
But don't do it. Don't get over into doubt and unbelief. If you doubt, you won't receive anything from God. As it says in James:
"My brethren, count it all joy when you fall into various trials, knowing that the testing of your faith produces patience. But let patience have its perfect work, that you may be perfect and complete, lacking nothing.

If any of you lacks wisdom, let him ask of God, who gives to all liberally and without reproach, and it will be given to him. 

But let him ask in faith, with no doubting, for he who doubts is like a wave of the sea driven and tossed by the wind. For let not that man suppose that he will receive anything from the Lord; he is a double-minded man, unstable in all his ways" (James 1:2-8 NKJV).
The key is to tell God all that ails you–to cast all your burdens on the Lord–without doubting Him, and without crossing over into self-pity.
It's okay to be factual and tell Him what's going on in your life; God wants you to do that. But all the while, be sure you also confess your faith in Him. While you're casting your burdens on God, be certain you are also telling Him that you believe His Word–and that you believe and know that He will take care of you.
So are you ready to pray for a divine reprieve from all your stresses, burdens, and concerns today? If so, let's get right to it.
Pray this prayer for divine reprieve from whatever ails you today:
"Dear Heavenly Father, I come to You in Jesus' name today.
Abba Father, Your Word says I should come boldly before Your throne of grace, where I may obtain MERCY, and find grace to help in time of need. Thank You for that, Abba. I am coming to You as You instructed, and I praise You for being such a good God that You hear and answer my prayer.
Holy Father, I am desperate for You and for Your help.
I want to be so close to You. I have been seeking You with all my heart. And even though I need rest, I still push myself to seek You and put You first in all things.
You are the most important Person to me in the whole universe. It is by Your hand that I breathe every breath. You, and You alone, sustain me and keep me alive. I am desperate for You, God.
But Father, I'm also desperate for Your help–right now, TODAY.
I am utterly and completely dependent on You, and I'm desperate for You to move. I need Your help, Father. Troubles seem to beset me on every side:
I have been mistreated and misused in so many ways; my heart broken and trampled on by people who seem to care only about themselves.
False shepherds have abused me and false friends have used me.
People use me for their own gain, Father, but rarely seem to care about me.
Father, I'm okay with that if I see You defend me. But right now, it has been a long time since I have seen what I would call miraculous breakthrough. And it honestly doesn't seem like You have been defending me at all, even though I am sure You have because Your Word says You do.
Abba Father, grant me, I pray You, a divine reprieve today.
I believe that You are protecting me and defending me, Father. I believe Your Word. I've come too far with You to doubt Your Word.
But Father, I need to see manifestation of Your promises today. And therefore, holy Abba Father, I ask in Jesus' mighty name that You would:
Grant me a divine reprieve. Move with Your mighty hand and outstretched arm to work miracles on my behalf.
Make the troubles and constant attacks against me cease, I pray, in Jesus' name.
Move in power TODAY to bring me divine vindication, divine comfort, and Your miraculous help.
Manifest the answers to the prayers I have been praying for so long today.
And please, give me rest.
Abba Father, I am exhausted from seeking You and serving You.
I'm doing everything I can to seek You first; to seek Your face; to pray over everything that concerns me. I'm obeying You faithfully every day and serving you with all my heart, absolutely the best I can.
And Father, I need rest. Please help me. I am desperate for rest. Therefore, I pray You, grant me a divine reprieve from the stress, from the toil, from the heartbreaking rigors of seeking You with little reward? Would You please shower Your rewards and blessings on me today, the way You said You will when I seek You?
Abba, this world has nothing for me.
I will follow You no matter what, and I know You will keep me in that place of surrender. Thank You for that.
But Abba, I can't survive this world or this life without Your help. And although I know You help me every day–You preserve me and keep me alive!–I need You to break through with manifest, miraculous provision; with manifest, miraculous vindication; with manifest, miraculous help today.
Daddy God, my Father in Heaven, I ask:
If I'm doing anything wrong at all–anything that displeases You or is preventing Your answers to my prayers from coming through–then please convict me and discipline me!
Please, Father: I don't know what I don't know. If I'm in my own way in any way at all, please show me that and help me. Show me the way, Father. Help me to hear Your voice behind me, saying, 'This is the way; walk in it,' and help me to obey You, no matter what You show me! Help me to never turn to the right or to the left!
Send me my divine helpers, Lord Abba Father.
Please, in Jesus' name, I ask:
Dispatch Your angels with their flaming swords that turn every way to rush in and help me, protect me, and defend me today.
Let Your fire angels release Your spiritual fire in my life and in everything that pertains to me.
Release Your teamster angels who carry big, heavy loads of blessings–and let them dump Your blessings right on my doorstep today.
I pray that Your precious Holy Spirit, my Helper and Advocate upon whom I depend for every breath, would transmit every good thing to me today that You and Jesus have for me.
Let miracle, massive money come to me from the north, south, east, and west today.
Convict all the people who have mistreated me; let them come apologizing, repenting, and bowing at my feet and acknowledging that I am the City of the Lord; for that is Your will for me according to Your Word in Isaiah 60:14.
Let Your help show up and vindicate me for every way and for every place I have been mistreated.
Show out and show off on my behalf, Father, in every way.
Abba, Your Word says the set time to favor me has come. Please manifest Your miracles on my behalf TODAY, I pray, in Jesus' name.
Whom have I in Heaven but You, Father? There is no one besides You. You and You alone are the governmental center of the universe. It is in Your hands to bless me. It is in Your hands to vindicate me. It is in Your hands to promote me when You deem me ready.
And I need You, Abba. Oh, how I need You.
So please, I pray You: Grant me a divine reprieve today.
Calm and comfort this yearning of my soul. Help me in every situation; I am desperate for You to move. Let God arise, and His enemies be scattered. Keep me pure and holy, and purge me of anything that is not just like You, I pray, in Jesus' name.
Grant me rest and breath again, Father. Help me to rest in You, and to stand still and see the salvation of the Lord. In Jesus' mighty name, I pray right now that You would fight for me today, and that I would be able to hold my peace.
Let Your grace be sufficient for me today, Father. Make Your strength perfect in my weakness.
I have nothing but You, but You are and always will be my Everything. You, Jesus, are King of Kings and Lord of Lords. You and You alone do all things well, and I thank You for moving well on my behalf TODAY.
Thank You for granting me this divine reprieve for which I am praying, and thank You for the blessings that will be showing up on my doorstep TODAY.
In Jesus' holy and precious name I pray, amen and amen."
Did you pray this prayer for divine reprieve today? If so, leave a comment below–and sow a seed into this prayer here to link your faith with your words!