You Can Become the Heart of God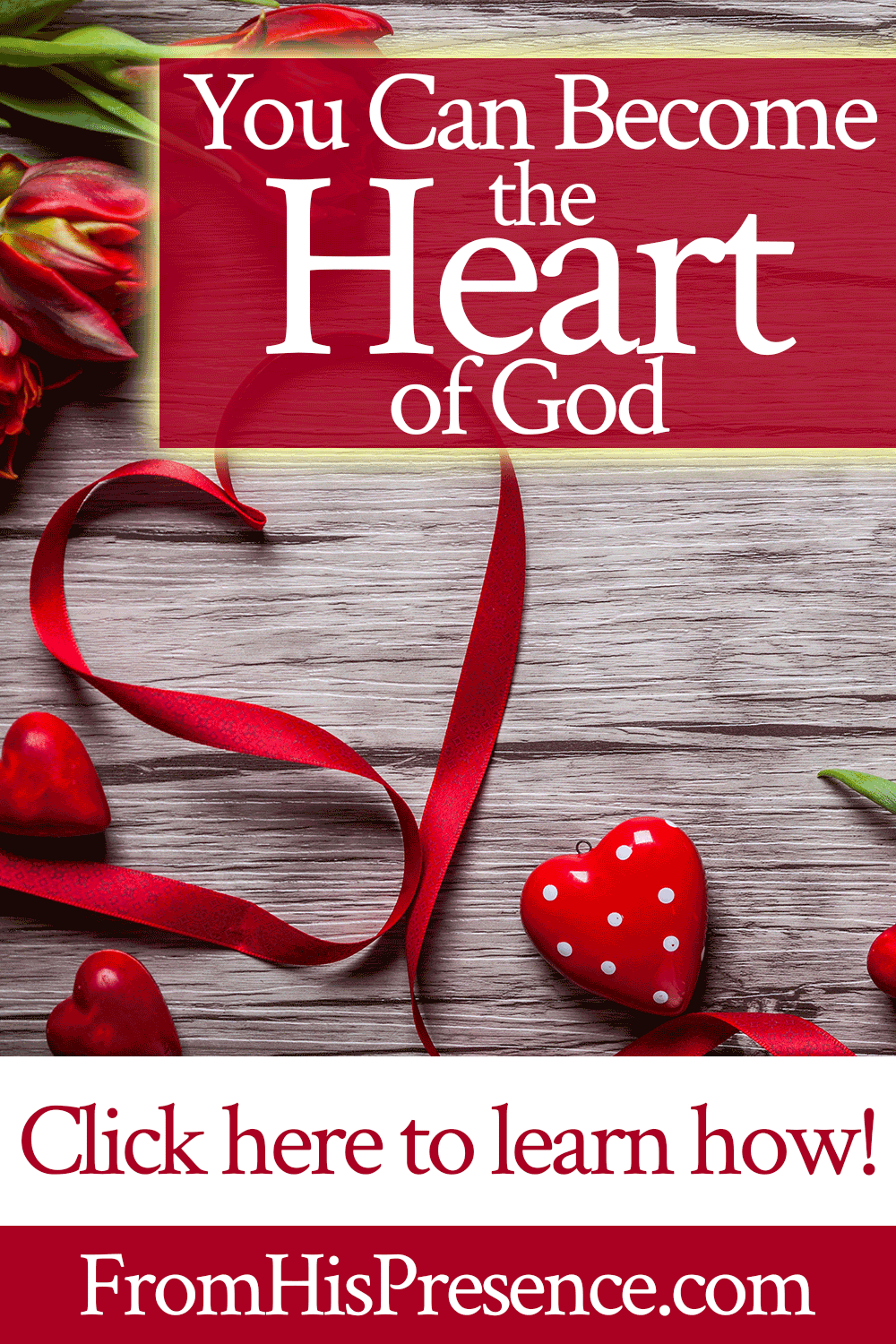 There is a moment in your relationship with God when you enter into His heart. Not just receiving His heart, and not just gazing at His heart. But there is a moment when you enter INTO His heart, and in that moment you become His heart. You actually become the heart of God.
In that moment, you change forever.
No longer do you have to ask God what His heart is; you know His heart. Never again do you have to gaze at His heart; you'll never leave the inside of His heart, so you can always experience it.
And nevermore do you have to wonder what His heart is for any situation; you are free to simply BE His heart.
Because when you enter into the heart of God, His heart wrecks you for anything else.
When you get that close to the heart of God and you actually become His heart, it will change everything for you.
From that point on, you will love people with His love. You will see them the way He sees them, as long as you are walking in the Spirit. You will have His passion for His little ones–and all of His people are His little ones.
You will notice a situation that is awry and doesn't look just like Heaven, and you will know what to do immediately.
It's not that prayer isn't necessary or that you shouldn't pray about it. But, prayer becomes your opportunity to get a confirmation of your direction and to receive the correct strategy, not to confirm what you should do … because you knew exactly what His heart was as soon as you saw the situation. No processing was necessary; you simply saw and immediately knew, because the only heart functioning inside of you is His heart.
When you have the heart of God, people can't take advantage of you anymore because you give freely.
God so loved the world that He gave. And when you ARE the heart of God, you will find yourself doing the same thing. There is nothing unholy or manipulative about your giving; you simply give because God is a Giver, and He and He alone operates inside you.
He is, after all, the One who makes His sun shine on the evil and on the good; who gives rain to both the evil and the good. Even if people try to take advantage of you, you give freely and with love to them, and the devil cannot overcome that love. No one can rob you, for you freely give from God's heart.
When you become the heart of God, God can trust you with His supply.
God has bankers on the earth, and He trusts His bankers. Before you ever become a banker, you have to show your trustworthiness to Him. You do this through years of working on your character and becoming a good steward of everything He has blessed you with, no matter how small.
But after you have passed His tests, in His timing, He will let you become His banker if you want the responsibility.
Becoming His banker is not easy. Being an executive or middle manager in any corporation is not easy, and being a middle manager of the Bank of Heaven is not easy either. But it is fulfilling.
And when you become God's heart, you will find the effort worth the work–because God's heart compels you to give and take care of and restore and sow and invest and sponsor and bless and raise up EVERYONE around you.
Doing these things will invariably require you to use money, but God will provide.
He usually allows you to begin your work as His banker by managing small accounts. Think of yourself at this phase as an account manager who is just starting out, and the company hands over a few mom-and-pop accounts to you. At this stage, you're not ready to handle a national or international customer, but you can build relationships, learn the business, and stretch your muscles.
Then the time comes when you get promoted in the Bank of Heaven to be an account manager of Mid-Size Accounts. 🙂 When the Lord promotes you to the Mid-Size Account department, you start operating in a bit of a higher level. The dollar amounts the Lord trusts you with grow; the numbers have a few more zeroes at the end than the numbers you worked with in the past.
Later, as you grow and remain faithful to be His heart on the earth, God will promote you to the National Account department of the Bank of Heaven. 🙂
It takes time, and the transition isn't even always something you notice. You just look back and realize that the Lord has grown you from His heart for one to His heart for nations–and He has increased your supply to pay for it. The scope of His assignment on your life has enlarged, and suddenly you're operating at a national level.
Over time, your "national level" promotion turns into an "International Accounts" promotion. And then you are truly lending to many nations, but never borrowing (Deuteronomy 28).
But it all begins with His heart. It starts when you become His heart.
And becoming His heart certainly isn't about money. However, becoming His heart compels you to ACT. As it says in Matthew 9:35-38:
"Then Jesus went about all the cities and villages, teaching in their synagogues, preaching the gospel of the kingdom, and healing every sickness and every disease among the people. 

But when He saw the multitudes, He was moved with compassion for them, because they were weary and scattered, like sheep having no shepherd. 

Then He said to His disciples, 'The harvest truly is plentiful, but the laborers are few. Therefore pray the Lord of the harvest to send out laborers into His harvest'" (Matthew 9:35-38, emphasis mine).
When Jesus saw the multitudes, He was moved with compassion.
Moved. The word "moved" means He was compelled to do something. He didn't sit down and just watch these poor wretches who needed healing, help, teaching, encouragement, and salvation.
No; Jesus was moved with compassion. And He did something about it: He "went about all the cities and villages, teaching in their synagogues, preaching the gospel of the kingdom, and healing every sickness and every disease among the people."
He saw the people. He loved them. He knew exactly what the will of the Father was, for He only did what Father did and said what Father said. And so He taught them, preached to them, and healed them.
And when you become the heart of God, you will also see the multitudes and be moved with compassion.
When you become the heart of God, you also become the answer to Jesus' prayer request. You become a laborer whom the Lord of the Harvest is sending out into His harvest field. And money is part of this conversation because, although the Gospel is free, the preaching of it is not:
The methods of communication you will use to preach the Kingdom to the people require money.
Investing in the people requires money.
Raising up sons and daughters to also be thrust into the harvest field requires money.
Eating food and drinking clean water every day, so you can be fit enough to preach again tomorrow, requires money.
Money answers all things, according to Ecclesiastes 10:19. Money is part of every conversation because it's a universal element that impacts literally every facet of life.
So you will have to be willing to carry both the heart of God AND the wealth of Heaven in order to be as effective on the earth as Father desires you to be.
And when you become God's heart, He will supply you with the money you need in order to release His heart and manifest it on the earth, and in the person's life who stands before you.
You may have to work for it. You may have to get another job or pick up a side gig. You may have to fast and pray for it. No problem if you do; God is allowing you to do these things in order to stretch your faith muscles and ability to carry what He has ultimately called you to carry.
But as you press in and contend, God will provide.
He will provide everything you need to release His heart into the lives of the people around you.
Do you want this? Do you want to literally become God's heart on the earth?
If so, the best thing I can tell you is to seek God and ask Him for this. Draw near to Him, and He will draw near to you. Press into Him in prayer, in Bible study, and in worship. Ask Him for this level of encounter with Himself; plead with Him for this level of transformation into the image of Jesus!
This level of intimacy is reachable, but it happens when you pursue close relationship with God with all your heart. So "Seek first the Kingdom of God and His righteousness, and all these things shall be added to you" (Matthew 6:33).
Pray this prayer for the heart of God with me today:
"Dear Heavenly Father,
I come to You in Jesus' name.
Abba Father, I love You so much and I want to be as close to You as it is possible to be. Thank You for saving me and loving me.
Father God, please fill me with Your Holy Spirit today. Draw me close to You. I desire to seek You with all my heart, for it is then that Your Word says I will find You.
So Father, would You please teach me how to seek You like You deserve to be sought after? Will You draw me to Yourself even more, so that I can become as close to You as it is possible to be?
Father God, in Jesus' name, I desire to be so close to You that I am not merely gazing at Your heart, but that I actually become Your heart on the earth.
Please help me to know You like that. Change my heart and make me like You at that level, Father.
Please help me to encounter You and Your heart so deeply that I am forever changed. Transform me into the image of Your very heart, and then please use me to release Your heart on the earth.
Father, as I go about the earth releasing the heart of God, I will need Your provision. So much of what You need me to do costs money, Father, and I don't have what I need unless You provide it. I am completely dependent on You, Father, for everything belongs to You; the earth and all that is in it is Yours.
So Father God, as You change me into Your heart, please increase my ability to receive Your provision as well.
If in any way I am a bad steward of Your resources, please convict me. For all the ways I am lazy or inattentive to steward Your blessings, please forgive me.
Change my heart, I pray, in the area of stewardship. Teach me and help me to become a faithful steward, able to carry ALL the blessings You desire me to use to release Your heart on the earth.
Thank You, Heavenly Father. Thank You for hearing and answering my prayer. In Jesus' name I pray, amen."
Friend, is it your desire to become the heart of God on the earth today? If so, leave a comment below and publicly affirm that you want this!