Prayer for Double Recompense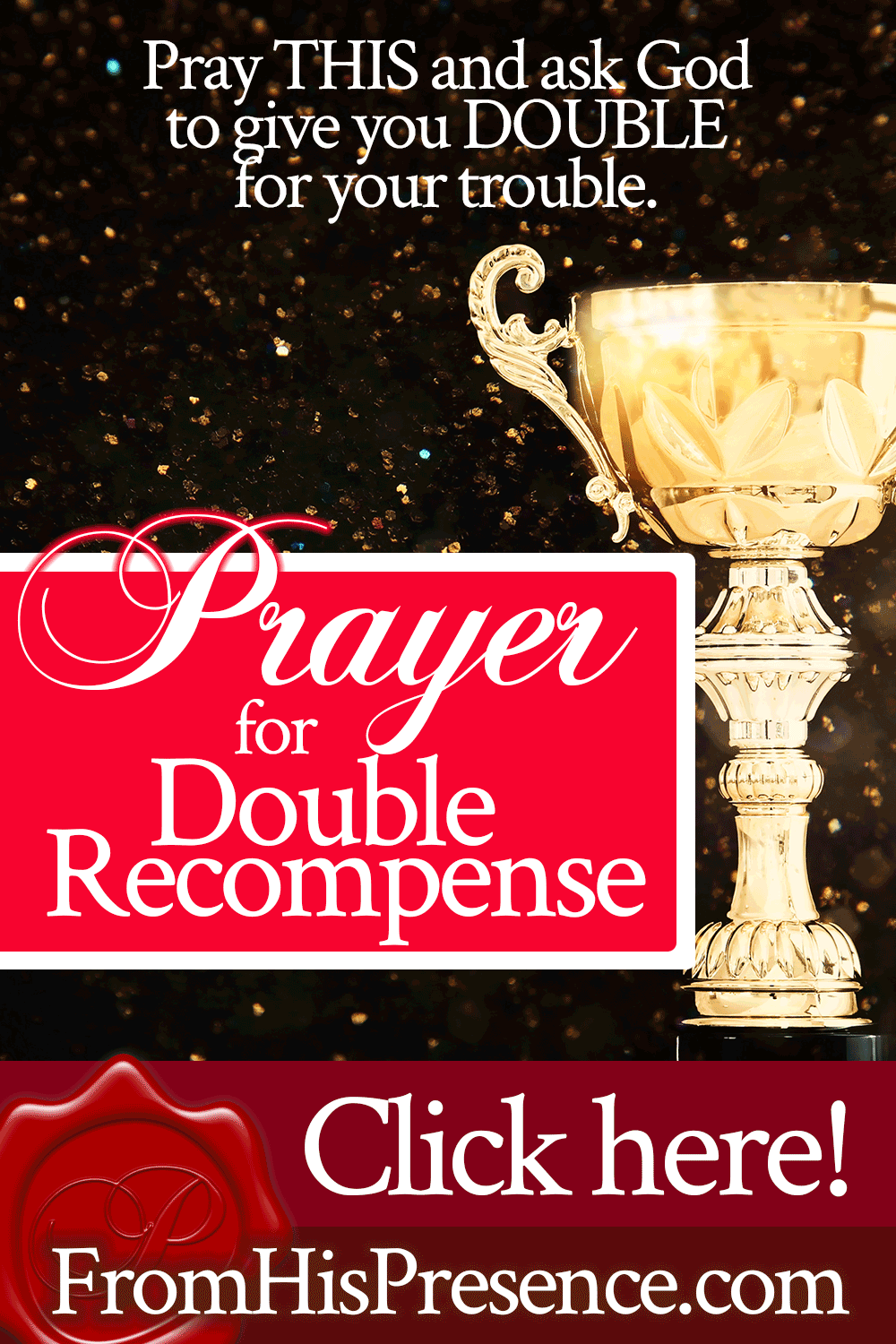 Beloved, are you tired of feeling like the devil's punching bag? If so, it's time to pray for double recompense. It's time to ask God, based on His Word and promises, to give you double for your trouble!
If you will ask, He will answer. And below, I've written a prayer citing Scripture after Scripture in which God promises to reward you for what you've been through.
Our Favorite MIRACLE RESOURCES
Read More on Miracles:
Pray this prayer for double recompense and DOUBLE for your trouble today:
"Dear Heavenly Father,
I come to You in Jesus' name.
Father God, thank You for hearing me pray today. Thank You for Your mercies, which are new every day. Thank You for loving me and taking care of me, for I cannot take care of myself. Thank You for watching over me when I am utterly helpless, as I feel this day.
O Heavenly Father, I need You today. Please help me:
Pray the prayer that we have seen God use to heal thousands of people all over the world!
Grab a pack of 20 copies of the full Sample Prayer of Forgiveness and Soul healing while supplies last!
Trouble after trouble has overtaken me. You have blessed me over and over throughout my whole life, Father, it's true; but it seems like the trouble has exceeded the blessings sometimes.
Father, I'm asking You for double reward, double blessing, and double recompense today. I'm asking You to give me double for my trouble TODAY, in Jesus' name.
Not only that, Father, but I remind You today of how You said in Joel 2:23 that You would pour out both the former rain and the latter rain TOGETHER on me in the first month. Well, Father, I'm not waiting until the first month of the calendar year to ask. Instead, I'm pointing out that this is the first month I have prayed like this, with boldness, asking You for double for ALL my trouble.
And since my trouble has been so great, and troubles have beset me on every side, then Father God I ask You today in the mighty name of Jesus that You would pour out for me DOUBLE–both the latter rain and the former rain together–on me RIGHT NOW.
Father, I'm asking you for the rewards to which I am entitled because of the persecution I've endured:
Holy Abba Father, in the name of Your holy Child Jesus, I ask today that You would give me double honor.
I ask that You would restore to me the years the locusts have eaten. I pray that the sons of those who afflicted me shall come bowing to me, and that all those who despised me shall fall prostrate at the soles of my feet; and they shall call me The City of the Lord, Zion of the Holy One of Israel; for this is Your will for me according to Isaiah 60:14.
Everything you see was created by the spoken word.
So if you have nothing except the ability to speak, you can still create anything you want. You can be like God and speak those things that are not as if they already were (Romans 4:17)!
To help you, Jamie wrote a book of hundreds of Biblical confessions for you—especially in the area of your finances. It called Speak Life Volume 1: Chart Your Course With Your Words, and it's our most popular book ever! Get your copy today and begin speaking LIFE over those things that concern you!
I call to You today, Lord, and I ask You to answer me, and show me great and mighty things which I do not know (Jeremiah 33:3). I also am calling upon you, and asking You to answer me and be with me in trouble; and that You would deliver me and honor me (Psalm 91:15).
Father, for many years I have been asking You for mighty things.
I believe that now is the time, Lord. Now is the acceptable day of salvation (2 Corinthians 6:2). So I'm asking You to break through and release the GREAT and the MIGHTY things that You have for me:
If there is warfare in the spirit realm over my answers to prayer, Father–for I know that there is …
… Then I ask in the mighty name of Jesus that You would dispatch all the angels needed, including Michael the archangel, and even dispatch our mighty King, Jesus Christ Himself, to cut through the warfare and manifest the victories that Jesus purchased for me on the cross, according to Daniel chapter 10.
I ask also that You would destroy and utterly obliterate all enemy attacks against me, my family, and everything that pertains to our lives. I pray in Jesus' name that You would keep us and guard us, as well as everything that pertains to us; that You would keep us as the apple of Your eye and hide us under the shadow of Your wings (Psalm 17:8).
Father God, in the name of Jesus, I remind You of Your Word in Psalm 5:12: "For You, O Lord, will bless the righteous; with favor You will surround him as with a shield."
And because Your Word cannot return to You void, then I claim this promise over myself and my family today, as well as over everything that pertains to us:
Lord, Your Word says that You are my sun and shield, and that no good thing will You withhold from those who walk uprightly (Psalm 84:11).
Father God, I ask today in Jesus' name that You would shine Your light of favor on my life, and on everything that concerns me:
I ask You today for Your suddenlies, Father, in Jesus' name.
You have been strengthening my arms in the fight for many years. Pour out on me the rivers of blessing that You have prepared me to receive today, in Jesus' name:
Thank You, Heavenly Father. I believe You and Your Word, for You are not a man that You should lie.
You have spoken, and You will not repent. Help me to rest in You today, and simply receive from You while I rest.
Thank You for loving me and hearing me pray. Thank You in advance for saying "YES" to all these things for which I have asked today, for I have prayed Your Word back to You, and forever O Lord Your Word is settled in Heaven.
Thank You, Abba Father. In Jesus' mighty and matchless and eternal name I pray, amen and AMEN."
Did this prayer for double recompense and DOUBLE for your trouble sum up the desires of your heart today? If so, leave a comment below!