Birthing Something New? Keep It In the Silence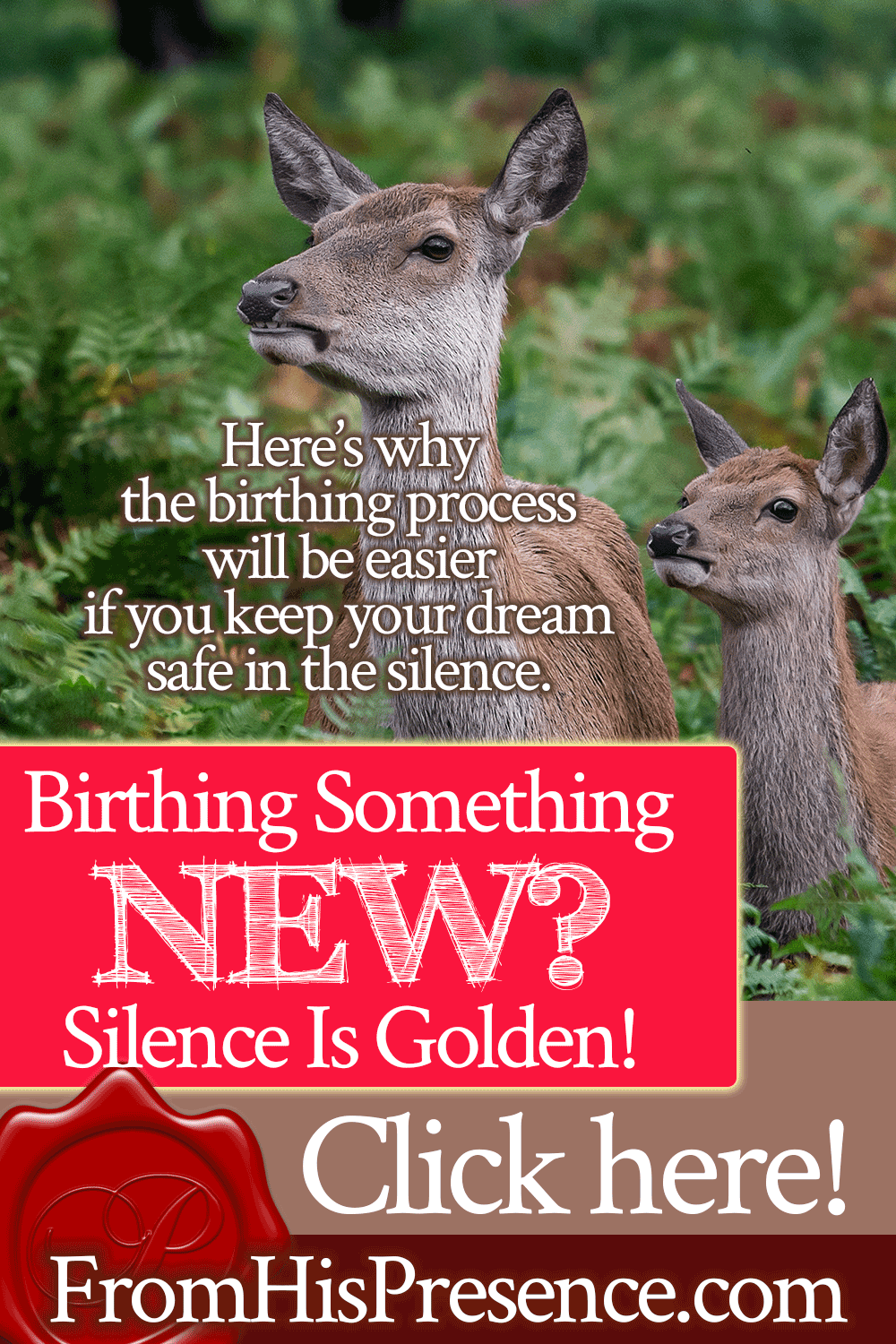 Sometimes when you do something new, you need to keep it in the silence. When you're birthing something new, silence is golden–and sometimes essential for the birth process. Why? Read on to find out!
New things are fragile while they're being birthed.
When a baby is being born, it's a fragile process–and an intimate process. You don't want everyone there looking on; you want to be alone with only the people who are necessary for the birthing process. You're not putting on a show; you're doing something that is a matter of life or death. And you've got to get this baby out.
Well, birthing a new thing in the Spirit is similar.
Whether you're birthing a major life change, a new ministry, or even a new habit, these things can be a matter of spiritual or physical life or death. As such, the birthing of these new things is tender and precious. It is also fragile.
The spiritual birthing process is fragile because, sometimes, one unkind word from a hater or criticizer can derail the whole thing.
Some people think it is their ministry to criticize and tear down. (Hint: There is no such ministry in the Bible. When people criticize and tear other people down all the time, it's only because they are so unhealed that they are trying to make themselves look and feel bigger. They get their kicks at your expense.) And if those people learn about your dream or the thing you're birthing, they'll often have something to say.
Related: How to Kick the Scoffers Out So You Can Truly Live
But their "something to say" is almost never good.
Well, you know what? Words have power.
The Bible says:
"Death and life are in the power of the tongue, and those who love it will eat its fruit" (Proverbs 18:21 NKJV).
And when people, even well-meaning people, come at you with their thoughts and words and criticisms and ideas, the power of their words is strong–because the power of all words is strong. And with your spiritual baby in its most fragile state–the most fragile state it will ever be in in its life–one wrong word can kill your dream.
To clarify: It's not that it has to kill your dream. It's just that we are more prone to let one wrong word kill our dream.
You can avoid this, but only if you know that you know that you know that you know that this dream is from the Lord, and that you've got to birth it anyway.
For example:
When the Lord told me to step out and find land to purchase to build paid-for parsonages for pastors, someone with whom I discussed the dream immediately said, "That dream may be for someone else, but it's not for you." 🙁
They didn't pray about it before they said that. They didn't look at the fruit of the thing. They didn't examine any Scriptures about it. They simply said it out of their flesh, and out of their own woundedness.
Those words could have killed my dream right then and there, BUT GOD.
Honestly, there have been times when I let things like that kill my dream. However, on this occasion, I'd been fasting and praying and speaking the Word out loud for houses and land. The Lord had woken me up at 2:00 AM one day, telling me to speak the Word for houses and land–especially over a specific pastor.
Therefore, I knew the dream was from God. I knew it was an assignment from the Holy One. And I thank God that the dunamis power of God had already been working in me because the power of my spoken word–which was His Word about houses and land.
The power of God was already in the atmosphere, powering the vision the Lord Himself had downloaded to me. And His power over the situation was stronger than that person's naysaying.
If I hadn't already been fasting and praying and speaking the Word, I doubt I would have had the intestinal fortitude (spiritual fortitude) to overcome the doubt and unbelief from the other person.
There is simply power in silence.
When you're going through something awful and you need support and prayers, that's not the time to be silent. When you're being mistreated and abused, that IS NOT THE TIME TO BE SILENT either.
Jesus went to the cross without uttering a word in His own defense so that YOU could get your voice back. When someone hurts you or mistreats you, speak up! Matthew 18 commands us to do so!
But when you're birthing something precious, silence is golden.
When you're birthing something, it's fragile. And if you "keep it in the silence," you protect it. You preserve it. Your silence allows that thing to develop to full power inside your bosom–inside your spirit-man.
When you keep something precious and fragile in the silence:
You don't have to subject it to other people's opinions.
The thing is safe from other people's criticisms.
You don't have to worry about being embarrassed or rejected.
You won't even find yourself thinking about failure! The thought "What if I fail?" is usually nonexistent when you keep the birthing of something new in the silence.
There is an excitement that comes with silence.
When you keep a new thing in the silence, you see the possibilities without distraction. You know you can do it, for the same God whom you met in silence and stillness to receive the downloaded vision in the first place told you so–and you know it. And His power works in you both to will and to do for His good pleasure.
But when you talk about the thing, power drains out.
You can feel it. (Don't try this, but think about it. Remember all the times in the past that this has happened to you, even if you didn't realize it at the time.) When you talk about the thing, your excitement drains away. Your motivation often goes right with it.
You can overcome that drain of power, yes. You can get your excitement back. But it will require dogged persistence, whereas the power that you had in the silence would have allowed you to pursue the thing with energy.
What are you birthing right now? Do you need to keep it in the silence?
Maybe you're birthing a new habit, routine, or life change. Maybe you're birthing a new way of eating or exercising. Maybe you're stepping out to go against the flow of a controlling church and you're birthing your ministry. Maybe you're birthing an intercessory prayer movement among people who, for the most part, don't pray.
I don't know what you're birthing, but God knows.
So talk to Him about it, and ask Him if you should keep your new thing in the silence or not.
Silence truly is golden.
When you're birthing a new thing, don't let peer pressure or culture tell you to talk about it prematurely. The world doesn't need to be in the birthing room with you.
Is Holy Spirit speaking to your heart today about keeping something in the silence? If so, leave a comment below!