How To Kick the Scoffers Out (So You Can Truly Live)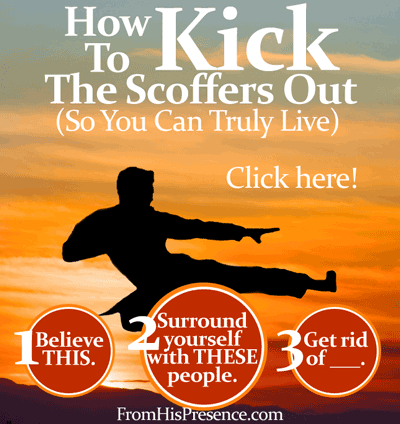 Have you ever had a dream that has died? Maybe you have even felt like all your dreams have died?
If this describes you, I have an encouraging word for you today: God can resurrect your dreams.
If you will kick the scoffers out and look to Jesus to do the impossible, you can truly live.
In Luke 8:51-56, we find a story about a desperate father, Jairus, whose 12-year-old daughter was dying. Jairus ran to Jesus and begged Him to come heal her.
Jesus set out for Jairus' house. But, on the way, a servant came and told them not to bother; the girl was already dead. Jesus wasn't disturbed by that news. He just told Jairus:
Do not be afraid; only believe, and she will be made well" (Luke 8:50b).
When they got to the house, Jesus only let His three closest friends (Peter, James, and John) in the house with them. Going inside, they found people weeping and mourning for the girl. Jesus told the mourners not to cry; that she wasn't dead–only asleep.
But the mourners did not listen. Luke 8:53 tells us:
And they ridiculed Him, knowing that she was dead."
So what did Jesus do?
He put them all out. He had work to do, and He knew He would only be hindered by their unbelief. So Jesus kicked the scoffers out.
Then He went to the girl. He took her by the hand, told her to get up, and she did! Luke 8:55-56 tells us:
Then her spirit returned, and she arose immediately. And He commanded that she be given something to eat. And her parents were astonished, but He charged them to tell no one what had happened."
When Jesus does something, He does it well. Not only did He raise this girl up, but He raised her up strong. She was hungry, and only healthy people are hungry! So they fed her, and Jesus told them not to talk about the miracle that had occurred.
This story contains some really powerful lessons for everyone who wants to see a resurrection of their dreams. Here's how you can apply this passage to your life:
1. Believe that Jesus can give life to your dreams again.
Jesus told Jairus that, if he would believe, then his daughter would be made well. He said that AFTER the little girl was already dead.
Jesus says the same thing to you today. If you will believe Jesus can raise up your dream, then your dream can live again too. It doesn't matter how long ago your dream died, and it doesn't matter what other people think. Jesus is the Resurrection and the Life. Your dream is not too big for God.
Related: Read about how God gave Susan Boyle her big dream here! If God can do it for her, He can certainly do it for you!
2. Surround yourself with people who believe in your miracle.
Not all of your friends are going to love what you want to do, so follow Jesus' example.
Jesus brought only His inner circle with Him into the house. He didn't kick the rest of His disciples out of His posse. He just wouldn't let them come see this particular miracle.
If you are believing God for a miracle, be careful who you are trying to take with you. You may have friends that don't believe, and it's okay to keep them as friends. But don't let them be your inner circle. Make sure your closest friends are the ones who will believe God with you–the ones who won't prevent you from walking on miracle ground; and ideally, the people who will go WITH you onto that miracle ground.
3. Kick the scoffers out.
Scoffers have an evil attitude that is contagious:
They mock God's plans for you.
They laugh at your dreams.
They mock the prophetic word God has spoken into your life.
Jesus would have none of it. He kicked the scoffers out. He got rid of the doubters, the haters, and the mockers. Even the "professional" ones. (Mourning was a professional occupation in those times.)
Do you want to see your dreams live again? Kick the scoffers out. Don't let them have any more influence over you. Eliminate the doubters, haters, and mockers–even the "professional" ones:
Get rid of people who seem to have nothing to do but whine and complain.
Get rid of people who are always bad-mouthing their leaders.
Get rid of people who are going nowhere and are thrilled about it.
That means you may have to take some drastic steps. Do you have a so-called friend who does nothing but poison your life with doubt and negativity? Cut off that friendship if so. Protect God's dream for your life.
You don't have to be mean when you purge your relationships. You can just stop answering the phone, be too busy for lunch dates, and stop answering in-kind when people complain. There's no need to hurt people. You just need to get the negativity out of your life! Kick those scoffers out, so you can truly live!
Jesus got rid of the scoffers and haters before He proceeded onto miracle territory.
Then He raised up Jairus' dead dream, his daughter. He raised her up strong and healthy, and her parents were astonished.
Are you ready to be astonished?
Believe that God can resurrect your dream. Kick the scoffers out. Surround yourself with people who will believe God with you. Then Jesus will resurrect your dream too.
Pray this with me and let's ask God to resurrect your dream:
Heavenly Father, in Jesus' name, I thank You today for having a great big plan for my life. Father, I feel like the dreams I used to believe in might be dead. I don't know how they can ever happen now.

But Father, You are the Author of those dreams. You are so much bigger than my inadequacy. You are Life. So Father, I ask right now in Jesus' name that You would give life to my dreams again. Let the dreams You have placed inside my heart and spirit rise up in me right now.

Father, I pray that You would also help me to know whose influence I need to get rid of in my life. Help me to walk away from relationships that are not Your best for me. Send me covenant friendships and mentors who will encourage me and pour into my life as I chase You. I know that covenant relationships are a good thing, and I know You won't withhold any good thing from me, so I thank You for those friendships right now.

And finally, Father, please give me wisdom about when to talk about my dreams and when to keep silent. Protect the dreams you have given me from ever dying again. Increase my faith, and confirm Your word to me along the way.

Show me what to do practically every single day. Help me to know which steps to take to see my dreams happen. Give me the motivation and the inspiration to follow through and do the work, and I pray You would keep me in Your perfect and best plan for my life. In Jesus' name. Amen!
Does this word encourage you to believe God for your dream again? If so, please leave a comment below! I want to hear your story!
href="https://www.flickr.com/photos/[email protected]/5398040497/in/photolist-dD6m5A-9e1nnK-2dfWfp-2dfWtr-mWJ9YM-5TZ4uk-nShPH-gQ9eGk-3d5NrW-bvJqf6-oSrR5i-ryxxN-3d29r2-dfFuT9-DkbLp-9Xvep-yTdha-2dfTdx-2dkoEw-47UDvf-axPc5C-2dfUti-2dfVYk-2dknqL-eF9Yq-5SXL8z-aNT5qg-2dkpjs-4qQ9dQ-521JAT-6VMVpz-49XYpS-4F9GBP-fvgCb-eGW1U-4Q9j2y-mXVkXT-boruVe-ajiMFt-8wtnVs-5Z6UZ2-2dfSeM-M2N5R-a4S9G-oCS8ce-7Dx6-aiVtuF-5w9d35-nMN2Z-8it9mc" target="_blank" rel="nofollow noopener">Vee on Flickr via Creative Commons license. Graphics and text added.