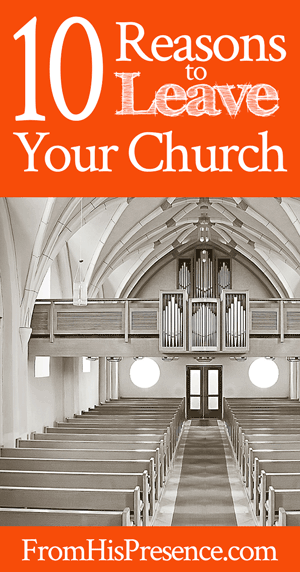 Have you been wondering if you should stay at your current local church, or leave your church and find another one? If so, today's post may help you find some clarity on that question.
In recent years, readers from our community have frequently written to me about their local churches. Some are in great churches where they are serving, learning, and worshipping every week.
Others, however, are in churches where ungodly things are going on. I have received emails from all over the world from different people, describing this or that situation that they are seeing–and I shudder.
I won't go into detail on these things, because it grieves my heart that they happen at all.
If I talked about them openly, church-haters who have a chip on their shoulder against the church anyway would use those things as an excuse to hate on the church and stay out of church. And that's completely inappropriate.
I LOVE the local church.
But the sad truth is that churches aren't filled with perfect people. They shouldn't be. We are all imperfect and need Jesus. We are all being transformed from glory to glory, faith to faith, and strength to strength.
Churches are a hospital for the sick, not a museum for the perfect.
Ain't none of us perfect.
However, it's also true that:
Good churches are on every corner; but, not every church on every corner is a good place to be.
I prayed about what to say in response to these emails about churches for a long time. Then, I shared some thoughts over on our free Facebook mentoring group. Today, though, I want to expound on that a little bit.
First, let me say that I LOVE the local church.
I am called to support and help build local churches. I love the local church, its leaders, and its mission.
I also must say that:
It is not Biblical to stop attending a local church.
We are not all called to attend in the same building, but we ARE all called to worship together with other believers, hear the preaching of the Word, and live in community and fellowship.
So, if you leave your church, you need to find another one and be faithful there. Don't EVER let the enemy tell you to stop going to church.
Also, don't tell me, "God told me to come out of the local church for awhile." NO, He didn't. God NEVER counteracts His Word. According to Hebrews 10:25, GOD would not tell you to stop going to church.
Hebrews 10:25 says:
not forsaking the assembling of ourselves together, as is the manner of some, but exhorting one another, and so much the more as you see the Day approaching.
This passage is clear. God's people are supposed to assemble together and exhort one another, more and more, as we get closer to Jesus' return.
Also, Jesus gave us spiritual leaders and examples (called the "fivefold ministry") and called them apostles, prophets, pastors, evangelists, and teachers–and at least 3 of those offices (apostles, prophets, pastors) are designed to function primarily within or on behalf of the framework of local churches.
(Teachers and evangelists also function on behalf of the Gospel, but often work outside it in order to push people in. The same is true for prophets–but prophets best support apostles within the local church.)
YOU MUST BE INVOLVED IN A LOCAL CHURCH.
This is a huge deal. Huge.
But …
Not every church is the right church for you. No matter where you are, there is a church that God has for you. (Even if you live in the middle of nowhere, 8 hours from the nearest church, and you have to start one yourself.) 🙂
So how can you tell when it's time to leave your church?
How can you discern, according to God's Word, when a church that you attend is NOT God's plan for you? How do you know if you're rightly aligned in the right corporate body for you?
First, know that there is a mass realignment going on across the Body of Christ right now. People are moving to new places and new church coverings en masse. So if you find yourself asking the Lord if you should change churches, you are not alone.
Next, I do NOT believe you should leave a church simply because there is something you don't like, or because "you" are not the first priority there.
However, I do believe that you should leave your church if the teaching and goings-on there are not Biblical.
God's Word is everything. Man does not live by bread alone, but by every WORD that proceeds from the mouth of God (Deuteronomy 8). God has magnified His Word above His name (Psalm 138:2). His Word is all-important. It's so important that God actually gave His Word a body and called that Body "Jesus Christ."
So if a church is not rightly dividing God's Word, then you need to find another church.
That being said, here are some reasons why I do believe a person should leave a church:
Are you ready?
1) If the inerrant, infallible Word of God is not being taught in ALL its truth, get thee away from that place.
If a church does not teach that Jesus is the only Way; that homosexuality is sin; that fornication is sin; that hell is hot; and all the other things the Bible says that nobody likes to hear … then that church is not rightly dividing God's Word. Something else is being preached, but not God's Word.
Get away from relativism and humanism. Find a church that believes in the entire, inerrant, infallible Word of God.
2) If God outright tells you to go somewhere else.
If God simply ups and tells you to leave a place and go to a new place, do it. Example: Abraham.
This has happened in my life. I recently transitioned from one church to another after about 14 years in one place. It was hard. But, God said to go.
Sometimes God has someone else He wants you to serve; someone else He wants you to reach; or something new to do with you and your family in general. Sometimes He just tells you to go, and you don't know why.
Long story short: If God tells you to leave your church and go to another one, do it.
Remember: He will NEVER tell you to stop attending a local church altogether. That does not line up with His Word. But He may tell you to realign yourself with a different church than the one you're in now. That, and only that, is what we're talking about here.
3) If evil things are permitted.
If wrong things are called right–or are permitted at all–then that church is NOT obeying God's Word. If the deacons are fornicating, the teachers are teaching the occult, etc, back away. This includes, but is not limited to, abuse of any kind.
Of course, no church is perfect. The church is a hospital for the sick, not a museum for the perfect. None of us are perfect; no, not one. We all rely on the saving grace of Jesus Christ.
However, when evil is permitted–when leaders know about it and do nothing about it–that is a MAJOR problem. When you see that, get away from that church fast.
4) If the church does not believe that Holy Spirit still moves today in ALL His gifts and manifestations.
That includes the gifts of tongues, healings, miracles, prophecy, interpretation of tongues, and all the other power gifts.
Nobody has a problem with people who exercise the gifts of helps or giving. But plenty of people do have a problem with the power gifts … yet, they are in the Bible. They didn't cease with the apostles. They are still here, and they're relevant, and they're FOR TODAY.
If your church doesn't believe that, I'd personally find another church. How can you be fed without the power of God in full operation … let alone that teaching otherwise is not Biblical?
5) If the pastors/leaders are not people of integrity, operating in holiness both in public and private.
When you're under the covering of a pastor at your local church, there is an impartation that happens. Whatever is on your pastor will flow down to you.
This is a great thing if your pastor is godly. It's a great thing if your pastor has a prayer life, lives holy, and hides God's Word in his or her heart.
But it's a terrible thing if your pastor is living a secret life of sin. If he or she is indulging in the lust of the flesh, the lust of the eyes, and the pride of life …
in adultery;
in pornography;
in drinking;
in gambling;
in fornication;
abusing their spouse;
in any other kind of sin …
Then you will struggle with that sin too–or at least temptation to it.
Don't let that happen.
I'm not saying that every pastor is like this.
Most pastors are doing their best to live holy lives. I really do believe that. But if your pastor is one of those who is NOT living holy, beware. It will impact you whether you realize it or not.
Should you pray for your pastor? Of course. Should you love your pastor? Yes; that's a no-brainer. But don't sit under his or her leadership if they're going to lead you into sin.
6) If a spirit of manipulation or control exists there.
All things should always be done decently and in order, but there's a big difference between order/structure and manipulation/control.
In recent decades, we've seen a lot of ungodly leaders rise up to manipulate and control people. The famous ones are called "cults." Some of the cults that have existed in the USA in the last few decades were so evil that their people were actually rescued by police or military forces … places that were abusing women and children, and worse.
However, not all places that operate in manipulation and control look like cults.
Educate yourself. There's a big difference between getting behind a pastor and serving his/her vision compared to being manipulated and controlled. Learn what both look like, and choose the former.
7) If a spirit of poverty is in operation there.
God's Kingdom is an abundant kingdom. If a church is not operating in abundance, something is wrong.
A spirit of poverty can manifest in churches in several ways:
through a lack of funding for the church budget;
when the congregation or governing board refuses to pay the pastor;
an unwillingness among the people to tithe and give; and
an attitude that says "what's yours is mine and what's mine is mine" among the leaders.
If you see that, run, don't walk, to find a new church. These things aren't Biblical; and if you stay long enough, they'll be your portion too. Get thee hence and into a church that believes and walks in God's Word.
8) If you cannot support the pastor.
If you cannot get behind the pastor's vision for the church, leave. Why bother yourself with a vision you don't believe in or align with? And, why bother the pastor with trying to get you in line, if you already know you can't/won't come alongside his/her vision?
Different churches carry different anointings. They focus on different things. For example:
One church may carry a strong message of hope and blessing.
Another may carry a strong message of fasting and prayer.
Another may have a strong deliverance ministry, but a weak street-evangelism program.
If your church doesn't focus on what you can support, find one that does and make things easier for everybody. We're all the Body of Christ–but maybe you're supposed to be part of the left arm instead of the right shoulder in the Body. Wherever … just find a place you can support.
9) If your church does not encourage, foster, and facilitate the development of every person's calling and dreams … INCLUDING WOMEN.
Every person has a ministry. Every person has one or more gifts and callings. God made you that way, and He did it because He needs you to operate in that gifting and calling in His Body.
Unfortunately, however, not every church thinks that way. This is a very sad truth, but it is the truth; and we need to recognize it. If you don't recognize this truth, you will never grow and you'll never become who God made you to be.
When God made you, He placed a call on your life.
He told you to do something for His Kingdom; and His call is a command, not His wishful thinking for your life.
If your current local church won't allow you to do what you're called to do, that's up to them … but obeying God is up to you. God never called you to wait to obey Him until somebody else gets a witness. You have to obey God, no matter what.
Therefore, if your church doesn't raise people up into their callings, find another church that does. Period.
10) When leaders have no accountability.
Leaders need accountability. One of our board members attends a large megachurch in Alabama. He and his wife have told me that the pastor of their church actually gives his social media and email passwords to other pastors to whom he is accountable. That way, they can check in on him whether he knows it or not. That pastor does this to maintain a high level of personal integrity.
That's pretty awesome, in my opinion.
Leaders at all levels need accountability. The higher a leader advances, and the more influential they become, the more of a target they have on their back. The enemy will try to take these people out.
Godly leaders will embrace personal and professional accountability for this reason. They will be accountable to other people for their ministries, their money, their communication, and their marriages.
If your church leaders have no structure of accountability, bad things can happen and nobody will know. However, spiritually, the bad thing will still rub off on you. You will suffer the mal-effects, but you won't know where it came from.
Leaders need accountability, period. Find a church whose leaders surround themselves with accountability partners, not with automatic-yes-men.
If you are in a local church where any of these red flags are present, prayerfully consider leaving.
Some of the things above are more grievous than others, but all of them will limit the church and stunt your growth personally. Many of them are outright sin.
But …
Beloved, plenty of godly churches exist.
If you aren't in a good local church, you CAN find one. There are plenty of pastors out there who live godly lives filled with the Word, prayer, and fasting. Pastors who truly live their lives for Christ in every area–and who desire to see others do the same.
Find one of those churches, and line up. Come alongside those pastors and serve them and that church in every area. You'll be glad you did.