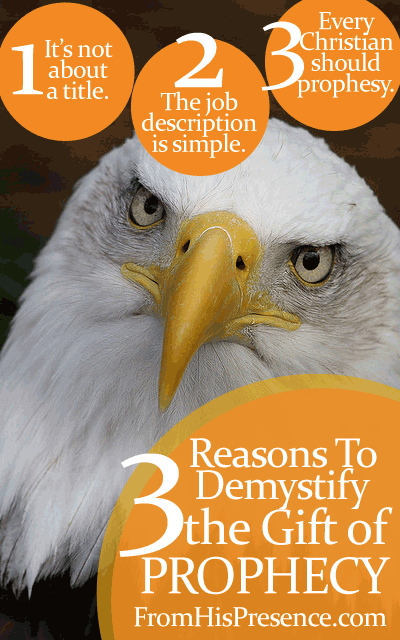 Have you ever heard somebody use the word "prophetic" and thought it was weird? Or, have you ever referred to anything "prophetic" and had someone else look at you funny?
A lot of people tend to think that the gift of prophecy is reserved for people who walk around calling themselves prophets.
They think that anything with "prophecy" or "prophetic" attached to it must be some mystical, pie-in-the-sky concept reserved only for those with special abilities. However, that's not the case.
Prophecy is a spiritual gift that is necessary in the Body of Christ. Its purpose is to build up, encourage, and minister to people–both Christians and non-Christians. Every believer needs prophetic ministry from time to time, and every believer should learn how to function in prophetic ministry themselves. Prophecy and prophetic ministry should not be great mysteries in Christian culture.
So here are 3 reasons that the gift of prophecy should be demystified:
(In no particular order …)
1. It's not about the title.
Most people who are truly prophetic will not–I repeat, NOT–walk around claiming to be prophets. God might be using them as prophets from moment to moment, or even in full-time vocational prophetic ministry.
Nevertheless, most people who are well-trained in the prophetic will shy away from that title. It's about humility, and about not drawing attention to oneself (since most people that think of "a prophet" have an over-inflated view of what being a prophet means).
Several years ago, I went to one of John Paul Jackson's classes about how to hear God. The instructor there was talking to us about humility, and she said that even Mr. Jackson didn't call himself a prophet.
(In case you aren't familiar with John Paul Jackson and Streams Ministries, suffice it to say that he is definitely used as a prophet of the Lord, and he has a rock-solid, international reputation.) I have always been struck by that. If John Paul Jackson won't call himself a prophet, I don't know of anybody else that should either. 😉
So don't think that in order to be used by God in prophetic ministry, or in order to prophesy, you need to call yourself a prophet (or have anyone else call you one either). You don't. It's not about the title.
2. Prophecy means hearing God and saying what He says. This is not hard.
Prophecy doesn't have to be about when the next World War is going to start, or who will become President next, or what date and time the stock market is going to crash. It might be; but honestly, every time I personally have heard of someone "prophesying" about those things, they've gotten it wrong.
No, prophecy is much simpler than that. To prophesy simply means you hear what God is saying, and you say that. Period, end of story. It's not something you get a plaque for.
It's true that being able to prophesy requires preparation and discipline. Why? Because you have to learn how to hear God in the first place. Nevertheless, since every Christian is called to prophesy–
Pursue love, and desire spiritual gifts, but especially that you may prophesy" (1 Corinthians 14:1).
–we don't get to give ourselves a medal and act like we're special when we speak out a confirmed prophecy. We've only done our duty, as every believer in Christ should do.
3. Every Christian is called to prophesy.
See 1 Corinthians 14:1 above. We should all desire all the spiritual gifts, and especially the gift of prophecy.
The gift of prophecy is not reserved for an elite few. Anyone who puts in the time and effort to learn the Word and how to hear God's voice can and must prophesy.
Let's get rid of the fear and the elitism in the Body. We're all called to hear God. We're all called to say what the Father is saying and do what the Father is doing. Saying what the Father says is prophecy, and it's also basic to being followers of Christ.
Should prophets be honored? Yes. However, we should not be afraid to pursue prophecy, or think that it's reserved only for a special few. So let's demystify the word "prophetic." Let's all seek God, hear what He says, and learn to build one another up.
Can you think of any other reasons why we should demystify the gift of prophecy in Christian culture?
Related:
Image courtesy of Leo Reynolds on Flickr.