21 Days to the Manifest Presence of God: Day 12 (Hearing God Speak)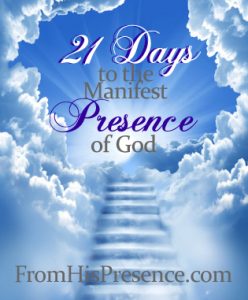 Welcome to Day 12 of my series about developing an awareness of God's presence! You can refer back to Day 1 if you'd like to know my backstory for the series.
I encourage you to read all the posts in the series if you are just joining us. Each day's assignment builds on the previous assignments, and they are all vitally important! (Be sure to subscribe to receive my daily posts so you won't miss anything.)
Today, we are going to start learning how to start hearing God speak to you personally. As you go through this exercise, you will hear God's still, small voice speaking to you inside your heart!
Learning to hear God speak quietly to you is one of the most valuable things you'll ever learn. You may not always be sitting in your special place with God with an open Bible. But the Holy Spirit is always with you, and He'll talk with you all day long if you learn how to listen.
Here's a question:
Imagine with me that someone plays you a recording of 10 different voices. You aren't told who any of them are, but one of them is your mother.
Would you be able to distinguish your mother's voice from all the other voices?
Of course you would. You would know instantly who was speaking, as soon as you heard her voice.
You can learn to hear God, and distinguish His voice from all others, just like that. The same way you are deeply acquainted with your mother's voice, you can become deeply acquainted with God's voice.
Here's how to get started:
No matter where you are right now, sit back for a second and be still. Focus your thoughts on Jesus.
Then ask God: "Father, how much do you love me?"
And listen for His answer.
Pay attention to the very first thing that comes into your spirit. Listen for a still, small voice.
It may not be a voice that you are familiar with. But you will hear the love in that voice. And don't be surprised if you hear something phrased in a way that you would not usually phrase it.
After all, this is God speaking. He can say anything He wants to say.
VERY IMPORTANT POINT: If you hear anything that is NOT loving, that is NOT God. Don't believe anything that is not loving. Just focus your thoughts and imagination on Jesus again, and ask Him to help you hear.
Ask again: "Father, how much do you love me?"
And listen to His answer.
God's answer will touch your spirit. It may sound completely foreign to you if you aren't used to hearing words of love. But that first thought that comes to mind-that is an affirming answer to the question, and lines up with the Bible–that's God Himself speaking to you.
Pay attention to what God's voice sounds like.
Listen to the timbre, the pitch, the volume. Hit "save" in your "heart drive." That is the voice of God. You'll hear it again as often as you want to, and you'll want to learn to pay attention and recognize His voice above all others.
This morning, when I was thinking about this question, God answered me by showing me a mental picture. When I thought, "How much do You love me?" I saw God, my Father, opening His arms like the children's book and saying, "This much!" But in my mind's eye, I saw the Father's arms opening wider and wider and wider, encompassing all the heavens and the galaxies. And they kept going. (God is infinite, you know.) God was showing me a picture of His unending love for me.
He loves you just as much, and He longs to talk to you in exactly the same way. Will you quiet yourself for a few moments and listen?
Did you hear God telling you how much He loves you when you tried the experiment above? If so, what did He say?
Related: Click here for the "21 Days to the Manifest Presence of God" table of contents!