Confessions of an Unlikely Worship Leader: The Weight of Glory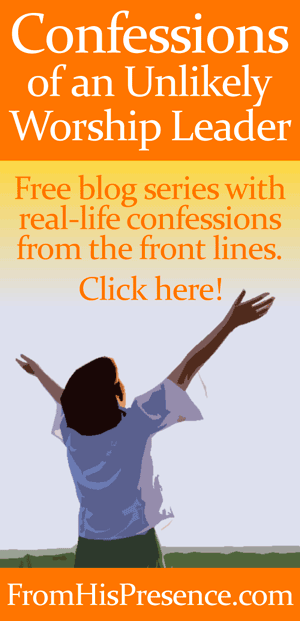 At the healing rooms last night, we had a manifestation of God's presence that is every worshipper's dream.
There was this weight of God's glory. It was literally heavy. It made you want to lay flat on the floor and scrunch your face down as low to the ground as you could. Not to get away, but because you could see His holiness.
There was no distance between us and Him.
There's no feeling I can describe that even comes close to this feeling.
The weight of His glory somehow fills that deep cavern inside your spirit that was made for God's presence. All the deepest longings and unsatisfactions (I know, not a word, but work with me here) … they all get satisfied.
All the things that weren't ok are suddenly made ok. You know those things are going to be all right, and you don't even care anymore.
All you care about is that THIS ONE is here. This One who is beautiful beyond beautiful, fairer than fair, holiest of all.
And there's no time when you're with God like that.
You can't tell how long it's been. I looked at my watch when we had been worshipping 55 minutes, and was surprised because it felt like an hour and a half.
By the time we had been worshipping an hour and a half, it felt like 3 hours.
There's just no time at all. Time literally seems to stop.
THIS GOD is who I was made for. It's who YOU were made for. He made us to be connected with Him like this. Somehow it's in our DNA.
I don't understand how a God like this could want to be with me. But, I'm thankful.