Radical Prayer #16: Lord, Open to Me the Gates of Righteousness!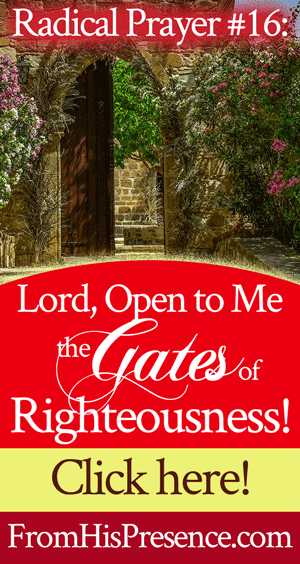 Are you searching for opportunity in your life? Do you need God to open doors for you? Do you need Him to protect you from going through doors that would hurt you?
If so, God's Word contains a radical prayer just for you: "Lord, open to me the gates of righteousness!"
Here's the backstory:
A few weeks ago, I was pray-reading through Psalm 118, and verse 19 jumped out at me with POWER. Psalm 118:19 says:
Open to me the gates of righteousness; I will go through them, and I will praise the Lord" (Psalm 118:19).
This verse hit me so hard because I had been praying for open doors in this ministry … and here is the psalmist doing the same thing! Out of struggle, no less!
See, Psalm 118 is a victory psalm. However, it's not your standard victory song–the kind sung in the midst of victory.
Instead, it's a victory song written in the middle of hardship, struggle, correction/discipline, poverty, and pain! (Read the whole psalm here to get an idea of the psalmist's mood.)
Nevertheless, despite the fact that the psalmist was going through a lot–I repeat, A LOT–when they wrote this song, they are still praising God. They're praising Him for His goodness, His mercy, and His help–all of which the writer had experienced, despite their hardship.
Toward the end of this psalm, the writer talks about moving on with God and walking into the victory He has for them. And that's when he prays, "Lord, open to me the gates of righteousness!"
This psalmist wasn't praying for righteousness (right standing with God) itself. He was already in right standing with God. He was praying for GATES of righteousness to be opened.
What does that mean? What are the gates of righteousness?
"Righteousness" simply means "right standing with God." So, I believe that "gates of righteousness" are open doors of opportunity that keep you in God's perfect will.
God has a perfect will and a permissive will, you know.
He always knows what's best for you and for me–and He always wants to give us His best. Sometimes, however, we get ahead of Him. We get headstrong or even confused.
(Confusion is never from the Lord, but if we don't keep our eyes on the Lord and hide His Word in our hearts, the enemy will attack our mind and confusion can result.)
If we get ahead of God–or if we want something in our flesh soooo bad that we let our desire for IT get ahead of our desire for HIM–then sometimes we walk in His permissive will. He lets us do things or have things, but they aren't the best.
For example:
You could marry that person, but you know in your heart he/she is not God's best for you.
You could buy that car, but you know perfectly well that you don't have the cash and can't really afford the payment.
You could watch TV all morning, but you know God would prefer that you spend time with Him right now instead.
When I think of walking in God's permissive will, it makes me sad.
I am sure that there are times when I have done this:
Times have I made choices that God let me make, but they weren't His best.
Times when Papa given me something because I begged for it … but, all the while, it grieved His heart.
Times have I gotten out of His timing, just because I didn't take the time to discern His season.
Probably way more than I know … and I don't want to do that anymore.
Do you?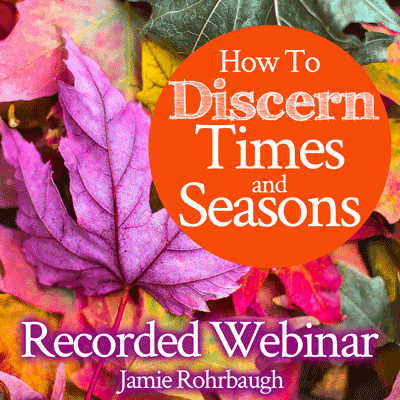 Don't you want Papa's highest and best for you at all times?
Oh beloved. He knows the plans that He has for you. Yes, we can have hopes and dreams and desires. We were created to dream with our Father God; to dream with Him and for Him and in Him! Jesus even said that we should want things–and should ask for the things we want!
But you know how Jesus tempered that? With one phrase: "Nevertheless, not what I will, but Your will be done."
Ouch.
Are we willing to go to the cross if what we're asking for is not Papa's best for us?
And, are we willing to let Papa open no doors at all if the door available to us at this time is not His best? If what's available to us now is not His most perfect, most beautiful, highest will for us?
This is the crux of the matter.
I'm really bad about this. I admit it.
I desire progress in my life at all times. I love to see progress. I am highly motivated and very goal-driven. I love Matthew 11:12, in which Jesus said:
And from the days of John the Baptist until now the kingdom of heaven suffers violence, and the violent take it by force."
I'm going after God with everything I've got, and I want PROGRESS. But, you know what? Sometimes God says "wait."
In my mind, there's a reason "wait" is a four-letter word. (Many curse words in American English are commonly referred to as "four-letter words.") The word "wait" rarely makes us feel good. Nobody wants to wait. As Joyce Meyer points out in her fabulous teachings on the wilderness mentality, we like to say, "Please don't make me wait. I deserve everything immediately!"
We're a microwave generation, but we serve a crock-pot God.
But you know what? Sometimes waiting is better for us than making the wrong decision.
It irks my flesh to say this, but it's the truth nonetheless. I don't want to walk in God's permissive will. I want to walk in His perfect will. And in order to do that, I have to wait on Him.
Even when the waiting feels long.
Even when the waiting feels like it's too long.
Even when the waiting feels painful.
Even when I "feel" forgotten, discouraged, or marginalized.
It's still better to wait than to miss out on God's best.
I only want God's best; don't you?
I think the psalmist in Psalm 118 wanted God's best too. He had been in a struggle. He'd experienced God's correction. He'd experienced persecution. He stayed in faith, believing in God's victory … but he still desired for God's doors to be opened to him!
So, he asked Father. "Lord, open to me the gates of righteousness!"
It's so moving to me that this psalmist didn't specify which exact gates he wanted open. Oh, I'm sure he did in other times and other places, regarding other topics. But on this day, in this song, his craving was simply for God to open the doors that would keep the psalmist in right standing Him.
"Lord, open to me the gates of righteousness!" "Nevertheless, not My will, but Your will be done!"
Oh Lord. Can I be so trusting? Will You help me?
Beloved, do you need the gates of righteousness opened to you too?
Do you need Papa to open doors for His perfect will to be carried out in your life? Do you need Him to lead you and guide you, opening doors that only He can open and closing doors that only He can close?
He will, if we pray.
When I noticed this Scripture a few weeks ago, I prayed into it immediately. I prayed the same thing the psalmist prayed: "Lord, open to me the gates of righteousness!" I could feel the rightness of this prayer. I could feel the power in it.
And you know what? A few minutes later, Papa answered it.
I had been praying for open doors for this ministry. And just a few minutes after I prayed, the Lord opened a door for us to partner with a local church's jail ministry, to sow into prisoners and help provide resources that can transform their lives.
I was stoked about that … and not a little surprised by how quickly it happened after I prayed. Thank You, Lord!
I have been continuing to pray this prayer, and I know Papa is answering it … even when it's hard.
To be perfectly honest, I think right now He is answering it just as much with closed doors as He is with open ones. I had a big disappointment just last week with a closed door, and that closed door hurt pretty badly.
BUT …
I also saw immediately that Papa was at work, and that He was answering my prayer. It was HARD to trust Him; really hard. I was tempted to get depressed, discouraged, and offended.
BUT GOD.
He's our glory, and the Lifter of our head. And if we will trust Him, He will open to us those gates of righteousness. He will keep us in His perfect will. We will be safe there; and, eventually, we'll be glad we waited.
Are you ready to pray for God's perfect will in your life? Pray this:
"Heavenly Father, Abba, Papa, I come before You in Jesus' name.
Precious Papa, I love You. Thank You for knowing me; for loving me; for having a good plan for me; and for knowing exactly what's best at any given moment in my life. Thank You for knowing right now what You want me to do; for knowing which doors You want me to walk through; and for knowing which doors You do NOT want me to walk through.
Father, I want to honor You in all things. I want to reflect Jesus well, and I desire to obey You perfectly at all times.
However, I need Your help. I can't do it alone. Papa, Your Word says that You will give me wisdom if I ask for it. I need wisdom, Father; so please, fill me with Your wisdom from above. Instruct me and teach me in the way I should go, and guide me with Your eye upon me. Help me to humble myself before You, so I will follow You meekly wherever You lead.
Father, open to me the gates of righteousness.
I ask in Jesus' name that You would open doors for me that You want me to walk through–Your highest and best doors. Give me opportunities that are from You, and help me to obey You and walk through those doors. Make me brave, Father, to follow You even into the unknown.
But Father, at the same time, I give You permission to make me wait.
I don't want to walk through doors that aren't Your best for me, Lord. I want to be patient and persevere in Your highest, most perfect will. I want to stay in Your perfect will, Lord, not Your permissive will.
Therefore, Papa, I ask also that You would close doors for me that You need to close. Delay doors that You need to delay. Slam shut doors that You need to slam shut. Not my will, but Your will be done.
Father, I acknowledge You as the great Regulator of opportunity.
Help me to keep asking and praying aggressively over everything You desire for my life. At the same time, however, please regulate the opportunities that come to me, Lord. Permit only those things to reach me that are truly Your best for me, and give me discernment to know the difference between what You are doing and what my flesh wants.
Abba, Papa, I love You.
Glorify Your own name in my life. Help me to love You more and be closer to You than ever before, even while I'm waiting. Help me to honor You and obey You in all things, even in the matter of these open doors.
Thank You, Father. In Jesus' name, amen."
Does this prayer from Psalm 118 resonate with you as well? If so, please leave a comment below! I love to hear from you.