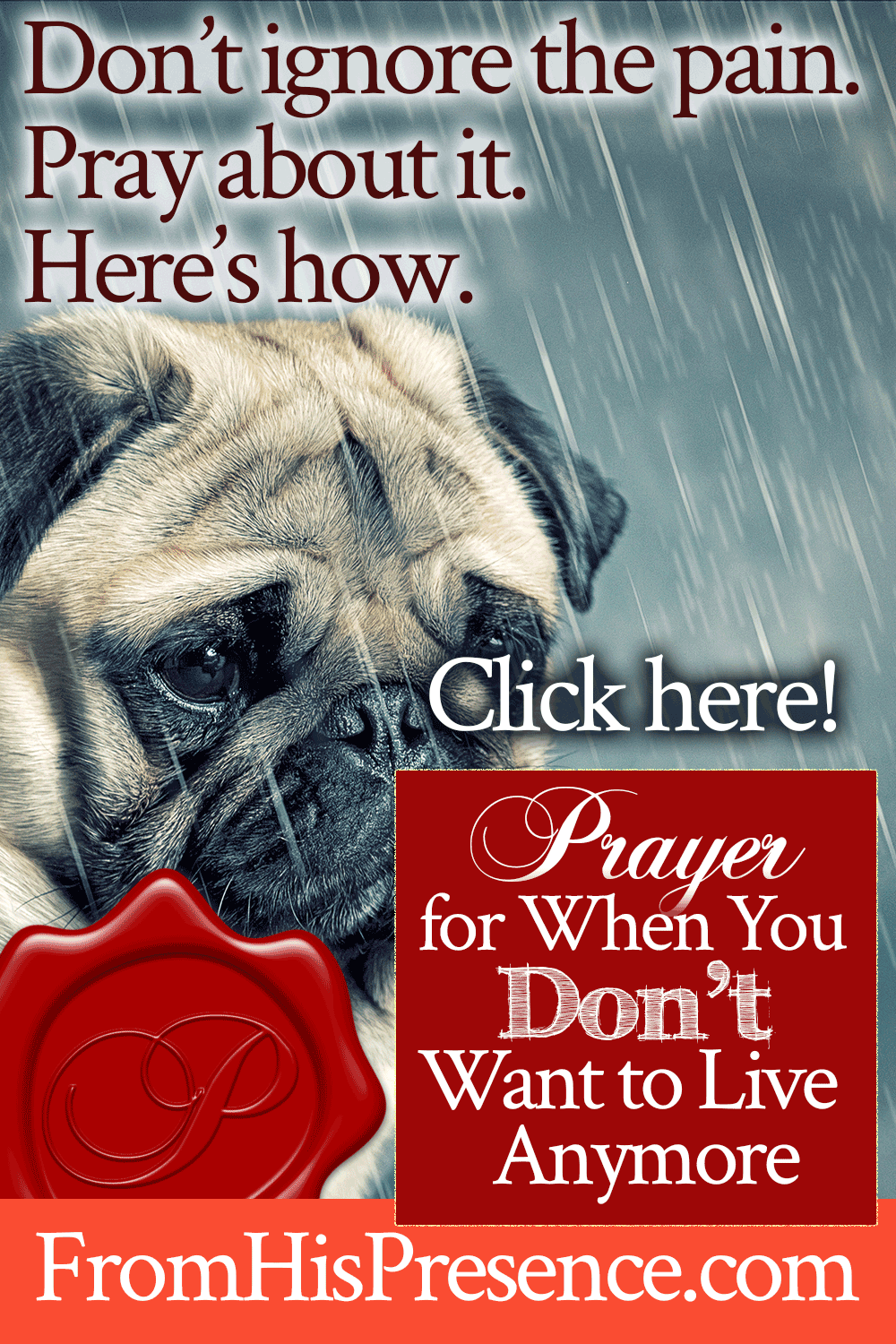 Beloved, do you feel like you don't want to live anymore? If so, today's post–the third post in a series about praying through the hardest things–will help you. I pray you would lift this sample "Prayer for When You Don't Want to Live Anymore" up to the Lord from your own heart, for He is ready and willing to comfort you.
Related: Read all the posts in this series of prayers for the hardest things:
Dear friend, if you feel like you don't want to live anymore, God wants to give you your joy and hope back.
You have a Father in Heaven who loves you. He cares about you so much! It is not His will for you to be sad, lonely, or discouraged. He wants to fill you with abundant joy. He wants to help you and heal your heart.
My friend, it is God's will for you to feel His love, His affection, and His presence so strongly that you just bounce around all day with a huge grin on your face. God wants to bless you in your emotions, as well as in every other way.
But beloved, sometimes we lose our drive to go on.
I understand; it has happened to me too, and I'd be fake if I didn't tell you I've experienced it. Losing your will to live doesn't even mean that we necessarily want to die; sometimes it just means we see no purpose in life, and no desire to continue living like we are at that moment.
But you know what? In those worst moments, when the enemy is speaking horrible things in your ear and tears are rolling down your face, you can still run to the Father who loves you.
In fact, that's the only thing to do.
O friend, you have a Father in Heaven who loves you. And if you feel like you don't want to live anymore, He wants to help you right now:
Beloved, it may sound too good to be true, but it IS TRUE. God loves you, and He will heal and restore your soul RIGHT NOW.
All you have to do is ask–and believe that He will answer you as you ask.
In Mark 11:22-24, Jesus assures us that Father God WILL give you whatever you ask Him for:
"So Jesus answered and said to them, 'Have faith in God. For assuredly, I say to you, whoever says to this mountain, 'Be removed and be cast into the sea,' and does not doubt in his heart, but believes that those things he says will be done, he will have whatever he says.

Therefore I say to you, whatever things you ask when you pray, believe that you receive them, and you will have them'" (Mark 11:22-24).
God is the Author of joy and the fullness of it. And if you will let Him, He will restore to you the joy of your salvation. As it says in Psalm 16:8-11:
"I have set the Lord always before me; because He is at my right hand I shall not be moved. Therefore my heart is glad, and my glory rejoices; my flesh also will rest in hope. For You will not leave my soul in Sheol, nor will You allow Your Holy One to see corruption.

You will show me the path of life; in Your presence is fullness of joy; at Your right hand are pleasures forevermore" (Psalm 16:8-11).
Dear friend, in the presence of God is fullness of joy.
So if you will boldly draw near to Him and ask Him for His help, not only will you feel the fullness of joy that comes when you are in His presence …
… And not only will you feel Him caring for you as you cast your cares upon Him …
… But you will also be refilled with the joy of your salvation. You will receive healing for your heart, new purpose to go on, and the Lord will help you enjoy and relish your life again.
Are you ready to pray? We're going to pray about this because the Word of God, the Bible, says:
"Let us therefore come boldly to the throne of grace, that we may obtain mercy and find grace to help in time of need" (Hebrews 4:16).
Coming boldly before God's throne of grace works every time. So we're going to pray (talk with God) boldly, BELIEVING that God hears us and will answer us, for HE DOES and HE WILL. He loves you, and He is bending His ear to hear your slightest whisper right now.
If you need God to heal and restore your will to live, pray this sample prayer for when you don't want to live anymore:
"Dear Heavenly Father,
I come before You in Jesus' name.
Father, thank You that Your Word says I can come boldly before Your throne of grace, where I will obtain mercy and find grace to help in time of need. Father, I definitely need Your merciful help right now. I need Your grace, for this is my time of need.
Thank You, Heavenly Father, for giving me permission to talk to You about these things–and for promising to help me. I praise You for being the merciful, kind, GOOD, sympathetic Father You are–and I love You for it. Thank You.
Abba Father, I love You so much. I want to live out Your entire purpose for me on this earth. I want to obey You in all things. But Heavenly Father, right now, as You know, I have lost my will to go on.
You have blessed me so much, Father, but I'm hurting really badly.
People have done things to me that they shouldn't have done. They've said things they shouldn't have said, and the enemy has been going after me with all kinds of wrong thoughts.
Father, please help me. My feelings tell me that I don't want to live anymore, but I know these feelings are not Your will for my life. I just need Your help to conquer them, and to rise up into the victory that Jesus purchased for me on the cross.
I know You're happy to help me. Thank You, Lord.
I choose to forgive them for the things they have said and done to me. I choose also to forgive them for not saying and doing other things–the things they should have done.
Father, I take all these sins that people have committed against me, and I give them to You. I leave these things in Your hands right now. I choose to let them go, and to give up all resentment.
Lord, please forgive me for holding bitterness, anger, unforgiveness, hatred, resentment, and even a spirit of murder against those people. Forgive all my sins–things I've done and things I failed to do. Please fill me with Your Holy Spirit where those things were. Forgive all the people who have hurt me also, and draw them close to You, Father. Thank You.
Now, Father, I speak to my soul (my mind, will, and emotions), and I say:
"Soul, I command you to come to attention right now in Jesus' name. Soul, right NOW, you line up with my spirit, which is filled with the Holy Spirit, in Jesus' name! And bless the Lord, O my soul, and all that is within me; bless His holy name!"
Lord, I also ask in Jesus' name:
Help me remember that man does not live by bread alone, but by every word that proceeds from the mouth of God.
Help me to sense Your love and affection.
Father, I ask in Jesus' name that You would give me my will to live back.
Please fill me with joy and hope again. Put the dance back in my feet and the clap back in my hands. Help me to choose life; to choose to praise You; to choose to walk on Your higher and more excellent way.
Please also give me wisdom. Help me learn to receive my joy and hope from You alone, so that I'm not derailed ever again.
Please
show me that things can change for me
. Help me to pray over every aspect of my life faithfully, and to
pray rightly with the help of Your Holy Spirit
. Please
show me the answers to my prayers.
Show me all along the way how You are working, even as You work things out that aren't completely manifest yet.
Help me to pay attention to the signs you send me along the way–and not ever to misinterpret a sign, but to see how You speak to me symbolically so I can stay excited about what You are doing.
Father, strengthen my faith and help ME to strengthen my own faith also.
Your Word says that faith comes by hearing, and hearing by the rhema Word of God. Please speak Your rhema, on-time, Spirit-breathed words to me. Give me ears to hear You speak, eyes to see You, and a nose to smell Your fragrance. Help me to hear You continually, and to continually grow in faith.
Thank You, Father, that You have given to each person a measure of faith.
Your Word says that I have the faith of Christ and the mind of Christ. Your Word says that I can grow in my faith, and that You will lead me and guide me. Please fill me with so much hope again, and teach me to set my eyes and keep them set on things above, where Christ is, seated at the right hand of God.
Thank You, Abba Father. Thank You for hearing and answering my prayer. Thank You for ministering to my spirit, soul, and body as only You can.
Thank You also for filling me with life in Christ Jesus. Thank You for sending Jesus to earth to live, die, and rise again for ME–so that I can have life, and have it more abundantly (John 10:10).
I love You, Abba Father. I love You, Holy Spirit. I love You, Lord Jesus.
Thank You for redeeming my life from the pit and corruption. Thank You for lifting my feet out of the miry clay, setting me upon a rock, and establishing my comings and my goings.
You alone are great, and You are worthy to be praised. Thank You for making all things new in my life; thank You for making me new. And thank You for giving me my will to live back. Restore and re-energize me in my pursuit of You. Restore me in my passion for life. Let Your light shine out of me in every way today, and I pray that You would get all the glory.
Thank You for loving and caring about me, Father. Thank You for crafting me for Yourself. I am Yours, and I love You today.
Thank You, Father God. And it's in Jesus' mighty and PRECIOUS name I pray, amen."
Beloved, did this sample "prayer for when you don't want to live anymore" help you? Do you feel Holy Spirit ministering to you right now, filling you with hope, joy, PEACE, and love again? If so, leave a comment below! I love hearing from you!