Prayer: Lord, Give Me My Hope and Joy Back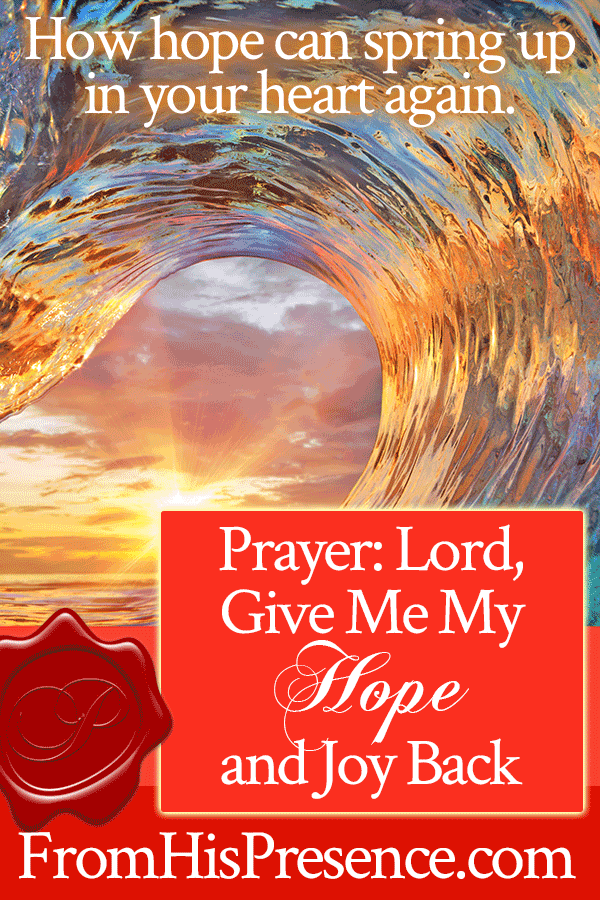 Have you been struggling to survive lately? If so, the Lord gave me a prayer for you today to ask Him to give you your hope and joy back.
This morning, the Lord put deeply on my heart all the people in our community who have lost their hope and joy. That's you if:
If that's you, I wrote a prayer for help from Zion below–a prayer asking the Lord to give you your hope and joy back.
He didn't steal it, but He sure will give it back. Hope and joy come from God alone, so it's always in His hand to give them back to you when you need them! Hallelujah! I'm so thankful for that; aren't you? 🙂
So if you've been down and discouraged, struggling to survive …
… Would you pray this prayer with me for yourself, as I also pray it for you? I've written it in the first person, so it will be easy for you to read and pray over for yourself.
Don't just trust in reciting the words below to help you, though. Take your time and focus on the Lord as you read and pray the prayer below. Really mean these words from your heart, and add in your own words as needed in order to really share your own heart and situation with the Lord, okay? Pray in faith, for that's what God responds to–FAITH. 🙂
If you need your hope and joy back, please pray this right now:
"Dear Heavenly Father,
I come to You in Jesus' name. Father, I love You and thank You for hearing my prayer. Thank You for loving me and taking care of me. Thank You for providing all my needs according to Your riches in glory in Christ Jesus.
Abba Father, I've been asking for help for a long time; and the help I need doesn't seem to have shown up. You've been tiding me over every day, Lord; and You've been helping me get through each day. Somehow, I haven't sunk yet–and I thank You for that, Father. I know You have been the help I need, and I glorify You for that.
But Lord, I need more help than ever today; more help than I've ever received before. I need You, Lord–oh, how I need You.
Father God, I've lost my joy. I used to enjoy my life, but now I really don't. I just get through every day, and even that is a miracle from You. The pressure and stress is too much for me, Lord. I need You. So I'm asking that You would give me my hope and joy back today–right now, in Jesus' name.
Father, I ask right now that You would keep me as the apple of Your eye. Hide me under the shadow of Your wings. Please cover me and hide me from the world in Your place of rest. Quiet my soul. Make me to lie down in green pastures right now, Lord; heal and restore my soul.
Father, I have been walking through the valley of the shadow of death.
I have not feared evil, for You–with Your rod to protect and Your staff to guide–have been with me. I thank You for that, Lord, and I don't negate anything You have done for me.
But Father, I need Your help and I need You to manifest Yourself to me in a whole new way today–more than You ever have before. I can't go on like this.
So Heavenly Father, in Jesus' name, I ask:
I bind my mind to You, Jesus.
I bind my body, soul, and spirit to You, Lord Jesus my Savior. And I fall prostrate at Your feet right now.
Father God, please fill me with Your Holy Spirit. Let Your precious Holy Spirit bear all of His fruit in me today:
Lord, let me be one of the violent ones who take Your Kingdom by force.
Abba Father, Your Word says that Your Kingdom is not meat nor drink, but righteousness, peace, and joy. Your Word also says that the Kingdom of God is not in word but in power. So Father God:
Father, please help me to sense Your presence and affection again.
Comfort me and fill me with Your comfort by Your Holy Spirit, and open my mind, heart, soul, spirit, and body to receive the comfort You give. Help me to meditate on Your Word today.
Father God, I yield myself to You completely today.
Please have me completely and totally for Yourself. Let Your faith, hope, and love arise in me right now. Let Your joy bubble over in me and my spirit, soul, and body right now. Restore to me the joy of Your salvation, and take not Your generous spirit from me.
And with Your servant David I say:
'Incline Your ear, O Lord, and answer me, for I am poor and needy. Preserve my life, for I am godly; save Your servant, who trusts in You–You are my God. Be gracious to me, O Lord, for to You do I cry all the day.

Gladden the soul of Your servant, for to You, O Lord, do I lift up my soul. For You, O Lord, are good and forgiving, abounding in steadfast love to all who call upon You.

Give ear, O Lord, to my prayer; listen to my plea for grace. In the day of my trouble I call upon You, for You answer me.

There is none like You among the gods, O Lord, nor are there any works like Yours. All the nations You have made shall come and worship before You, O Lord, and shall glorify Your name. For You are great and do wondrous things; You alone are God.

Teach me Your way, O Lord, that I may walk in Your truth; unite my heart to fear Your name.

I give thanks to You, O Lord my God, with my whole heart, and I will glorify Your name forever. For great is Your steadfast love toward me; You have delivered my soul from the depths of Sheol.

O God, insolent men have risen up against me; a band of ruthless men seeks my life, and they do not set You before them. But You, O Lord, are a God merciful and gracious, slow to anger and abounding in steadfast love and faithfulness.

Turn to me and be gracious to me; give Your strength to Your servant, and save the son of Your maidservant.

Show me a sign of Your favor, that those who hate me may see and be put to shame because You, Lord, have helped me and comforted me' (Psalm 86:1-17 ESV).
Thank You, Father.
I receive what I have asked You for in faith, and I give thanks and praise to Your holy name. Thank You for restoring my faith, hope, and love today. Thank You for giving me my hope and joy back. I love You, Lord. I give everything to You right now, and I rest in You.
In Jesus' name, amen."
Did you pray the prayer above with me for yourself? If so, I believe the Lord is touching you and answering your prayer right now. Please leave a comment below and tell me what He's doing!