Do YOU Have Big Fierceness?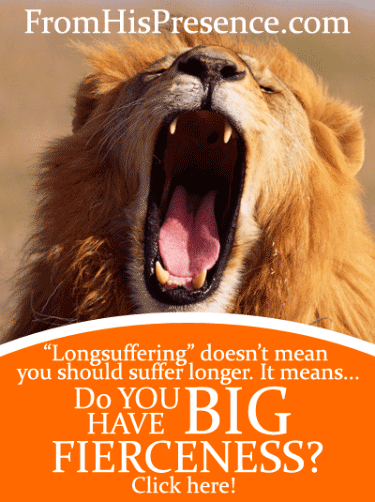 Do you ever wonder about some of the words in the Bible? Words that are supposed to be good, but which sure don't sound good to you?
"Longsuffering" is one of those words for me. God says that "longsuffering" is a fruit of the Holy Spirit, so it must be a good thing. But if it's such a good thing, how come it doesn't sound so good to me? I really don't want to suffer longer, thank you very much!
So I looked it up in my trusty Strong's Concordance. And I found something very, very interesting:
"Longsuffering" doesn't mean "suffering longer" at all. We don't get a badge just for going through more hell in life.
The word that has been translated "longsuffering" is the Greek word "makrothumia," meaning (in Jamie's authorized-by-herself vernacular) "to have big fierceness."
Big fierceness!
Think about the concept of big fierceness for a minute, and it will start to make sense to you.
To get through hard times with a good attitude, you need to have BIG FIERCENESS.
To keep going when you feel like quitting, you need to have BIG FIERCENESS.
To not give up on a person you feel like giving up on, you need to have BIG FIERCENESS.
To go after the dream God has placed in your heart, you need to attack life on purpose with BIG FIERCENESS.
Related: Your Dream Will Test You and Longing For More In Life? Put Your Toes In!
This list could go on and on. Big fierceness means we attack life on purpose. We will stand when standing seems impossible. We will advance when the world sees only retreat. We will walk in power whether anyone else believes in us or not. 
Big fierceness. Are you ready to get this big fierceness?
Galatians 5:22-23 NKJV says:
But the fruit of the Spirit is love, joy, peace, longsuffering, kindness, goodness, faithfulness, gentleness, self-control. Against such there is no law."
Big fierceness is simple to get. It's a fruit of the Holy Spirit. That means HE is the One that gives big fierceness to you. It comes from Him and flows through you if you will let it.
If you know Jesus Christ as your personal Savior, the Lord God of hosts lives inside of you and is ready to roar at the world through you with BIG FIERCENESS.
After you get His fierceness, you will never be the same. Life will no longer happen to you. You will happen to it.
Won't you take a moment now and ask the Lord to give you His big fierceness?