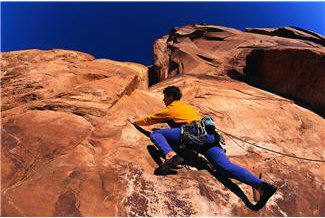 Do you have a dream? Is there something you dream of being, doing, or having? Did you know that, if your dream is from the Lord, your dream will test you before it comes to pass?
I've been studying the life of Joseph lately. If you haven't met him, Joseph was a guy in the Bible who had 11 brothers. He was the favorite son of his father, Jacob. When the Bible begins telling his story, the interesting part starts when Joseph was a teenager–17 years old, to be exact.
The drama starts when Joseph has two dreams in a row. Both dreams are about his brothers–and then his entire family–bowing down to him and serving him. Joseph, unwisely, shares both dreams with those very same brothers and with his father. (Oops.) Needless to say, the fam wasn't happy with lil' Joe. 
So one day Joseph heads out into the countryside to visit his brothers, and the boys see him coming. They hate him so much at this point that first they talk about killing him, but then they decide to just throw him into a pit. So they did. Later on, in lieu of killing him, they took him out of the pit and sold him to a passing caravan (on its way to Egypt) as a slave.
When lil' Joe made it to Egypt, he was sold as a slave again. He ended up being a slave in the house of a government official named Potiphar. The Lord was with him there, and everything he touched turned to gold (proverbially of course). So Potiphar promoted him and made him the overseer of the entire house.
Great news, right? Sort of. The problem was that then Potiphar's wife, who must have been quite an interesting sort, started hitting on Joseph. Eventually, she made her final pass at him, held onto his robe, and Joseph ran away from her, minus his clothes. The "lady" was so outraged that she went to Potiphar and accused Joseph of trying to assault her. Potiphar promptly threw Joseph into prison.
So lil' Joe had a bad few years. Of course, in prison, God was still with him–and whaddaya know? He was such a good, helpful prisoner, that he got promoted there too. God never left him. Joseph even started to minister prophetically to the prisoners by doing dream interpretations!
Long story short, after years and years–13 years total, from the time Joseph started dreaming–one of the prisoners Joseph had interpreted a dream for mentioned him to Pharaoh. Pharaoh called Joseph out of the prison to interpret his own (Pharaoh's) dream, and was so impressed with Joseph that he made him the prime minister of Egypt. Voila! From prison to palace in one day.
But you know what? Joseph's elevation didn't really happen in one day.
And even though you and I may want our dreams to happen in one day, they won't.
Why?
Because any dream worth having needs a foundation. And foundations take time to build.
Look at Joseph. Think how many times he must have remembered his dream. Through years and years of slavery, dungeons, dirt, mud, sewage, and forced labor. That dream must have always been on his mind.
And the Bible says it actually tested him.
Check it out:
Psalm 105:17-19 says, "He sent a man before them–Joseph–who was sold as a slave. They hurt his feet with fetters, he was laid in irons. Until the time that his word came to pass, the word of the Lord tested him."
Joseph got a word from the Lord when he was 17 years old. Then he went through 13 years of absolute misery. But he never forgot his word. He never forgot his dream. He kept it in his spirit.
You know there were days when he decided he must have imagined the whole thing.
You know there were times he felt like giving up.
You know he had to ask God "why" more times than we could count.
The word of the Lord tested him. Was he going to believe in the dream the Lord gave him? Or was he going to give up?
He may have had momentary lapses, but we know he hung in there. How do we know? Because he was ready, waiting, and perfectly positioned when his time came.
What about you? Has God given you a dream? If so, is that word from the Lord testing you?
I know that God's word to me is definitely testing me. I have a dream. Sometimes I've felt like giving up. Sometimes I've wondered if I imagined the whole thing.
When times get hard, it can be tough to hang in there.
But hang in we must. It's crucial. It's essential.
If we don't hang in there, we won't be ready when the King calls.
But if you and I will just hang on–no matter how difficult or miserable it is–Papa God will see to it that we are ready when our day arrives.
His Word will not return to Him void.
Is your dream testing you? Do you ever feel like giving up, but find yourself miraculously hanging on anyway? If so, I'd love to hear about your experience. Please share in the comments below.
You'll get an email when new content is posted. You'll also receive my free, printable blessing cards and my ebook–The Presence Seeker's Creed–for free when you confirm!