Prayer to Become a Miracle Worker
Did you know that you can become a miracle worker? It's true! Father God is the original Miracle Worker, and you were created in His image. He desires to use you as His hands and feet on the earth, so He wants to work His miracles through you today.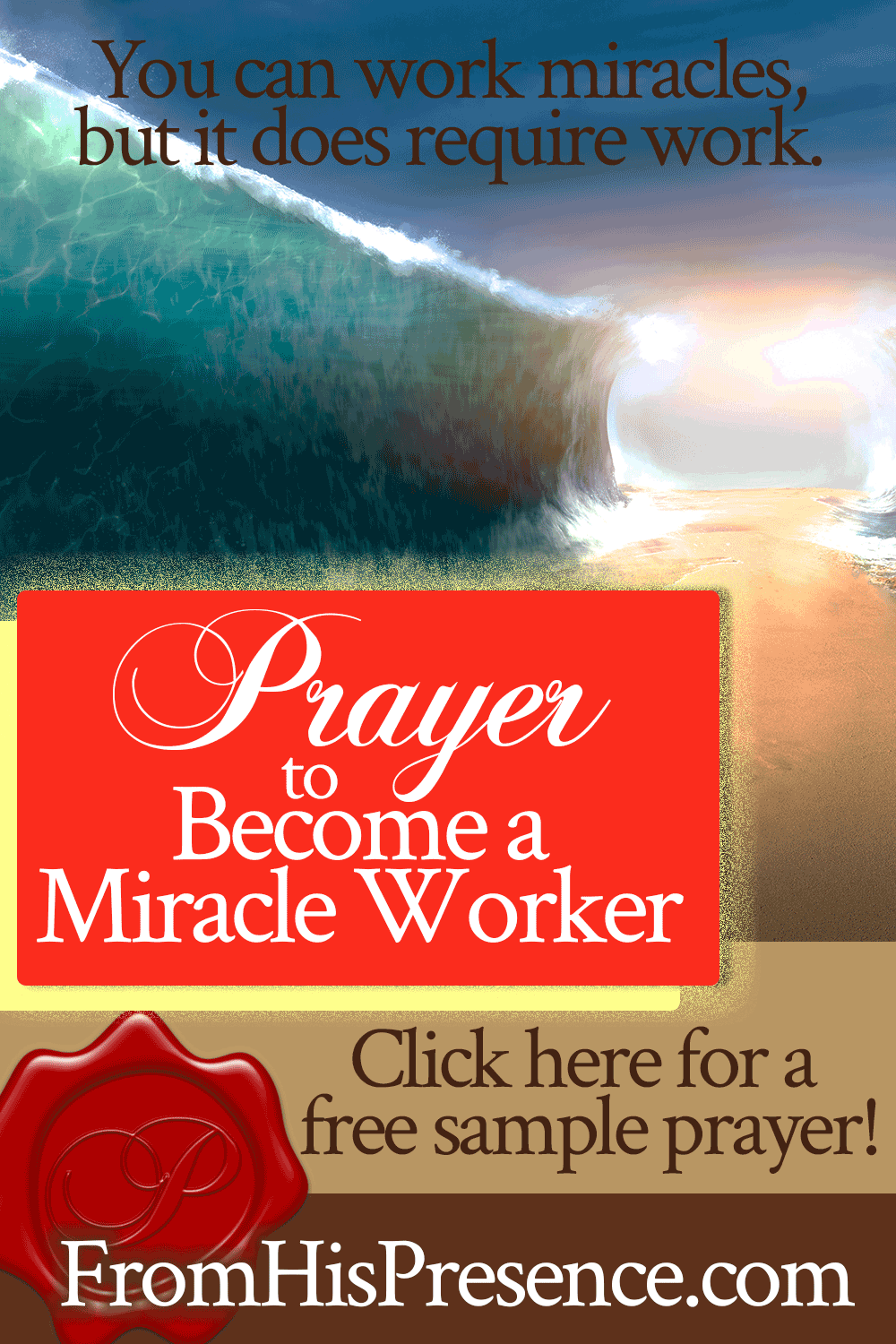 If you desire to be used in this way, read on for a prayer to become a miracle worker.
First, know that the spiritual gift of miracles is actually called "the working of miracles" in the Bible.
We see this in 1 Corinthians 12:7-10:
"But the manifestation of the Spirit is given to each one for the profit of all: for to one is given the word of wisdom through the Spirit, to another the word of knowledge through the same Spirit, to another faith by the same Spirit, to another gifts of healings by the same Spirit, to another the working of miracles, to another prophecy, to another discerning of spirits, to another different kinds of tongues, to another the interpretation of tongues" (1 Corinthians 12:7-10 NKJV, emphasis mine).
I find this exceedingly interesting because, over the years as the Lord has used me in this gift, I have noticed that the "working" part is a very real thing.
The working of miracles does require work.
The work you have to do will vary, depending upon the type of miracle that needs to be worked. For example:
free SPIRITUAL GIFTS INVENTORY
When you join our newsletter
Perhaps you encounter someone whose leg has been amputated.
They need a new leg from Heaven to appear. God can do that (and has done that!), but you're going to have to ask Him. In that case, the asking in faith is the work.
Maybe you know someone who is getting married, and they need a miracle to pay for the wedding and honeymoon.
In that case, the Lord may lead you to set up a crowdfunding account for them, help them apply for sponsorships, publicly share their Cash App tag, or even pay for what they need yourself. Anything like that which the Lord leads you to do will still produce the miracle, but all of those things require work in faith.
Or, perhaps you are praying for the Lord to provide a debt-free, miracle vehicle for someone who needs one.
In that case, the Lord may lead you to fast and intercede in prayer; to help hunt for appropriate vehicles online; or even to drive them to view the vehicles in question. He may give you a wild strategy to share with the person who needs the vehicle–a strategy that will pay for the vehicle. All of those things are work! But …
If you see through whatever the Father has shown you to do …
And if you persevere even if the very first door you knock on doesn't open …
Then eventually that person will drive their new-to-them vehicle home!
Do you see what I mean? The gift of working of miracles must be worked. Also …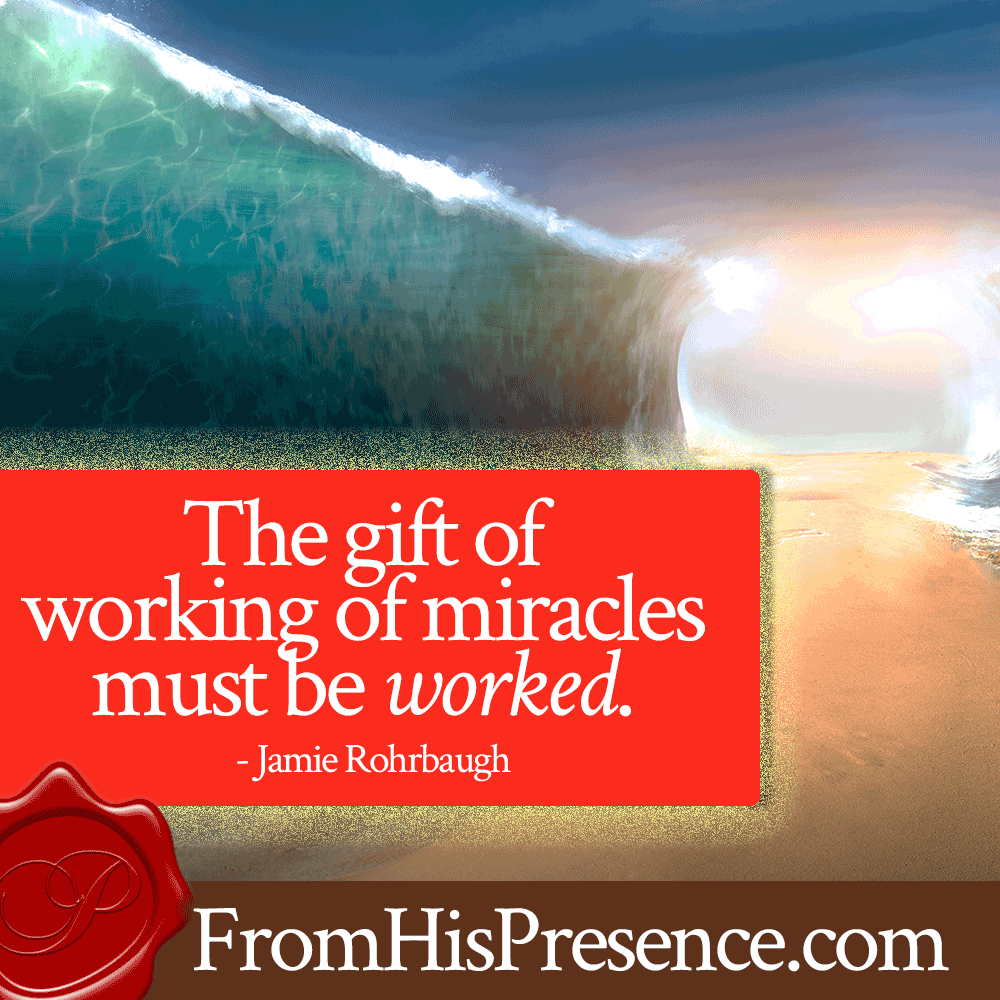 Every time the Lord wants you to work a miracle, He will give you a strategy.
The strategy could be a simple prayer over that person who needs their leg to grow back. It could be the blueprints for a fundraising campaign for your church. It could be a strategy to give paid-for parsonages to pastors in need!
Regardless of what the strategy entails, the gift of divine strategy–which is the spiritual gift called "words of wisdom"–works together or "nests with" the working of miracles. The one facilitates the other.
But the Lord will give you both the working of miracles AND the word of wisdom if you want them.
Every spiritual gift is available to every believer who wants it. If you want all the spiritual gifts, you can have them! Psalm 84:11 tells us so:
"For the Lord God is a sun and shield; the Lord will give grace and glory; no good thing will He withhold from those who walk uprightly" (Psalm 84:11 NKJV).
God wants to give you every good thing. He won't withhold any good thing from you. The gifts of working of miracles and words of wisdom definitely are part of that promise. All you have to do is ask Him for what you desire!
WALK IN YOUR SUPERNATURAL IDENTITY
9 Power Gifts of the Spirit EBOOK!
Do you want to walk on earth as Jesus did, manifesting miracles and living in the supernatural? If so, then this ebook is for you!
Friend, you can become a miracle worker.
All you have to do is pray to receive the gift of working of miracles, then learn how to use it. Learning how to use the gifts of the Spirit IS like riding a bicycle; you have to learn how each gift works, and how to get and keep your balance while using it. But, Holy Spirit will teach you along the way.
Psalm 32:8 says this:
"I will instruct you and teach you in the way you should go; I will guide you with My eye.

Do not be like the horse or like the mule, which have no understanding, which must be harnessed with bit and bridle, else they will not come near you.

Many sorrows shall be to the wicked; but he who trusts in the Lord, mercy shall surround him" (Psalm 32:8-10 NKJV).
Do you believe this? If so, pray this prayer to become a miracle worker:
"Dear Heavenly Father, I come to You in Jesus' name.
Father God, thank You for Your gift of wisdom (James 1:5-8). Thank You that You are the One who instructs me and teaches me in the way I should go (Psalm 32:8).
Thank You also that You are the original Miracle Worker, and You created me in Your image. That means You want me to go out and work miracles too, Abba, just like You do–and I praise You for this amazing privilege.
Father, I always desire to co-labor with You. I want to be Your hands and feet on the earth. I want to release Your heart everywhere I go, and that means working miracles every single day.
So Lord, I ask right now in Jesus' name that You would make me a miracle worker too.
I do understand that this gift is quite literally "the working of miracles." Therefore, I surrender myself to You to work. I present myself as Your faithful servant to carry out the process of working the miracles You have for me to work, including:
Dreaming them up with You–which means receiving Your dreams for every situation;
Letting my faith grab onto Your heart whenever I hear about or see a need;
Praying and interceding in the Spirit to birth whatever miracle You are birthing on the earth;
Receiving Your words of wisdom that reveal Your strategy;
Fasting and praying for the miracle to be performed, if you lead me to fast;
Asking You in prayer for the miracle that needs to be done;
Seeking out the miraculous result;
Knocking on doors to see which one opens–even aggressively (and proverbially) kicking those doors down;
Asking You for the creative ideas and witty inventions You desire us to use to manifest each miracle;
Carrying out your divine strategies, even when others don't understand; and
Being bold and brave enough to step forward in faith as I walk out Your strategy, even when I do not know what You will do or how You will do it.
O Lord my God, I surrender to You to be a miracle worker like You are.
Every time You show me a miracle that needs working, help me to believe that You will do this miracle through me. And as I step out in faith to work each miracle, I pray that You would help me to only do what You are doing and say what You are saying.
Father, set a watch on my mouth. As I participate in the working of miracles with You, please help me not to sabotage the process through my own words. Help me to speak only words of faith and life–words that line up with Your Word.
Also, help me not to say anything at all if You don't want me to.
Sometimes, You desire me to keep things in the silence so my faith doesn't drain away. There is power in faith-filled silence; help me to guard that silence as long as You need me to. The birthing room is not for every person to see.
Also, please keep me away from the haters and naysayers. Help me to protect my faith while we work each miracle together.
Father, I ask You in Jesus' name for the gift of the working of miracles–and for the power to be a miracle worker on the earth like You are.
And since Matthew 7:7 tells me to ask, and I shall receive, I thank You for hearing and answering my prayer. Thank You for giving me this gift.
Thank You in advance for shepherding me and instructing me as I learn how to work the miracles You have for me to do. I pray that You would get ALL the glory, and I give You all the praise.
In Jesus' holy and matchless name I pray, amen and amen."
Did you just pray this prayer to become a miracle worker?
If so, know that God just gave you the gift of working of miracles. However, the miracles do have to be worked. They don't just pop out of thin air; they "pop out" of hearing God's heart for a matter, asking Him, and then stepping out in faith.
Even if your "stepping out" is praying for someone's amputated leg to grow back …
Or even if your "stepping out" means helping someone look for a house or vehicle for which they need miraculous provision …
Or if your miracle involves multiplying the food in your cupboard, just like Jesus worked a miracle to feed the five thousand …
You have to step out in faith, doing whatever is appropriate for each situation.
You can do it, though, because Jesus Christ Himself lives in you. You have no life of your own; you are crucified with Christ, therefore you no longer live; Jesus Christ, Father God, and God the Holy Spirit are the Life inside of you. (See Galatians 2:20.) And therefore, everything is possible because everything is possible with God. 🙂
So what miracle will you work today?
If you're not sure, ask the Lord to lead you. Pray consistently over the next few days and ask Father to show you what is the first miracle to which He has assigned you. And when Holy Spirit reveals the miracle that He needs you to do, get to work!
Did you pray this prayer to become a miracle worker today? Are you surrendering yourself for the Lord to use you in the working of miracles? If so, leave a comment below!
Our Favorite MIRACLE RESOURCES
Read more on miracles: