Radical Prayer 21: Lord, Unleash Your Creative Works on My Behalf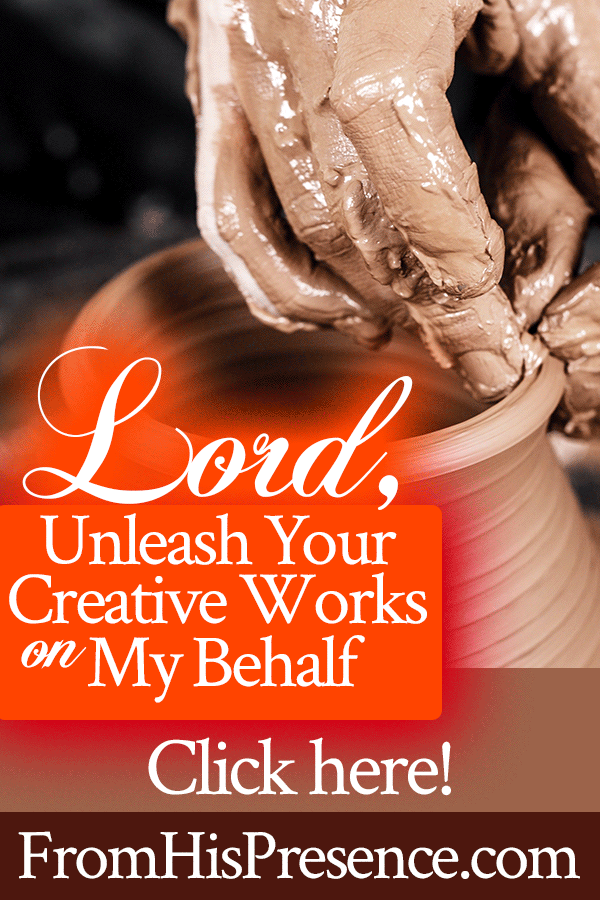 My friend, do you want the Lord to do more for you than you could possibly do? Do you yearn to see Him show up suddenly and miraculously in your situation, making all your dreams come true? If so, then you'll want to pray today's radical prayer, asking the Lord to release His creative works on your behalf.
Related: You can find all the posts in my Radical Prayer series here.
Psalm 104:24 says, "Lord, how many are Your works! In wisdom You have made them all; the earth is full of Your possessions" (NASB).
At the beginning of this year, the Lord told me that we needed to pray for God's creative works to be released in our lives this year. I have prayed it here and there throughout the year, but I haven't been consistent with it like I should have been. However, right now, Holy Spirit is brooding urgently over me to pray this prayer.
The thing is that God's works are so much better than our works of the flesh could ever be.
And even though we operate through Holy Spirit and His power, our minds cannot always predict or grasp what God wants to do. These things must be understood spirit-to-Spirit: our understanding being illuminated by Holy Spirit Himself, as Holy Spirit transmits to us the things Father has for us in Heaven that we cannot even imagine.
As it says in 1 Corinthians 2:14:
"But the natural man does not receive the things of the Spirit of God, for they are foolishness to him; nor can he know them, because they are spiritually discerned" (1 Corinthians 2:14 NKJV).
The good news is that the Holy Spirit of God dwells in you.
If you have given your life to Jesus, making Jesus the Boss and Master of your life and surrendering your all to Him, then the same Spirit that raised Jesus from the dead dwells in you. Romans 8:11 says:
"But if the Spirit of Him who raised Jesus from the dead dwells in you, He who raised Christ from the dead will also give life to your mortal bodies through His Spirit who dwells in you" (Romans 8:11 NKJV).
Related: How Do You Get the Holy Spirit?
Since Holy Spirit dwells in us, we have an active pathway of communication with Him at all times. And He is constantly transmitting to us the thoughts, plans, and desires that are in Father God's heart for us. He is also actively present within us to help us in every way:
And today, I want to talk to you about those miracles–God's creative works.
Related: 7 Keys to Constant Miracles blog post here or FREE Bible Plan on YouVersion here
We can and should work and labor to obey God. We can and should give our absolute all to Him, putting our hand to the plow and never looking back–and He will reward us if we do.
However, if you're hearing from Holy Spirit on a regular basis, then the things in your heart that He is transmitting to you–the thoughts, desires, and plans of God for your life–will be so much bigger than your work and labor could ever earn for you.
Related: If you want encouragement to know that
your impossible dreams
are from the Lord, listen to episode 6 of my podcast here:
This episode is short, but it will bless you BIG!
That can be a painful place to be. However, we cannot allow ourselves to become discouraged. Instead …
We have to let this place of coming face-to-face with our inadequacy become a driver that drives us to our knees, compelling us to ask Father God for miracles:
We have to harness the yearning in our hearts and funnel that yearning into earnest, fervent prayer.
We have to bottle our desperation and pour out our bottles of desperate tears on the feet of Jesus, believing that only He can resurrect life from the dead.
We have to take our wrecked hopes and allow them to collapse with us at the throne of our Father, pleading with Him to do what we see, now, that ONLY He can do.
And that, my friend, is not such a bad place to be. Indeed, I believe that–although it feels like the end of something–it is actually a place of beginning.
And I believe that place is not only Heaven's ground, but miracle territory as well.
So today, I want to lead you in prayer for our loving, kind Father in Heaven to release His creative works on your behalf.
When you've come to the end of your rope, you need God to move on your behalf. You need Him to create for you; to roar over your life and suddenly show up and show out on your behalf. And that, my friend, is exactly what the sample prayer below is all about.
Are you ready? Pray this prayer for God to release His creative works on your behalf if so:
"My dear Abba Father in Heaven,
I love You so much. Thank You for being my Dad–perfect and wonderful; perfect in every way. Thank You for bending Your ear to stoop and hear me; indeed, You live in my heart and occupy my life, body, soul, and spirit. Thank You for redeeming me by the blood of Your Son Jesus so that this could be possible, and so that I could be Your child.
Abba Father, I need Your help.
Lord, I've worked hard and long:
I've gotten up early and stayed up late.
I've skipped breakfasts, lunches, and dinners.
I've fasted and prayed; studied and believed; stood in faith without wavering; and repented when I have wavered.
I have sought You–and sought to serve You–with all of my heart, and I know and pray that You will help me so that I never stop doing any of those things that are good.
But Abba Father, it's not enough.
Nothing I can do is enough, Father, to see my dreams come true. Nothing is enough for me to create success with my own hands. I can work and fast and pray and labor all day, but the level of my dreams in You, Lord, is so high that I could never attain it on my own–or even with normal levels of faith in You.
Abba Father, I am asking You for MIRACLES today.
I claim Your promise that Your mercies are new every day, Father, for I am begging You for Your mercy. Lord, I ask You right now to move on my behalf in ways I could never even imagine. I am asking You:
Related: 5 Ways to Protect God's Favor on Your Life
Father, I need Your help.
Lord, how many are Your works! In wisdom You have made them all (Psalm 104:24)–and I am asking You today to UNLEASH Your creative works on my behalf:
Unleash Your creativity on my behalf, Abba Father.
Create people and circumstances and miracles and signs and wonders and provision and opportunity that I could never imagine, Father.
Create things, miracles, and answers for me in Your wisdom–perfect things that You have ordained before the foundation of the world.
I believe You have been waiting for me to pray this prayer, Father:
I believe that my heart is Your heart on this.
I believe I have this yearning because this yearning is in YOUR heart, Father. It was in Your heart first.
I believe You love me so much that You have blessed and honored me with a deposit of Your heart here on earth, and that these godly goals and dreams and yearnings from my heart are simply my coming to a sudden understanding–with pictures and words–of YOUR heart.
And I believe, Father, that the set time is NOW.
Oh Father, I need you.
I cannot carry this burden alone. I cannot carry this love alone. I cannot carry this level of faith alone, for I believe You for GREAT and MIGHTY things.
You have put every single one of these desires in My heart, Lord, for they all line up with Your Word. But I cannot eke out an existence; I cannot labor like an ox with a plow; I cannot push or intercede enough to make any of them happen like they need to happen, Lord.
I need You. Oh Father, I need You.
Father, I ask You THIS DAY for signs and miracles on my behalf:
I ask You THIS DAY for miraculous provision, help, and encouragement.
I ask You THIS DAY to show up in my home, health, family, finances, and ministry with the GREAT and MIGHTY ROAR that You have in Your heart over me–the roar of the King who is coming on the clouds.
Just like Your coming in the clouds in the future, Father, let every eye see You this time too.
Let every ear hear of the wonders of Your mighty works this time too.
And let me and my family preach about the wonders of Your mighty works to a generation yet to be born.
I need You, Father. Please, Abba, in the mighty and holy name of Jesus–Your Son and my Brother and Savior–intervene on my behalf today:
Unleash Your creative works on my behalf.
Manifest Your creative miracles on my behalf, and on behalf of everything that concerns me.
Come in through the mighty gates of my every situation–gates that have lifted up their heads; and show off on my behalf as the King of Glory You are.
I love You, Holy Father. You are great, and mighty, and entirely WORTHY to be praised. Thank You for hearing and answering my prayer. Thank You for honoring my faith, and thank You for keeping Your Word.
I love You, and I give You all the praise. In Jesus' holy, mighty, and precious name I pray, amen."
Beloved friend, does this prayer sum up the cry of your heart today? Does this earnest petition for God's creative works to manifest on your behalf resonate in your spirit? If so, leave a comment below. I would love to hear from you!