How To Heal from Mother Wounds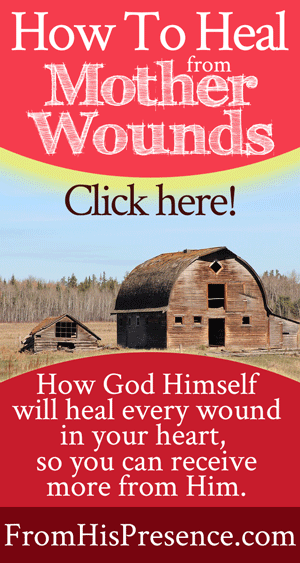 Do you need healing from mother wounds? Do you also struggle to receive from God what YOU KNOW He has promised you–comfort, nurture, protection, fruitfulness?
Also, do you believe in God's promises–but you still find yourself feeling abandoned and having to fend for yourself?
If so, the Lord has been showing me out of His Word that these things are related. This is GREAT NEWS, because it means you can BOTH heal from mother wounds PLUS open the floodgates of receiving from God at the same time.
Here's how the Lord started talking to me about this:
I've been doing a word study of God as our El Shaddai.
I'll explain below exactly what El Shaddai means and why it's so important. Suffice it to say that, if we don't know God as our El Shaddai, we are not going to be able to receive a lot from Him.
Anytime you need to encounter God in a certain way, you have to know Him in that capacity first.
For example:
If you need healing, you have to know God is your Healer.
If you need salvation from your sins, you must first hear that Jesus is your Savior.
If you need financial provision, you have to know God is your Provider.
In the same way, there are a whole lot of things in life that require us to know God as El Shaddai if we want to receive.
What does El Shaddai mean?
El Shaddai is the name of God that God used to reveal Himself to Abraham, to Isaac, and to Jacob. It is derived from the Hebrew word "shad," which means "breast." "El Shaddai" literally means "The Many-Breasted One."
Yes, you heard that right. God Himself reveals Himself to us as The Many-Breasted One. Is it because He has a lot of breasts? No; God the Father is a Spirit and does not have a physical body.
Is it because He is female? NO, of course not; God is completely above the human concept of gender. GOD is wholly other. Both male and female were made in the image of God. BOTH male-ness and female-ness were derived from who God is.
So why does God call Himself the Many-Breasted One?
To show us who He is. To demonstrate His attributes. To teach us and help us get to know Him.
Basically, when God revealed Himself to Abraham as El Shaddai, He used the image we have of a baby nursing at its mother's breasts to demonstrate how we are to receive from God.
When He told us His name El Shaddai, He let us know that:
Everything we need, we are to get from Him.
He is the Giver and Sustainer of Life.
He is our Nourisher.
He is our Caregiver.
He is our Help.
He is our Nurturer.
He is our Provider.
Everything we need in life, we are to obtain by nursing at the "breast" of God.
This is really not a far-fetched mental picture at all, if you stop to realize that:
God is our original and perfect Parent;
that we are His children if we believe in Christ Jesus as our Savior; and
that we can do nothing and receive nothing unless He gives it to us.
That's why Acts 17:28 says:
for in Him we live and move and have our being, as also some of your own poets have said, 'For we are also His offspring'" (Acts 17:28).
And why John 15:5 says:
I am the vine, you are the branches. He who abides in Me, and I in him, bears much fruit; for without Me you can do nothing" (John 15:5).
If you imagine the image of the vine and the branches, you can see right away that the branches are nursing from the vine–literally!
Those branches have latched onto the vine. They grew from the vine; literally, the vine budded those branches! And those branches are latched onto that vine. ALL of their life-giving sap ("milk") comes directly out of that vine.
No vine, no milk/sap. No milk, no life.
Whoa.
This picture of us nursing at God's breast is one the enemy has tried to steal from God's people.
Remember that there's an unholy substitute for every holy thing. And sometimes the unholy thing gets so loud that we don't realize there's a holy original!
So what's the unholy substitute? Think of all the pictures you have probably seen of false gods–idols, demon gods that people worship–that have lots of breasts. Think of all the stories you have heard about this or that Greek, Egyptian, etc "goddess of fertility" or "god of fertility."
ALL of those are the enemy's perverted twistings. The enemy is trying to steal God's worship.
The enemy is trying to get the worship that should be directed at God. And GOD HIMSELF reveals Himself to us as The Many-Breasted One, so the enemy took that concept and tries to present himself in that capacity, so he can steal God's worship.
Ugh.
And you can see how much the enemy HATES this truth when you look at how hard he has worked to pervert it through various portrayals of the demon idols mentioned above.
But the enemy can't steal God's truth. And the truth is that God is our El Shaddai.
Our Father wants us to "nurse" at His "breast" and RECEIVE everything from Him that we need–including our comfort, provision, strength, food, breath, and everything else. So let's grab onto our revelation of Abba Father God as The Many-Breasted One, shall we?
The revelation of God as our El Shaddai is HUGE. It's a really big deal. It's a GIANT issue.
So what are some symptoms of mother wounds?
Here are 5 common symptoms I've seen:
1. Inability to receive comfort.
If you have a mother wound of some sort, even if you don't realize it, you may believe God for comfort … but still not feel comforted. Even if He comforts you sometimes–and you know it–you still do not feel comforted most of the time. You feel like His comfort is far off; like He comes through for other people, but not for you.
2. Constant feeling of lack.
If you have a mother wound, it's possible that you feel like you're always in want. Like a baby whose mother refuses to nurse or even bottle feed, you feel starved … whether physically, emotionally, mentally, or spiritually.
3. You may struggle to be merciful to others.
If you have a mother wound, you may struggle to be merciful to others. Why? Because the person in your life who was supposed to be merciful to you–your mother–wasn't.
4. Feeling like you're unprotected, exposed, and at the mercy of the world.
If you have been hurt by your mother, you probably feel unprotected. Picture yourself as a toddler who's scared, and you'd like to hide behind your mother's leg … but there's no mother there. That's very possibly how you feel. You know God is your Protector, but you feel like you struggle to actually see His protection manifest in your life.
5. People don't tend to nurture you.
When you have a wound of any kind, you will always tend to receive the same type of wound from other people until the original wound is healed. If you didn't have proper nurturing from your mother, you probably long for nurturing, even as an adult–but you don't get it.
Rest assured: There is hope! As soon as you heal, you will see the manifestation of the GOOD thing–the opposite from your wounded state–in your life. People WILL start to nurture you after you're able to receive it! They may not even do it consciously, and they may not have realized that they didn't nurture you before. You will just attract nurturing. 🙂 Yay Jesus!
So how do you heal from mother wounds?
Here's the first thing you have to know if you want to heal from mother wounds: Problems with our relationships on earth impact our ability to know God in all of His attributes. Such problems also hinder our ability to receive from God in all of His functions.
For example:
When we have something against our human fathers, it results in a breach with our Heavenly Father.
When we have something against our siblings, friends, or peers, it generally results in a breach, hindrance, or blockage between us and Jesus. (Remember that Jesus is our Brother, the Firstborn of many brethren.)
When we hold something against our mothers, it results in a hindrance, breach, or blockage between us and Holy Spirit.
Why? Because Holy Spirit is our Comforter, Guide, and Nurturer. He performs in our lives (on His God-scale) many of the same functions (plus others) that our human mothers do on their human scale.
To see the correlation, think of the fact that Holy Spirit is our Comforter. Comforting you is Holy Spirit's special job. And whose human function is it to comfort a child? Generally, the mother is the comforter.
There are lots of other things Holy Spirit does for us:
1. He helps us.
John 15:26 says, "But when the Helper comes, whom I shall send to you from the Father, the Spirit of truth who proceeds from the Father, He will testify of Me."
2. He feeds us. He takes what belongs to Jesus and transmits it to us.
John 16:14-15 tells us this when Jesus said: "He will glorify Me, for He will take of what is Mine and declare it to you. All things that the Father has are Mine. Therefore I said that He will take of Mine and declare it to you."
3. He teaches us. He guides us into all truth.
John 16:13 says: "However, when He, the Spirit of truth, has come, He will guide you into all truth; for He will not speak on His own authority, but whatever He hears He will speak; and He will tell you things to come."
4. He shields, protects, and defends us.
Isaiah 59:19 tells us that "… when the enemy comes in like a flood, the Spirit of the Lord will lift up a standard against him."
And all of these things are things that our human mothers are also supposed to do!
This doesn't mean Holy Spirit is a woman. Again, God is ABOVE gender.
But this DOES mean that, the same way we need to receive certain things on a human level from our mothers, we are designed to receive those same things from God.
And when we have something against our mothers, it hinders our ability to receive these things from God–The Many-Breasted One.
Do you see the correlation? It's wild, I know. But I've seen it be true so many dozens if not hundreds of times, and I've NEVER seen this principle be wrong.
Ever.
It simply works every time.
When we hold a grudge, anger, resentment, unforgiveness, negative expectations, etc against our mothers–even if we don't mean to, or are unaware of the problem!–those things prevent us from receiving from God.
So how do you heal from mother wounds?
To heal from mother wounds, use the same four-part process we talked about in how to heal from abandonment and rejection, as well as in Finding Deep Soul Healing 101 and 102:
Pray out loud to forgive your mother for all the specific things she did AND didn't do (I recommend using the written prayer I provided in Finding Deep Soul Healing 101);
Ask God to fill you with His Holy Spirit where those wounds were, and to heal your heart;
Fill up with revelation about how GOD will perform all the duties of a mother for you (so your fulfillment doesn't depend on your human mother; see Scripture references below); and
Verbally confess to God–yes, OUT LOUD!–that you receive Him as both your Father and your mother, and that you choose right now to receive all the parenting and nurturing you need from God the Father, Jesus His Son, and Holy Spirit.
I recommend you study these Scripture passages to help you get personal revelation of God as El Shaddai:
(And in these passages, every time you see "God Almighty" or "the Almighty," that's actually El Shaddai in the Hebrew.)
Genesis 17:1-8
Genesis 28:1-5
Genesis 35:1-15
Genesis 43:1-14
Genesis 48
Genesis 49:22-26
Interesting that so many important passages about God as The Many-Breasted One–our Nurturer, Sustainer, and Comforter–are right at the very beginning of the human story, isn't it? 🙂
As you read these passages, look for three things in particular:
Notice what God was trying to get across when He told people His name, El Shaddai. For example, in Genesis 17, why did Abraham need to know right in that conversation that God is The Many-Breasted One? (Meditating on this will blow you away.)
Notice how people got to know Him as El Shaddai. For example, on his deathbed, Jacob referred to God asnEl Shaddai. How near and dear to his heart this name for God must have been!
Most importantly, notice the different things God did to manifest Himself as El Shaddai. (You'll be a blubbering basket of tears if you do this. But God wants to manifest Himself in the same ways for you.)
And as you start to get this revelation about who God wants to be to you, let it become real.
Imagine yourself snuggled up to God's chest.
Imagine all the nourishment, care, provision, protection, teaching, and hugs you need flowing from God to you.
Allow yourself to see God mothering you in every way you need Him to right now.
Imagine El Shaddai flowing through you to nurture others, knowing that He will do the work, since He is The Many-Breasted One!
Finally, remember all the times He has mothered you in the past, even if you didn't realize it was Him at the time.
Beloved, you can heal from mother wounds. Our Lord God, El Shaddai, will heal you in every way you've ever been hurt.
He will nurture you. He will comfort you. He will sustain you as you "nurse" at His "breast." He will become both a Father and a mother to you, and you will be free.
Will you walk through the steps? Will you forgive your mother for every way she has hurt you? Will you receive God's truth and let Him take the place of your earthly mother?
If you will, your life will be transformed, and God will use you as a vehicle of healing to the people around you too.
Does this word about El Shaddai and healing from mother wounds speak to your heart? If so, please share your thoughts in the comments below! I love to hear from you!
Would you help me with my work of reaching people for Jesus as a domestic missionary? I need you; we are in this together! This blog, and all of the Kingdom work we do in this community together, are made possible through your partnerships, donations, and product purchases.
If you'd like to help, please check out the partnership details and products available for sale here. And, thank you in advance for helping make this blog and everything we do together for the Kingdom possible!