Do You Ever Have To Forgive God?
Do you ever have to forgive God? And, by that, I mean: Does any person EVER have to forgive God? Or is the very concept sacrilegious?
Welcome to Part 3 of Finding Deep Soul Healing 101! In this series, we are laying the foundation for you to walk through a set of powerful inner healing prayers.
But, before we get to those prayers, we have to cover some basic concepts of inner healing. You'll need these concepts as you let Holy Spirit lead you through the healing process.
One of those very foundational issues is the question, "Do you ever have to forgive God?"
Friend, the answer to that question "Do you ever have to forgive God?" is a resounding YES.
BUT … not for the reasons you may think.
Finding Deep Soul Healing 101
Read the whole Finding Deep Soul Healing 101 series for free here:
It's not because God ever does anything wrong; He doesn't. God is perfect, and is wholly good; He can literally not do anything wrong EVER.
However, forgiveness isn't always about what other people did wrong.
Over years of working in inner healing ministry, I have learned that people's hurts and wounds are 100% real to them whether the offense or event they are mad at–the thing that hurt them–was real or not.
In other words, if someone thinks you did something hurtful to them but you actually didn't, they will still hurt over it even if you never actually did the thing. Reality doesn't produce feelings; perception does.
And forgiveness is a tool that releases and heals feelings.
Forgiveness is a tool that releases YOU from things that wounded you, hurt you, disappointed you, or offended you. And it is for that reason, and that reason alone, that we DO sometimes have to forgive God as we walk through our individual journeys of deep soul healing.
We have to forgive God sometimes, not because He did anything wrong, but for either of the following reasons:
He didn't do what you wanted Him to do, the way you wanted Him to do it; or
He didn't do what you wanted Him to do in the time you wanted Him to do it.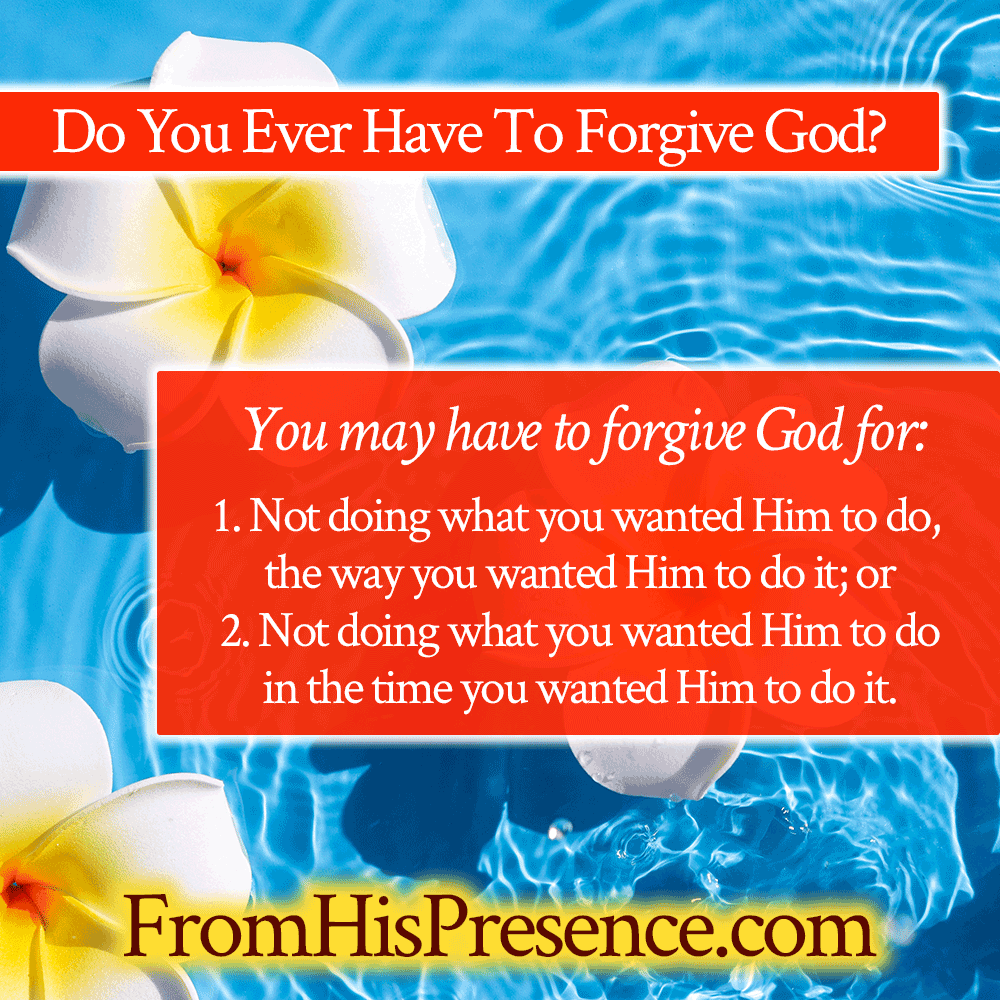 See, God will always get us to His best plan for our end result. But, His methods are His own.
And sometimes His methods frustrate us.
For example, let's say you cried out to the Lord God this very morning for a godly spouse. You have been single a long time, and you want to get married! Specifically, you asked the Lord to bring you into marriage with the person you're currently dating.
You really had a great prayer time with the Lord when you asked Him this, so you got up from your quiet time and go to work. You're convinced that something wonderful is going to happen–maybe even today!
However, all the wind let out of your sails when, at lunch that same day, you met with your significant other and … drum roll … they broke up with you, instead of making progress toward marriage.
Ugh! That would be such a frustrating situation. It would feel sad, and you would probably cry a few (maybe buckets of) tears.
But in the middle of all that, you might also ask, "Why, God? Why?"
And, potentially, you just might be angry or upset or offended or disappointed with God, even just a little bit.
Or maybe …
God didn't give you the job or promotion you wanted Him to give you.
God let people attack you whom you thought were your friends, and He did nothing to stop it.
God didn't send the money for you to make that purchase you wanted to make, when you wanted to make it.
God didn't … didn't, didn't, didn't.
Beloved, God has never let you down. But He sees things entirely differently than you see them.
VICTORY IN THE CAMP OF THE LORD, VOLUME 1:
Healing from Fear
Struggling with fear? God wants to heal you.
In this book, Jamie shares how to heal from fear, intimidation, panic attacks, and even a physical inability to breathe! Download Victory in the Camp of the Lord Volume 1: Healing from Fear today and learn how to beat the spirits of fear, python, and intimidation in the name of Jesus.
For example:
He sees that your significant other was cheating on you with someone else at break time, and you never knew about it.
He sees that the promotion for which you applied would have turned your life into a living hell, and He wanted to spare you from that.
He knew that the people who attacked you were actually two-faced, jealous people who didn't have His heart for you at all. He was letting you see that truth too, so you could move on and be free.
He knew that the vehicle you wanted so badly to purchase in that moment was a lemon, and it would have died on you right after you got it home!
In every situation in life, when God doesn't do what we want Him to do the way we want Him to do it …
Or when He doesn't do what we want Him to do when we want Him to do it …
It's very easy to get an offense against God. We get disappointed, upset, or hurt at Him.
And beloved, that is why we have to forgive God sometimes.
Forgiveness is not about the reality of whether someone actually did something wrong to you or not. Forgiveness heals your reality of pain. Forgiveness releases the shackles holding you to your hurt.
So if you've felt hurt, offended, saddened, disappointed, wounded, or disillusioned with God because of how He handled some things …
… Because of what He allowed to happen, or what He didn't make happen, or what He didn't protect you from …
Then, my friend, it's time to forgive God.
This applies for anything that hurts, even if you know God will work things out for your good.
In the examples above, God will work every single one of them out for your good:
Pray PROPEL Over Your Destiny!
Using fun prayer acronyms can help you focus your prayers to cover a subject thoroughly! Read this powerful prayer guide and believe God to PROPEL you forward into everything He has for you!
He caused your significant other to break up with you because He did hear your prayer, and He wants you to meet "the one" at church next month! He's ready to bring you into godly marriage, but He had to get "the wrong one" out of the way in order to bless you!
He has a totally different job in mind for you, and that job is going to be a blessing. Keep looking, knowing that God never closes a door if He doesn't have a better door for you somewhere!
He has better friends for you somewhere else–friends that will honor and cherish you; friends who won't talk badly about you behind your back!
He knows that a much better car is going to go on big discount soon, and He let the lemon fall through so He can give you that car when it's time!
Friend, God's ways are not our ways. His thoughts are not our thoughts.
As it says in Isaiah 55:8-9:
"For My thoughts are not your thoughts, nor are your ways My ways," says the Lord. "For as the heavens are higher than the earth, so are My ways higher than your ways, and My thoughts than your thoughts" (Isaiah 55:8-9 NKJV).
And then there's Romans 8:28:
"And we know that all things work together for good to those who love God, to those who are the called according to His purpose" (Romans 8:28 NKJV).
God does things differently than we do. He sees things differently than we do. He knows all things and all people. He sees things we cannot see, and He protects us from dangers we didn't know were even approaching.
But too often, we fail to trust Him.
We might believe Him, but trust is a whole different thing. (Read my story here about how the Lord showed me I believed Him, but I didn't trust Him.) And so we get hurt at Him for allowing things that hurt us, when He was actually protecting us the whole time.
Beloved, has God done something you didn't want Him to do?
Has He thrust you out of a place you didn't want to leave? Has He closed the door to a relationship in which you wanted to remain? Has He done something in His own timing, instead of saying "yes" to your timing?
One of the biggest things we as Christians have to learn is that we "work for" God; He does not "work for" us.
Yes, He hears and answers our prayers. Yes, He served us by sending His Son Jesus to die for our sins, making it possible for us to have eternal life in Him. But what I mean is, God is sovereign and we are not. And whatever He says goes, even if we wish He had said something else.
So friend, are you ready to forgive God and free yourself from the hurt you have against Him?
If so …
Here's how to forgive God, even when you know He did nothing wrong:
Forgiving God is very simple. In order to forgive God, you literally just talk to Him. (He's right there with you, even now.) This is what you say:
"Dear Heavenly Father, I come to You in Jesus' name.
Thank You for hearing my prayer right now. Thank You that I can come boldly before the throne of grace, where I may obtain mercy, and find grace to help in time of need.
I praise You for Your mercy and lovingkindness, for You are good–even when I don't feel like it.
Abba Father, I confess today that:
I have been hurt and offended at You.
I've been hurt by what You did; what You allowed; and the way You let things work out.
I've been mad at You because You didn't do what I wanted You to do.
I've been angry and upset at You because You didn't ride to my rescue in the timing in which I wanted You to.
Everything you see was created by the spoken word.
So if you have nothing except the ability to speak, you can still create anything you want. You can be like God and speak those things that are not as if they already were (Romans 4:17)!
To help you, Jamie wrote a book of hundreds of Biblical confessions for you—especially in the area of your finances. It called Speak Life Volume 1: Chart Your Course With Your Words, and it's our most popular book ever! Get your copy today and begin speaking LIFE over those things that concern you!
Father God, I choose to forgive You right now.
I know You didn't do anything wrong, but I have felt like You did because You didn't do what I wanted You to do when I wanted You to do it. So, in order to release myself from these chains of lies that have held me bound, I forgive You for not doing what I wanted You to do–and for not operating in my timing.
Father God, I confess that I have held onto unforgiveness, bitterness, anger, hatred, resentment, wrath, and hurt toward You. I have even failed to trust You as well. I confess these things as sin right now.
Abba, please forgive me for my sins. Please forgive me for getting offended at You.
Please forgive me for not trusting You; for holding onto all these terrible thoughts and feelings toward You, when You have only been protecting me.
Please cover me with the blood of Jesus. Wash me clean and make me pure and holy, inside and outside. Please fill me with Your Holy Spirit where those things were, and draw me to Yourself.
Lord God, please help me to trust You from now on.
You are only good. Everything You do is good. Your ways may not be my ways, but please teach me to see things the way You see them–and to understand and walk in Your ways and Your thoughts.
I trust You to work all things out for my good, Abba, even though I don't know exactly what that will look like. I am safe in Your hands, beloved Father, and it's in Jesus that I live and move and have my being.
You are only good, Abba. Please teach me and draw me to Yourself. Thank You, Father God. In Jesus' name I pray, amen."
Beloved, you do have to forgive God sometimes.
It's not because He did anything wrong; He is GOOD and cannot commit wrong against you at all. He is merciful and just, ever protecting and preserving His children.
But forgiveness isn't about the reality of what someone else did. Forgiveness is how we free ourselves from the chains of our feelings and our hurts.
And if you will forgive God for not doing what you wanted Him to do, and for not moving when you wanted Him to do so, you will free yourself from your hurt and offense against God who alone is wise.
My friend, God loves you.
He can do no wrong, and He always works everything out for your good. He knows the good thoughts and good plans He has for your life, even when we don't know what those thoughts and plans may be. And He is working all things out for your good, even right this second.
Will you forgive Him for the wrong that you perceive Him to have committed against you today, so you can be free and draw close to Him again? Leave a comment below if you will!